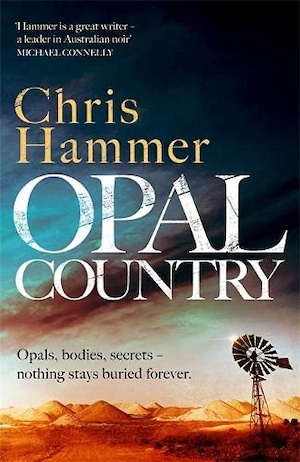 Gold standard Outback noir from the rich opal fields of barren northern Queensland, Australia. Chris Hammer's new stand alone tale may well be his best writing to date and that's saying something as it follows his engrossing and original Scrublands trilogy. Like those doorstop novels, Opal Country is epic in scale but it's also a tighter, punchier read – an intriguing mystery that smoulders in the devilish heat and leaves us choking in the dust of the desolate Outback. Its potent mix of nasty secrets from the past and contemporary wrong doing creates a bleak scenario where the only hope of redemption lies in bringing everything into the light.
The murder and crucifixion of an old opal miner leads the detective in charge to a cold case involving the death of a young man, and a dodgy cult preying on innocents led by a charlatan claiming to be the Messiah. For those who like their crime fiction rich in social commentary there's a healthy dose of contemporary themes in the background to the murders, from city corruption to rural decline, racism to religious fanaticism and climate change. All these elements mingle with the claustrophobic feel of the narrative. Hammer, a former journalist, is a consummate storyteller, adept at setting the hares running, blindsiding us with fresh angles to the narrative and skilfully pulling together apparently disparate strands to devastating effect. As well as building that sense of conspiracy he also creates flawed characters we can genuinely empathise with.
Finnigans Gap is so remote that when a miner is murdered near the settlement the city cop sent to investigate has to fly in on a small plane, and even then it has to refuel en route. Ratters are the thieves who poach from others' opal miners after they hit a strike. They steal the stones and then pretend their gains were dug out of their own mines. A gang of ratters raids Jonas McGee's opal mine thinking he's away for a few days. Rumours that the old drunk made a big strike have spread. The gang can't resist but their leader gets more than he bargained for when he heads down McGee's mine shaft looking for opals. The smell let's him know something died down there. Only Magee didn't just die, he was murdered and he's been crucified. The gang cover their tracks and get out. Later an anonymous tip to Crime Stoppers suggests the police should take a look at McGee's place.
DS Ivan Lucic is doing well with the Sydney homicide department when the murder in Finnigans Gap happens. He expects his boss, DI Morris Montifore, to lead the investigation but Montifore isn't going to be there on this case so Lucic only has the local cops to work with. Professional standards are looking into Montifore following some big busts recently exposing top level corruption – maybe it's payback for being a good cop. It worries Lucic because these are cases he worked, basking in Montifore's success. What's happening in Sydney is playing on his mind. That's not Lucic's only demon though, he has a gambling problem.
Contrary to the usual trope, the local cops seem pretty competent when Lucic arrives to investigate McGee's murder and initially there's a lot to go on. There was an incident 18 years earlier when two women died in a car accident because of the old miner's drinking. Then there's his opal strike – it could be worth a fortune but he kicked an employee off the claim just before he found the opals and this person is disgruntled. Add to that the wider issue of land rights. There are other minerals in the earth here that are worth even more than the semiprecious stones. All of these things provide enough motive for murder, but then there's also the religious angle with the cult and the previous killing. When everything is thrown into the mix a tasty and complex mystery unfolds.
The landscape is a rich part of this novel, which marks the contrast between the rural and city environments, and the cross contamination between the two is fascinating. Opal Country is full of colourful detail with a dark, moody atmosphere. Hammer has developed some intriguing dynamics in the relationships between the main characters – particularly Lucic and local cop DS Narelle Buchanan. Both come under intense scrutiny as the case begins to make progress. This is the kind of novel that gives Outback noir its good name, so don't be put off by the length at over 500 pages. This is a meaty tale with plenty of originality and excitement.
Also try The Survivors by Jane Harper, or The Inheritance by Gabriel Bergmoser.
Wildfire Books
Print/Kindle/iBook
£7.99
CFL Rating: 5 Stars