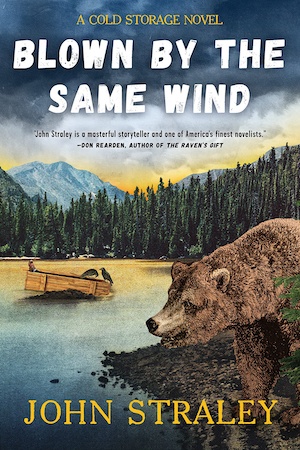 John Straley is both a criminal investigator and an award-winning crime novelist. His home is Alaska, he clearly loves the place, and he was the state's writer laureate from 2006 to 2008. His fine storytelling and literary skills are on full burn in Blown by the Same Wind, the latest novel in the quirky, non-sequential Cold Storage series.
Cold Storage is a fictional coastal village in southern Alaska with a salmon and cod cannery, a seasonal fishing fleet, one bar and some great views – especially if you hike up to the top of the ridge to take in both the Rocky Mountains and the vast Pacific Ocean. Wondrous sights, which are beautifully described by the author. This proximity to nature, and to God, is why Brother Louis, a Cistercian monk from Kentucky arrives in Cold Storage in 1968.
There he meets Ellie and Slip, the anarchist couple who fled to Alaska from Seattle decades back in The Big Both Ways, the first book in the Cold Storage series. They now run the bar which is a community hub that serves children sodas out of the window, and adults bourbon at the counter. They were followed to Alaska by George Hanson, a cop who gave up trying to catch them and settled there himself. There is no official law enforcement in Cold Storage, but George keeps tabs on things and reports in to the authorities elsewhere, now and again.
Brother Louis befriends some of the locals, including Glen – a Vietnam vet who drinks all day to forget what he saw happen in the villages as troops searched for the Viet Cong. As a man of God, Louis wants to help Glen get over these horrors and his feelings of guilt and helplessness. He also meets Venus, a beautiful young woman who could be Glen's girlfriend if only Glen could shake off the trauma. Even though Louis has baggage too, and in a small village like this there are few secrets, people are open to him and interested in his story. Cold Storage feels like a living, breathing place from the start, the author describing all the little details of life in an easy-going, fluid style.
Just like George followed Ellie and Slip to Cold Storage, a law man is following Brother Louis. In his secular life, the brother is an author and a poet whose writings have come to the attention of the FBI. An agent called Boston Corbett has been sent to find out what Brother Louis – AKA Thomas Merton – is doing in Alaska. They suspect he's a Communist. This makes everyone else suspicious too, but in Cold Storage it seems everyone has run away from something so Brother Louis fits right in.
The crime element of the novel has nothing to do with Brother Louis or his politics. This kicks in when two southerners arrive, going by the names of Atzerodt and Spangler. They've been working on the fishing vessels that come in and out of Cold Storage and arrive at the bar looking for bourbon and a meal. Soon it becomes obvious that they're looking for something else too. When one of them sets his sights on Venus, who is not wary enough of the incomers, there's a flare-up with Glen. And, somehow, there's a connection between the southerners and FBI man Corbett.
When Glen and Brother Louis retreat to a cabin up the river, Blown by the Same Wind takes us on another tangent. The pair bond and talk and Louis helps Glen begin to penetrate his sorrow and guilt. They decide to climb the ridge. Brother Louis believes that up there, as the sun rises and darkness becomes light, they'll be able to see what God looks like, or at least feel what God means. They're joined on their expedition by Venus, her parents, and George Hanson's 100-pound dog, Dot.
Meanwhile, in Cold Storage itself, trouble is brewing. George is worried about what the southerners are up to and he doubts Corbett's real motives. When the expedition returns from the peak, they find that Ellie and Slip have been taken hostage in their own bar and there's an armed stand-off.
That's when the book ignites, moving from a philosophical exploration of the politics, culture and beliefs of 1960s America to a tense thriller with the resourceful and somewhat mischievous young woman Venus at the centre of the tale.
At 200 pages, Blown by the Same Wind is a short read that gives you plenty to think about. From the Lincoln assassination to Martin Luther King and the Vietnam War, American politics is woven in there, while at the same time you feel close to the characters and families of the town, and to Brother Louis, who seems a Christ-like figure in the story. There is extreme beauty in Straley's writing, countered with extreme brutality at points in the story. This is graphic, but handled in a matter of fact way, which seems to be the Alaskan way as well.
I loved being in Cold Storage again, but those who crave a heavier crime aspect might find this novel wanting. Whatever the case, Straley is a wonderful writer, intelligent and insightful; someone using his talents to explore ideas and perspectives that are uncommon in more genre-orientated fiction. This is a great novel if you seek a world to escape into and ponder for hours afterwards.
Also see our review of Cold Storage, Alaska. For another Alaskan story, watch for City Under One Roof by Iris Yamashita.
Soho Crime
Print/Kindle
£11.39

CFL Rating: 4 Stars