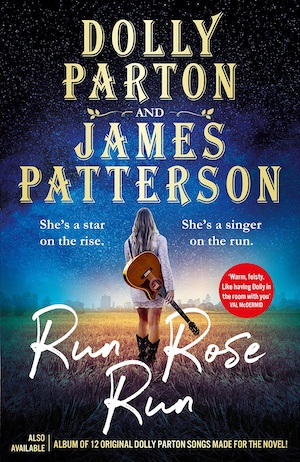 Eminem and Elton John with Stan. Pavarotti and Skunk Anansie with You'll Follow Me Down. Metallica and the San Francisco Symphony Orchestra with S&M. All exceedingly unlikely duets to be sure, but perhaps none is more unlikely than the collaboration between mega-bestselling author James Patterson and Country music megastar Dolly Parton, which has resulted in Run Rose Run, a modern-day musical fairy-tale with more than a hint of menace. (Although it might be somewhat disingenuous to describe it as a duet, since Patterson doesn't appear to sing on the accompanying album.)

While it's heavily implied from the outset of Run Rose Run that waif-like Texan songstress AnnieLee Keyes is desperately fleeing some danger from the past, the only thing that's really clear is her determination to make it to Nashville and, from there, to forge a career as a country music star. Although she quite quickly reaches her destination, things don't initially seem promising for AnnieLee. The streets of Nashville are certainly not paved with gold, although they might just be littered with the discarded hopes and dreams of other wannabes. With no money and no contacts in the music industry, she is forced to sleep rough in a local park, taking what rest she can while dodging dubious characters and irregular police patrols.
Fortuitously, hunger drives AnnieLee to chance her luck and persuade the bartender at a randomly chosen dive – the Cat's Paw Saloon – to let her sing for her supper. She borrows a guitar and takes to the stage with the intention of singing a range of popular covers, but when she decides to instead belt out some of her own original songs, her luck finally starts to change.
One of the few patrons in the bar that night is Ethan Blake, a former soldier who now works as a session musician for Ruthanna Ryder, the recently retired queen of country music, who also happens to own the Cat's Paw. Wowed by AnnieLee's talent and amused by her inability to take a compliment, Ethan is pleased when she decides to make performing at the Cat's Paw a semi-regular event and eventually convinces Ruthanna to come to the bar to hear her sing.
For her part, Ruthanna has turned her back on the music industry following a personal tragedy, although she continues to write and record at her private studio. Having seen far too many talented people face disappointment and rejection, she's reluctant to take an interest in another aspiring star, but she quickly changes her mind after hearing AnnieLee sing. Convinced that AnnieLee is a true talent and feeling strangely protective of her, Ruthanna takes the apparent ingenue under her wing and determines to guide her through the process of launching a music career.
What follows is a whirlwind rags-to-riches transformation as, with Ruthanna's help and influence, AnnieLee starts to build her star power. However, constantly lurking in the background is the threat of her past resurfacing, a threat that becomes increasing dangerous as the months pass.
AnnieLee's rapid rise to superstardom over the relatively short course of Run Rose Run seems implausible, but pretty much every other aspect of the music industry, Country or otherwise, featured in the book rings true. Given her wealth of experience in the area, it's clear that Dolly Parton had a significant influence over the musical elements of the plot and the overall scene-setting in Nashville. In fact, the two central female characters seem quite heavily based on the different poles of Parton's own career, with AnnieLee reflecting her gutsy determination and innate talent at the start of her career and Ruthanna echoing her current status as the much loved and most honoured female Country performer of all time.
Interestingly, of the two, Ruthanna is the most well-developed and convincing character, although she is the one living the more outlandish life. Weighed down by a recent tragedy, she's given up on the business, but she can't quite bring herself to give up on the music. A forthright and inherently flamboyant person, her interactions with her personal assistant, former manager and loyal band of session musicians add both heart and humour to the story. Ruthanna might initially seem like a tough nut to crack, but fundamentally she just wants what's best for those she cares about, even when they don't want what's best for themselves.
It's just as well really, as that certainly seems to be the case for AnnieLee and Ethan, who are at times their own worst enemies. AnnieLee clearly has a lot of talent and a considerable amount of grit, but she's doesn't have much in the way of a plan. She arrives in Nashville with the intention of becoming a star, although her ultimate success has not a little to do with luck and the kindness of strangers. Her pride regularly prevents her from accepting such kindness and prompts a great deal of self-sabotage, which can be rather infuriating given the dubious situations she happily walks into. However, the scars from her past probably have a lot to do with it and, overall, she's a character to root for. As for Ethan, he doesn't get that much character development beyond his PTSD and secret song-writing, although his mad tracking and combat skills do come in very handy.
As so much of Run Rose Run is dedicated to AnnieLee's country music career, the crime and thriller aspects of the story largely take a backseat, which is surprising given James Patterson's involvement. While her journey to Nashville and early days spent sleeping rough do involve a few encounters and near misses with dangerous and dodgy characters, the trouble from which AnnieLee is fleeing remains implied and mainly intangible until quite near the end of the book, at which point the peril and action are significantly ramped up. When her past finally catches up with AnnieLee, there are revelations and violence aplenty as she decides to take a stand and other characters are drawn into the puzzle. These later scenes are pure Patterson and will hopefully satisfy those hoping for a more straightforward thriller when picking up Run Rose Run.

Also see The President's Daughter, James Patterson's recent collaboration with Bill Clinton.

Century
Print/Kindle/iBook
£10.00

CFL Rating: 4 Stars