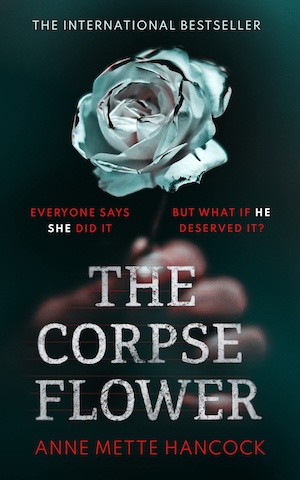 Translated by Tara Chase — This chilly thriller from Anne Mette Hancock will really appeal to you if you love Nordic noir that plumbs the darkest depths of the soul. The Corpse Flower is an accomplished debut, a prize winner in Hancock's native Denmark and was published across much of Europe to wide acclaim in 2017. Now it's finally available in English and begins a series that shows much promise. It features reporter Heloise Kalden and Detective Erik Schäfer in the kind of journalist-cop team-up we are pretty familiar with, but this duo is intriguing and the story is distinctive.
The Corpse Flower gets underway in the South of France. Anna Kiel is in hiding. A recurring nightmare once again wakes her at the moment she is about to slit a man's throat. The horror of the past never gives her peace. Only this time it feels like a portend of brewing trouble. It's still dark outside and the sound of a car this early in the morning in the quiet street further spooks her. She's instantly alert, looking out the window because fear is such a part of her life. Have they finally found her?
Yesterday Anna made the long drive to Cannes to collect her regular package. There were Danish tourists in the city, sitting at a cafe in the local market. One of the women in the group had a camera. Did she photograph Anna? The thought scares her. Anna gets back in her car and drives straight home. She decides that it's time to take action, to stop running. Anna posts a letter to Copenhagen, setting in motion her return to Denmark.
In Copenhagen, Detective Sergeant Erik Schäfer and colleague Lisa Augustin are bickering about relationships – what's healthy, what's not. Lisa feels there's a touch of jealousy about Erik, after all she's more successful with women than he ever was and he resents the domesticity of family life a little. They have a competitive relationship but that is an intriguing element of this story and as it changes will underpin the series. When they arrive at the station there's a woman waiting for them. She won't give her name but she wants to talk to a senior detective. She has information that might reopen one of Denmark's most notorious cases. She has a photograph taken on holiday in France and she's sure it's Anna Kiel.
Journalist Heloise Kaldan works for Demokratisk Dagblad. She's under a cloud after her last big story, an exposé on fashion mogul Jan Skriver, badly back fired. The reports of child labour being used at his Bangalore factory are probably true but the evidence she used was flawed. Her source let her down, but it was Heloise's responsibility to check the facts and she didn't. Her future hangs in the balance as the editor, Carl-Johan Scowl, a man with a tough reputation, wants to see her.
Heloise fears the worst but luckily she gets a last minute reprieve. The Mossing murder case has resurfaced and the prime suspect Anna Kiel has written to the paper, to Heloise actually, saying she wants to tell her story.
Anna Kiel is wanted for the murder of lawyer Christoffer Mossing at his home in Taarbaek. CCTV places her there with blood on her hands and clothing as she fled the scene. The police are also on her trail again thanks to the photo but not everyone wants the past raked over, or for Anna to talk. Things hot up when Heloise turns to the journalist who covered the original case for advice and he is murdered. Eric and his team begin to wonder if this means Anna is back and killing again. Then Heloise is implicated in the latest murder and the only way to allay suspicion is to help solve the case and bring dark secrets into the light.
Much of the set up is familiar. A woman on the run, doubt over whether she is a killer, and if she is why did she do it? Could Anna be a victim in some way, an innocent caught up in a tragedy. The journalist on her last chance when a golden case drops in her lap is another regular trope and a duo of sparky detectives are not unusual.
However, these things are countered by Anne Mette Hancock's strong, confident style and a moody atmosphere that really grabs you. An intriguing scenario becomes gripping as the we begin to get to the truth behind the events of the past. There are shifts in the plot that distinguish it by diverging from our expectations. The Corpse Flower has an authentic and layered plot – just be aware that the tone is very dark, even for this kind of thriller.
As a debut this is an impressive read. Engrossing and promising much for the future – we can expect more from the next in the series when the characters will be established more firmly. Ideal for fans of the TV series Wisting and the novel Smoke Screen by Thomas Enger and Jørn Lier Horst
Swift Press
Print/Kindle/iBook
£6.64
CFL Rating: 4 Stars