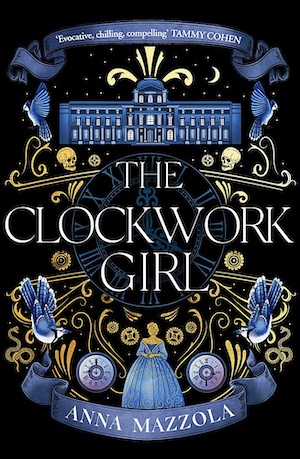 Readers of historical fiction and Francophiles are in for a treat with Anna Mazzola's latest novel. Set in Paris, The Clockwork Girl pulls together a series of events that took place in 1750, a cast of unscrupulous characters based on real historical figures, and just a pinch of creative licence.
The disparity between rich and poor in 18th century France is impossible to ignore. On the streets the poor struggle to survive, succumbing to smallpox while living in appalling conditions. Meanwhile, King Louis XV holds court in Versailles with his courtesan, Madame de Pompadour, by his side, carelessly revelling in luxury.
Madeleine Castel, the daughter of a ruthless brothel owner, has seen the sordid side of the Parisian bourgeoisie but dreams of escaping her circumstances and finding a better life outside Paris for herself and her sister's sickly son, Èmile. When the opportunity presents itself for Madeleine to spy for the police, she sees it as a way out of the squalor – even though she knows she's making a deal with the devil. The despicable Camille Dacier is a corrupt policeman who regularly frequented the brothel and was responsible for the scar branding Madeleine's face.
Solely based on a report by a girl who previously worked in household of the eccentric Swiss watchmaker, Dr Reinhart, the police believe that the watchmaker and automaton creator is involved in nefarious activities. Madeleine accepts the job as chambermaid for Reinhardt's daughter, Véronique, and immerses herself in the family's lives to such an extent that she becomes Véronique's confidante. Véronique grew up in a convent, protected from the harsh realities of Paris but has experienced other cruelties she has kept secret. Both young women have seen the darker side of life and although it has scarred them, it has also made them strong, resourceful women.
Madeleine's first doubt over Reinhart's guilt comes when he is asked to create an automaton for a forest-themed ball at Versailles – a hopping rabbit – to impress the affluent guests. In order for Reinhart to create a lifelike automaton he has to understand how the creature moves. This does not end well for the rabbit and we start to discover the dark, gothic side of the story.
Despite Madeleine's attempts to find out what Reinhart is up to in his workshop, she finds no evidence of his so-called strange practices and unnatural experiments. Reinhart might be odd and Madeleine has a nagging feeling that there's something off about it, but he only seems to be a talented automaton maker with an interest in the physiology of animals and humans. You'll start to notice similarities to Mary Shelley's Frankenstein, as well as the true story of the bodysnatchers Burke and Hare.
Meanwhile, children are disappearing from the streets of Paris. Initially, homeless orphans vanish into thin air, but soon the sons and daughters of tradesmen running errands also disappear. Rumours on the streets are rife. Some say that children are abducted by migrants, others believe they are shipped off to the colonies. The more superstitious believe that they are stolen by the king and his mistress to use their blood to stay young.
These disappearances happened in real life and the reason was just as atrocious. Lieutenant General Berryer, who has a starring role in the novel too, issued an edict that all vagrants were to be removed from the streets. The police merely imprisoned children they caught, without distinction.  
Madeleine has another theory. Are the children ending up on anatomists' and possibly Reinhart's table to be used for experiments? Madeleine observes something deeply strange in Reinhart. She's seen the late night deliveries to Reinhart's workshop and his obsession with recreating life in his mechanical creatures. If he can take apart a watch to see how it works, surely he'll do the same to a human?
While violence escalates on the streets and riots break out, the king's obsession with science, medicine and death leads him to Dr Reinhart and he commissions an ambitious project. The watchmaker has to go to extreme measures to meet the petulant king's demands.
The Clockwork Girl is an ambitious novel that tries to recreate a complex time in French history with a large cast of already well-known characters. For example, we can learn the mind of the infamous Madame de Pompadour, but won't necessarily sympathise with her circumstances. It hints at her power and the well-known pouissonades – horrid little verses – anonymously sent by someone in court to undermine her.
Anna Mazzola vividly reimagines Paris during the 18th century. The attention to detail in her descriptions is the novel's strength and Paris becomes a living, breathing and unpredictable creature. Also a very smelly creature. At times the detail can be are excessive and repetitive, slowing down the story, but lovers of historical fiction will, most likely, take pleasure in every word. If you're looking for a nail-biter this might not hit the spot; the suspense and the plot unfold slowly. However, there is a strong element of creepiness and a hint at the macabre for those with a taste for something darker.
Also see our tag for historical crime fiction, and the popular French crime show Paris Police 1900. Set 150 years later, it feels like the same Paris.
Orion
Print/Kindle/iBook
£14.99
CFL Rating: 4 Stars