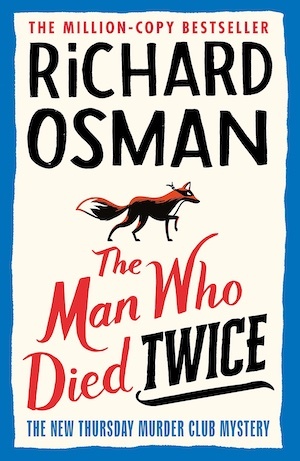 The TV celebrity's first foray into crime fiction, The Thursday Murder Club, sold by the truckload, won awards and divided book club members far and wide. How would Richard Osman's 'difficult second novel' fare? Happily, the news is good – and anyone who has already bought into the series will be delighted to find Elizabeth, Joyce, Ron and Ibrahim back in the sleuthing saddle once more. They're soon in the midst of a mystery involving missing diamonds, sneaky spycraft and, of course, murder.
It's a fun and funny ride, with Osman demonstrating plotting and characterisation skills more in keeping with an author of much greater experience. I'll hold my hands up to not really rating The Thursday Murder Club, but The Man Who Died Twice is a much better read and it even brought a tear to my eye in the final pages. Fans of cosy crime, or readers who enjoy mysteries with a side order of humour will love this one – and the good news is that two more in the series are planned.
Read our review of The Man Who Died Twice here, and then join in the chat about the book below! Or grab a copy from the Crime Fiction Lover Book Club shop on Bookshop.org.
Join our CFL Book Club discussion…
If you've read it, leave a reply in the comments below to let us know what you thought of it and/or answer some of our CFL Book Club questions:
1 – The four friends are elderly and live in a retirement home – do you think they are depicted realistically? Is there anything that jarred with you?
2 – Did you love The Thursday Murder Club? And if not, what made you decide to give the author another try?
3 – Do you think that humour has a legitimate role to play in crime fiction? Why?
4 – Did the fact that the book is by a 'celebrity turned author' initially put you off choosing it?
5 – Ibrahim takes something of a back seat this time around. How did this affect the dynamics of the group?