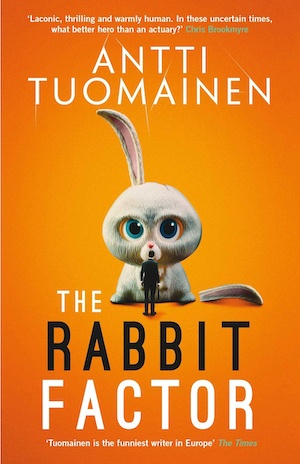 Translated by David Hackston — The Man Who Died, Palm Beach Finland, Little Siberia… Antti Tuomainen's books have quirky titles and the slightly surreal sense of humour that they suggest continues inside each of them. Now we have The Rabbit Factor, with its lurid orange jacket and a menacing fibreglass rabbit, complete with a broken ear, glaring at you from the cover. It's not hard to imagine that ear causing serious damage to someone, but we'll leave that as a mystery for you to unravel when you read it.
Because read it you must.
Set in Helsinki and originally penned in Finnish, The Rabbit Factor is about an insurance actuary called Henri Koskinen. Nobody is more obsessed with probability calculus than Henri, which makes him stand out even on the number-crunching floor at the underwriters he works for. He doesn't fit in at all, particularly not with the new managerial approach his boss is introducing. Imagine asking actuaries to actualise their inner wellness… Henri can't, and it leads to his constructive dismissal.
That's not the only blow Henri must suffer. His brother Juhani has died suddenly of a heart condition. It leaves Henri in a sort of emotional limbo. They had very different personalities, but still he finds the grief difficult to process. He is also very surprised to learn that he is to inherit Juhani's adventure park – home of the terrifying, googly-eyed rabbit. Having just lost his job, he decides – maybe for the first time in his life – to roll with it. Soon Henri is running the facility, which is called YouMeFun. It's a place where children can climb about on attractions such as the Caper Castle, take a ride on the Komodo Locomotive or bounce around on the soft-play structures.
This is where things get interesting, and deadly. Naturally, Henri goes straight to the numbers and discovers that while visitor revenues seem OK, there are gaps in the paperwork and holes in the finances. This is emphasised when a pair of shady characters appear, with demands that Henri pay back Juhani's debts. The loan sharks have their teeth into the park and Henri has to think fast. Luckily, his genius-level numeracy enables him to come up with a money-making plan that bamboozles the underworld characters who are threatening him… for a while at least.
The park staff form the supporting cast, and Tuomainen finds ways to accentuate the quirkiness of each of them. Kristian, the caretaker, has designs on becoming the park's general manager. Apparently the position was promised to him by Juhani. Samppa is an eccentric former nursery school teacher who runs themed events for children visiting the park. Johanna runs the Curly Cake Café with military precision. Slightly-past-it nightclubber Minttu is in charge of the marketing and constantly reeks of gin. Which is marginally better than the head of security, with his chronic flatulence. One employee, Venla, never actually shows up for work. In his own unique way, Henri must negotiate with each personality to get the park back on an even keel, without revealing the threat it's facing. After all, one of them may be connected to the bad guys.
Then there's Laura, an artist who has lost her muse and is currently the manager. Henri feels different around her. It's something he's never experienced before. When she shows him some designs for murals to decorate the walls of YouMeFun, Henri realises for the first time that there is beauty beyond mathematics. He is entranced by the artwork and becomes besotted with the artist. Thanks to his unusual qualities – honesty to the point of naivety, and an almost complete lack of ego – Laura feels the same way about him.
Taking over the park and falling for Laura, Henri is on a journey of discovery. He's finding out new things about himself and developing as a person – profoundly. You don't see this very often in crime novels, particularly in series where the same characters return time and again and change is gradual, superficial or nonexistent. In contrast, Antti Tuomainen is a master when it comes to creating interesting characters, with qualities and flaws, then putting them into strange situations where they must find themselves and find their feet in order to survive.
And that's essentially what Henri must do. If there's to be a happy ending with Laura, he's going to have to sharpen a keen dark side to his character as well. The people he's dealing with are willing to kill, and he knows it.
This notion of a personal journey is something we've experienced with the author himself. We've followed Antti Tuomainen's work since his first novel, The Healer, was translated into English in 2013. His early novels were insightful, poetic, deeply moving but also very dark and tragic. By lightening the tone with touches of humour, but retaining the emotional depth and criminal elements, he's truly found a unique voice that stands apart from the usual Nordic noir fare. This is paying off beyond the printed page as well – The Man Who Died is being produced as a television series in Finland, and The Rabbit Factor is to become an Amazon film starring Steve Carell.
With its sense of danger, delicate shades of dark humour and emotional depth, The Rabbit Factor is an astounding read. It has the suspenseful twists of a thriller, the laugh-out-loud moments of a comedy and a tragic dimension that brings a tear to the eye. It's 288 pages of brilliance, formed into a crime novel. I've only just stopped telling people how brilliant Little Siberia is. Now I have something new to rabbit on about.
Orenda Books
Print/Kindle
£3.79
CFL Rating: 5 Stars