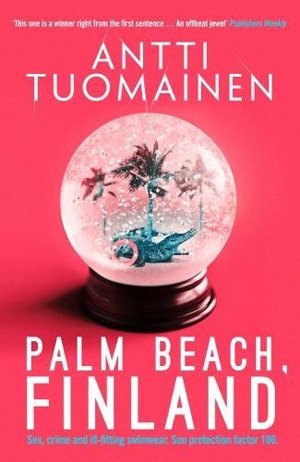 Written by Antti Tuomainen, translated by David Hackston — In just over a decade, Antti Tuomainen has shown his impressive versatility within the crime fiction genre. He has written dystopian noir (The Healer), an ecothriller (The Mine) and black comedy (The Man Who Died). In doing so, he has not only challenged any stereotypes we might have about Nordic crime fiction, but also become a firm favourite with readers both in his native Finland and abroad. He certainly seems to consistently score five-star reviews on this website. In his latest book he continues exploring ways of writing dark stories with little rays of sunshine and plenty of belly laughs.
Described as Fargo meets Baywatch, the story takes place in a small seaside town dominated by a beach resort newly rebranded as Palm Beach, Finland. This is where an overambitious entrepreneur, Jorma Leivo, is trying to sell the dream of five-star beach holidays without the sunburn or foreign languages to discerning Finnish tourists. Everything in the resort is freshly painted in garish colours, artificial palm trees have been dotted on the beach and everyone is waiting for the tourists to start flooding in.
Leivo is not above resorting to scare tactics to convince people to sell them their land to him so that he can build more. But he has met his match with Oliva Koski, who has recently returned to her hometown to deal with the white elephant of a house she has inherited from her father. She may wince at the cost of replacing the ancient pipes and drains, but she feels the house gives her the opportunity to turn a new page. And she won't let the small matter of a dead man in the kitchen upset her. She claims not to know who the dead man is, but the police are not entirely convinced and they send an undercover detective, Jan Nyman, to investigate. Nyman soon finds himself embroiled in a story of big dreams, disappointing reality, lust for money and an eccentric cast of characters in varying degrees of desperation, some with criminal intent but possibly without criminal competence.
Tuomainen's second foray into humorous crime fiction may remind you of Carl Hiaasen at his best. Elements of satire and farce and an apparently callous approach to violence are carefully blended with more serious themes, such as friends betraying each other, family loyalties, or reaching middle age and watching your dreams turn to dust. There is a lot of compassion in the way the author approaches every character in the book. At first sight, many of the them might seem to live up to the stereotype: the bumbling amateur criminals Chico and Robin, lifeguard babe Nea, professional criminal Holma and so on. It takes a skilled writer to give each of these secondary characters depth. Tuomainen achieves this by writing the chapters from multiple different points of view, but sticking throughout to the third person.
The Man Who Died was such an innovation in the crime genre, such a refreshing and poignant act of virtuoso writing, that it was always going to be a tough act to follow. While Palm Beach Finland is very enjoyable, it's not quite as satisfying as its predecessor. Nevertheless, Tuomainen is one of those authors whose books are an automatic must-read so pick up or download a copy as soon as you can.
Orenda Books
Print/Kindle/iBook
£4.31
CFL Rating: 4 Stars