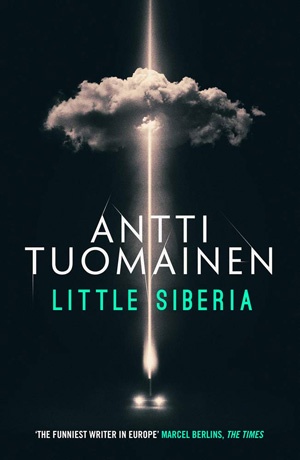 Translated by David Hackston — In some ways, Little Siberia is reminiscent of Antti Tuomainen's very first novel, The Healer, which we reviewed back in 2013. That book was the story of Tapani Lehtinen, a poet searching for his kidnapped wife in a near future version of Helsinki, which is in the grip of climate chaos as sea levels rise. It's a dark and melancholic novel, full of meaning and quite surreal in places.
In Little Siberia, we also have a slightly philosophical main character – this time it's the local pastor, Joel Huhta. And, before too long he'll be searching for his wife, Krista, who likewise gets kidnapped. There's plenty of the surreal too. The main difference is that in recent novels Tuomainen has managed to elbow the maudlin tone out of his work. It was there in The Healer and Dark As My Heart, but the Finnish author is writing with a much lighter touch these days and, like Palm Beach, Finland and The Man Who Died, Little Siberia brings wry touches of humour alongside the peculiar criminal goings-on.
Two traumatic events get the ball rolling for Joel. One is the crashing to Earth of a meteorite. It's worth €1 million and so the citizens of the small town of Hurmevaara in eastern Finland decide to keep it in the local museum until the scientific authorities arrive to transport it to London for analysis. Joel is on guard duty when two assailants break into the museum to steal the meteorite. What they don't bank on is his military experience in Afghanistan and instead of letting them get away with it, he follows them to a cabin in the woods where one of the thieves blows himself to smithereens. They'd accidentally stolen an old grenade the same size as the meteorite… Joel scampers back to base and doesn't report any of this. Hmm.
The other event is his wife Krista's pregnancy. This is another lip-biter for Joel. Although he and Krista have been trying for ages, he hasn't told her that when the improvised explosive device ripped through his nether regions in Afghanistan it left him sterile. So he knows she's been playing away but to confront her means his own deception will be unveiled. Not a great position to be in if you're the moral guardian of the community.
Joel takes on two sworn missions. One is to keep the meteorite safe, and the other to find out who impregnated his wife. Early on, he starts to wonder if the person responsible for his impending fatherhood is also involved in a plot to steal the cosmic object down at the museum. Not only is he green with jealousy, but his imagination is running wild and he's becoming paranoid. That, as we all know, doesn't mean they're not out to get you.
The four other men who take it in turns with Joel to guard the meteorite top his list of suspects. Then there's a pair of Russians who have just crossed over the border and look… well, they look like they just stepped out of a book about a heist to be honest. Hurmevaara is also home to Finland's most famous failed rally driver, an alcoholic who was kicked off the circuit after crashing and killing his navigator. It was Tarvainen's car the meteorite hit when it landed and, yes, he was drunk at the time. He could use the money to restart his career. The novel even has a femme fatale who makes Joel quiver.
By now hopefully you've got the idea that Tuomainen has thrown everything in that a noir novel needs – moral conundrums, grifters, schemes, infidelity… but there's more. For one thing, there's visceral action, and lots of it. Joel tries hard not to be violent, but the fight comes to him most of the time and in between counselling confused partitioners – including some who covet the €1 million meteor – he's fighting off assailants in increasingly bizarre circumstances. That grenade was just the beginning.
More than that, though, is the author's wonderful handling of the book's subtext, which is all about losing and regaining faith. For Joel, even though he's a minister, it's not his not faith in God but in his wife and, ultimately, in himself. When Krista is taken, he starts to realise what the problems he faces boil down to. What seems like a cockamamie crime novel full of dark humour is also a wonderfully poignant piece of writing by Antti Tuomainen.
He packs it all into 245 pages too. Whether you're a Nordic noir lover or not, you should read Little Siberia as soon as you can.
Also see our top eight Scandinavian crime fiction novels of 2018.
Orenda Books
Print/Kindle
£4.99
CFL Rating: 5 Stars