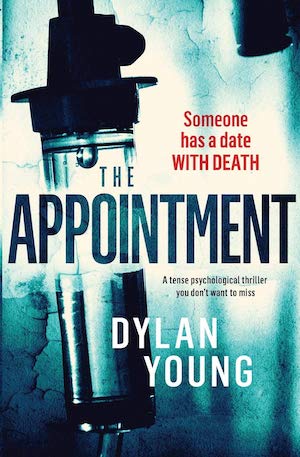 Written by Dylan Young — The cover and title of this novel scream medical thriller but this novel is firmly in the psychological thrills category. It does have strong medical credentials and the story centres on Dan Lewis, a consultant ophthalmic surgeon with a dream job down in Southwest England. He has a beautiful wife, Kate, and a young son, Theo. The initial tear to the fabric of his life comes in right at the start with the tragic death of his son, strangled in his cot in a freak accident.
The main story picks up some months later when Lewis meets a three-year-old boy, William Bliss, in his clinic. There's something odd about the family dynamic and William dissolves in terror when his mother threatens him with his father. Nothing that would particularly set off alarm bells on its own but Lewis sees something in William's left eye; it could be nothing but it could be a rare childhood cancer, retinoblastoma. William never makes it back for the follow-up appointment.
Lewis soon gets an inkling himself of the menace around Hugo Bliss when he turns up at his house and casually threatens him. Lewis refers it to the police but he is soon butting heads with them, his wife Kate doesn't quite believe him either, and there are hints that Lewis could be imagining it all. His relationship with Kate is already suffering and they are both in the throes of their horrific bereavement, struggling with their own grief.
The early scenes of the novel comb over this grief. Lewis is reluctant to address it in the same way as his wife Kate. Lewis is facing conflict in other areas beyond his marriage as well: he quarrels with the social work team as well as the police when discussing William Bliss; and Hugo Bliss and his MindAlt, alternative and complementary medicine movement, are haunting him. As Bliss puts it: "Nature and the spirit will provide," but it's in direct conflict with Lewis' own medical establishment views.
As a whole this is a powerful psychological thriller and the medical aspects are background music. However, it is very slow to get going and you are a long way into the book before there's much that is criminal at all. In the early scenes Lewis is doubting himself, unsure if he might be hallucinating and losing his grip on reality. The pivotal criminal event is nigh on two-thirds of the way in. Up to this, there's no flash, no bang, and this feels closer to a domestic drama, albeit a compelling one, than a crime thriller.
It's all part of the process to present us with flawed characters but it's a struggle to warm to eye surgeon Dan Lewis. In an early scene, the social worker, Jean Middleton, confronts him and accuses him of being arrogant. She has a point. Of course, we can explain this as part and parcel of his grief. Losing a son in such tragic circumstances will, naturally, incline us to sympathy but rooting for Lewis isn't the easiest.
The writing is smooth and polished with occasional literary flourishes. I didn't love the initial flicking between past tense and present tense but the story quickly settles as the flashbacks peter out. If you demand that your crime fiction has a little more action and, well, crime, from the first few pages then you'll have to be patient.
Psychological thrillers do need to build, ratcheting up the tension, or they simply fail to deliver the necessary excitement. Dylan Young certainly picks up the pace and pushes on hard as the story gathers momentum. If you are happy to bide your time and immerse yourself in the characters in a psychological thriller with a strong overall narrative then you will love The Appointment.
For more medical thrillers try CJ Carver's Know Me Now and the Rizzoli and Isle series by Tess Gerritsen. And check out plenty more crime fiction set in the West Country.
Bloodhound Books
Print/Kindle
£0.99
CFL Rating: 3 Stars