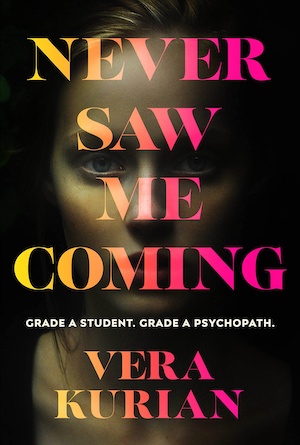 Vera Kurian's debut novel is the kind of high-concept thriller that would make a great TV or movie adaptation. It's easy to imagine Hollywood executives salivating over the pitch: 'What happens when a group of psychopaths are targeted by a serial killer? It's Less Than Zero meets Scooby Doo.'
For all intents and purposes, Chloe Sevre appears to be just like any other freshman at Washington DC's John Adams University. She's excited on her first day, a little nervous of course, and keen to make a good impression. Appearances can be deceptive, though. Chloe is a diagnosed psychopath, and in return for participating in a secret study examining her behaviour run by psychology professor, Dr Wyman, all her tuition fees are being paid by the university.
All Chloe has to do is to check in once a week for a face-to-face interview with one of Wyman's research assistants, undertake a few online behaviour simulation tests, and keep a mood log when prompted by a smartwatch. It sounds simple, but is about to become much more complicated.
Chloe has another secret that even Dr Wyman doesn't know about. She's going to kill Will Bachman, and she's given herself 60 days to do it.
Chloe and Will went to school together, though they were a few years apart. Chloe moved school, and changed her name, after Will raped her when she was 12 and got a friend to film it on his phone. Since then Will has been marked for death. Chloe has kept track of him ever since; she knows which fraternity house he belongs to, his address, his friends and his courses. Before she can kill him, she has to find his phone and delete that video.
There are seven students enrolled in the psychology study. A second is Andre Jensen, another freshman, studying journalism. Andre's sister died of asthma and for a couple of years afterwards he went off the rails – nothing too serious but enough to attract a diagnosis of conduct disorder from the educational psychologist. Andre isn't a psychopath but was quick-witted enough to fake it to get on the programme after receiving an invitation to apply. Without the free tuition, he wouldn't have been able to afford college.
The third is the charming and privileged Charles Portmont. The son of a fracking giant and heir to a media empire, Charles is practically DC royalty and a shoe-in for college president. He comes on Chloe's radar after she sees him feature regularly in Will's social media.
The identities of the study subjects are kept secret from one another, but circumstances arrive to bring these three together. After two other subjects are murdered in the psychology building – one rather ingenious death involves an MRI scanner – the three students become reluctant sleuths.
This is where Never Saw Me Coming really hits its stride. How do you trust someone with your life when you know they're a psychopath? It's especially troublesome for Andre who knows he isn't one and suspects he's not as cunning and duplicitous as the other two. Kurian mines the set-up for as much tension and dark humour as possible.
For a book about (mostly) psychopaths, Kurian skilfully avoids the trap of creating characters that are too similar. Chloe and Charles might lack empathy, but their approach to their condition, the study and each other is very different. For Chloe, her only concern is not letting the psychologists work out her real motivation; Andre makes desperate attempts to behave how he thinks a real psychopath would; only Charles is interested in understanding his condition and improving it. Consequently I found him much easier to engage with than Chloe, which I found a little problematic as she is the main protagonist.
But that aside, Never Saw Me Coming has a great set up that is smartly executed and is wicked fun. I will be in line for the movie.
For another smart look at psychopaths and the havoc they cause check out our review of My Sister, the Serial Killer.
Harvill Secker
Print/Kindle/iBook
£4.99
CFL Rating: 4 Stars