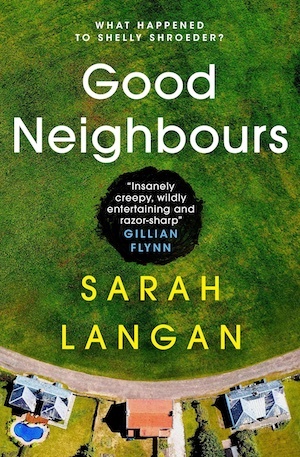 Maple Street, in New York State's Garden City, is a solid middle-class neighbourhood. It benefits from facing Sterling Park which, as estate agents will tell you, is a safe area for the neighbourhood kids to play. The parents are professionals and have aspirations for their children who, even if they refer to themselves as the Rat Pack, aren't trouble makers or, heaven forbid, gang members.
For Arlo and Gertie Wilde, moving in felt like an achievement. They'd had to stretch themselves, but it was worth it for their kids, Julia and Larry. Gertie was a former beauty pageant contestant, and not a natural homemaker. Her house and yard are always untidy, but she tries to be friendly and outgoing, battling a lack of social confidence to become friends with her neighbour, Rhea Schroeder, despite their differences in background and education. Rhea is Maple Street's Queen Bee, a college professor, and relentless social climber, who has made herself central to the community.
Arlo's band had a one off hit single in 2012, followed by a cliched downfall into prescription drug addiction, band break-up and obscurity. Having got sober, he holds down a job as an insurance salesman. Smoking, tattooed, and a little loud, he stands out amongst the Maple Street men, but he's popular none the less, with many of the men slightly envious of his rebellious past. Julia, their eldest, has fallen in with Rhea's daughter, Shelly, and this has helped her and Larry, a couple of years younger and awkward, to integrate in to the Rat Pack.
Good Neighbours is the story of how the Wilde family fall from grace, initially to be social pariahs, then later to be seen as a criminal threat, and finally as fair game for vigilante justice. It takes two things for this to happen. Firstly, Gertie unknowingly makes an enemy of Rhea. A little drunk and with her guard down, Rhea reveals her own insecurities about her marriage, her family and her career. Slightly tipsy herself, Gertie misconstrues Rhea's revelation, and Rhea leaves feeling weak and humiliated. An intolerable situation, so Rhea resolves to destroy her.
Secondly, a sinkhole suddenly appears in Sterling Park making it unsafe to play in, and the fumes and tar arising from it play havoc with mobile and internet connections. Maple Street becomes unpleasant, and possibly unsafe, to live in. This has a profound psychological effect on the community, who saw their neighbourhood as a symbol of their success and security. It has been revealed to be anything but.
Rhea's campaign against the Wildes begins by excluding them from the Fourth of July celebrations, but ramps up after a terrible accident leaves one of the Rat Pack missing in the sink hole. Wicked lies become gossip and rumour, and are soon taken as fact. Bewildered children are tricked into making false accusations by parents suddenly concerned about the supposed evil in their midst. Langan makes it all horribly believable and there is a chilling inevitability about events.
Author Sarah Langan evokes Arthur Miller's The Crucible with Good Neighbours' depiction of hysteria, and Lord of the Flies for its portrayal of how easily the veneer of civilised behaviour can be stripped away. The creeping dread that enveloped me as I read on, almost too scared to turn the last few pages, is pure Shirley Jackson. Good Neighbours is a complex, intelligent novel, whose secrets I don't feel I have fully mined or understood with just one reading. Highly recommended.
And if you like your crime fiction to be horror-tinged, check out our reviews of The Lost Village, The Only Good Indians, The Sanatorium and Children of Chicago.
Titan Books
Print/Kindle
£4.74
CFL Rating: 5 Stars