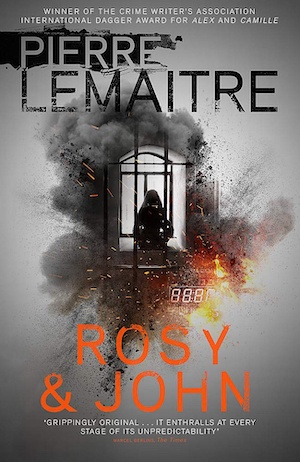 Translated by Frank Wynne — Pierre Lemaitre came to our attention in 2013 with his kidnap thriller, Alex, an original and gripping police procedural. It was actually the second in the series featuring diminutive Parisian detective, Camille Verhœven. The success of Alex, which has a clever double twist, led to the first and third novels, Irène and Camille, being translated as well.
After a six-year hiatus for the Camille series, the novella Rosy and John is out as a paperback – a welcome return for the irascible but brilliant French policeman. This time Camille faces an implacable bomber with a personal agenda and a list of demands that have to be met immediately or chaos will ensue across Paris. Bombs have been placed at various locations around the city and one is due to go off every 24 hours.
This is a much pacier read than the previous novels. The threat of deadly explosions builds tension nicely and, although the premise is straightforward, Lemaitre adds a couple of surprising turns along the way, while presenting very credible characters. The title, Rosy and John, is a 1960s Gilbert Bécaud song which feeds into the plot but the characters in the story are actually called Rosie and Jean. It might seen slightly confusing but it makes sense in context.
It all starts at 5pm on the Rue Joseph-Merlin. A father and son walk down the street, the boy's mother has convinced him his father will die soon, the boy thinks that it will be his fault. Nearby, a woman decides not to sleep with her married boyfriend and the pair part company. Others are milling around, shopping, passing by, going home. A man watches the devastation he has caused from a distance as an explosion brings down a building, bodies are thrown through the air and innocent people suffer. As the police and emergency services deal with the incident, Camille receives a call from Louis, his deputy. A man claiming to be the bomber has handed himself in and wants to talk to Camille – the policeman he has seen on the TV.
Jean Garnier has demands. His mother, Rosie, on remand awaiting sentence for killing his girlfriend, has to be released from prison. Rosie and Jean will then leave France with new identities, like witness protection, and start a new life with €5 million. The bomb was just the beginning. Six more are primed and ready. Camille is convinced that Jean means to carry out his plan whatever the cost. Jean seems impervious to persuasion or threats but, of course, his demands are impossible to meet. It soon becomes clear the next target is a kindergarten and the morning school run is about to begin. Pressure comes from the Ministère de l'intérieur and counterterrorism have their nose out of joint, forced to take a back seat to the maverick Camille. The only hope of avoiding chaos and tragic loss of life is in somehow outwitting Jean.
Camille is an unusual character in many ways. He is four-foot-eleven and his car has been fitted with special pedals so he can drive it, but his anger with the world isn't to do with his height. He is still grieving the loss of his wife. However, both colleagues and criminals do underestimate him because of his stature. Needless to say that is a big mistake and adds a touch of humour to the story.
Camille appeals to us as readers but he doesn't court popularity. In fact, only his encyclopaedic deputy, a man rich enough not to be a policeman, puts up with him in the stories. This does mean that Camille gets to do things his own way while others plot his downfall and resentment festers. Camille may be cynical and a little wary of others but he is intelligent and cunning and in the world of distinctive French detectives, from Maigret to Adamsburg, Camille makes his mark.
Rosy and John works, Lemaitre has taken a well-worn idea and infused it with a freshness, psychological insight and a satisfying conclusion, not so much a twist as a darkly poetic denouement. A mouth-watering bite that leaves us wanting more.
Lemaitre is also the author of Inhuman Resources, now a series on Netflix starring Eric Cantona, as well as Three Days and a Life, which was adapted for film in 2019.
MacLehose Press
Print/Kindle/iBook
£1.99
CFL Rating: 4 Stars