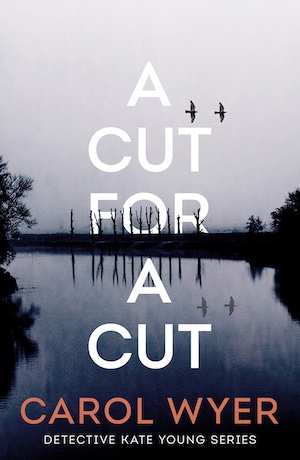 DI Kate Young is back, wheeling behind her a hefty pile of baggage. We're at book two in Carol Wyer's series of books featuring the Staffordshire-based police officer and Kate is even more disturbed than she was in An Eye for an Eye.
Put aside her all-encompassing job (something that Kate herself just cannot do) and you're left with a grieving widow who is struggling to keep her head above water. She's haunted by how her husband Chris died – he was shot dead on a train – and haunted by Chris too. She assuages her sorrow by talking to him all the time, seeing him and – most worrying of all – holding conversations where she tries to mimic Chris's voice.
Not really a solid foundation for a police officer to build her working days on, is it? But Kate is accomplished at deception, and her smoke and mirrors approach is keeping the doubters at bay… mostly.
She is edging ever closer to the truth of Chris's murder, but has to set it all aside when a young woman is found dead in an industrial bin outside a restaurant in the sleepy little town of Abbots Bromley. She's half naked, was raped and then had the word 'MINE' carved into the skin of her back. The death of Laura Dean is the first in a line of gruesome attacks that is about to keep Kate and her tightly-knit team pretty darn busy.
Added to the escalating killer and Kate's off-the-books investigation into Chris's murder, the detective has her sister Tilly and nephew Daniel home from Australia. The pair has had a troubled relationship in the past and they are trying to build bridges, but it's complicated. When Tilly was a teenager she was raped by a stranger and now she's determined to face her ghosts and put the trauma to bed once and for all. Kate is keen to help, but somehow work keeps getting in the way and Tilly and Daniel are left to her own devices. Mighty dangerous when there's a murderer on the loose and he's targeting women who look just like Tilly…
So there's plenty going on in A Cut for a Cut, and sometimes it can all get a wee bit overwhelming if the truth be told. Kate's conversations with Chris are disturbing and at times a little distracting too. There's already enough to be going on with, given there's plenty of current police work plus Kate and Tilly's fractured relationship in the mix. The Kate/Chris thing is starting to wear a little thin and hopefully it will all be brought to a satisfying conclusion soon in an upcoming novel.
You can always rely upon Carol Wyer to populate her books with hugely believable characters and A Cut for a Cut is no exception. Tilly is an interesting addition to the cast list and there are some lovely sisterly moments between her and Kate. The police team has a new member too, and DC Jason Webster is butting heads with DS Morgan Meredith, who isn't convinced that the newbie is pulling his weight. The office politics certainly ring true, as do the pin sharp locations scattered around Staffordshire.
For me, the drawn out continuation of the Kate/Chris story made this a frustrating read, serving only to divert and dilute the police procedural element. However, there's plenty to like about this book and it's good to hear that further additions to the series are in the pipeline. At this rate, Carol Wyer is going to need a book case all of her own!
Read our interview with the author here. If you love police procedurals, check out our pick of five of the best.
Thomas and Mercer
Print/Kindle/iBook
£3.99
CFL Rating: 3 Stars