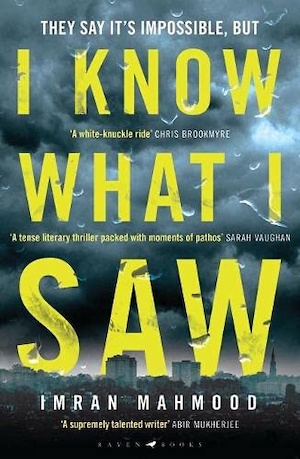 Xander Shute was a high-flying, wealthy banker – white, Oxbridge educated and privileged. But when I Know What I Saw opens, he's been living rough on the streets of London for decades. 
As Xander tells us his story we learn much about him in the first five pages. He's articulate and literary, most people don't treat him with kindness, most avoid him and when he is attacked he gives his assailant a kicking.
Injured and wet, Xander needs shelter to heal. When he sees a door to a dark flat in Mayfair ajar he takes refuge and sleeps. He wakes suddenly and hides as he hears the occupants return, before witnessing the murder of a woman from his hiding place. 
Wracked with remorse for not intervening to save the victim, he goes to the police, knowing the risk he is taking as a homeless intruder. The cops tell him he can't have been there; there has been no murder. Why would they believe a vagrant, rather than the wealthy owners of the flat, who couldn't have been there at the time? What's more they are charging Xander with assaulting the man who attacked him earlier that evening and later he becomes the prime suspect of a murder.
Xander is a man haunted by a distorted memory. He is tortured by flashbacks to his childhood and his mother, his rivalry with his brother and later the loss of the woman he loves. If only he could remember the past he has buried, and see clearly through the lies he has told himself, he might find answers to solve the mystery of the murder he knows he saw. Somehow this murder is connected to him.
With no one willing to investigate, Xander resolves to find out the truth. His resources are limited to a schoolboy in a library who looks up leads online and his own cunning and intelligence. We learn about the brutality of life on the streets and the fringes of society. But every twist revealed through Xander's quest causes us to swerve between anger towards the injustices of an unequal society that he endures and questioning whether he is guilty of more than he remembers.
There is a mid point that will have you spinning. When Xander meets someone from his affluent past, the plot becomes ever more complex as Xander takes us on the ride with him, from his past to present. More doors open for him, following a wash, shave and a change of clothes, as he is perceived as an acceptable member of society. However, he is deeply flawed and affected by past trauma and wilfully hijacks many of the positive steps he makes, and also finds new information changes how he remembers. We are often jolted back uncomfortably to realise he doesn't think like those of us with a roof over our heads and an income.
A double punch to finish that is both surprising, but believable concludes a gripping story arc that explores themes of trauma, privilege, identity and the fallibility of memory. It also manages to be literary and has flashes of humour too, without losing its tone of voice.
Criminal defence barrister Imran Mahmood's successful debut novel, You Don't Know Me was a legal thriller set in a courtroom, whilst this second book has a couple of very brief appearances before a judge. Mahmood is writing screenplays, directing juries in court for his day job and has just finished his third crime fiction novel. He also finds time to appear on the Red Hot Chilli Writers Podcast with Abir Mukherjee and Vaseem Khan.
Raven Books
Print/Kindle/iBook
£9.99
CFL Rating: 5 Stars