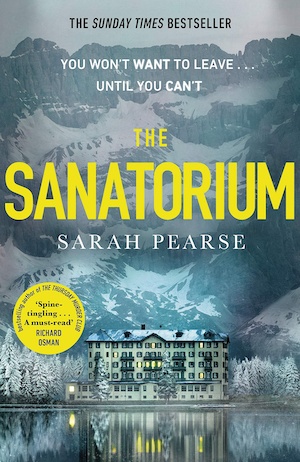 High up in the Swiss Alps perches Le Sommet, a luxury hotel which used to be a sanatorium for tuberculosis patients. In the late-19th and early-20th centuries Switzerland had numerous sanatoria where people with long-term illnesses were sent to recover in the clean, crisp mountain air. It is in this remote setting that British police detective Elin Warner and her brother Isaac meet up after years of hostility to celebrate his engagement to Laure.
The siblings have had a strained relationship ever since the accidental death of their youngest brother, Sam. Isaac's disinterest in their mother's deteriorating health and subsequent death drove an even deeper wedge between them. The only reason Elin agrees to join Isaac and Laure at Le Sommet is to process what really happened when Sam drowned. Her memories of the day are all mixed up, and sometimes she wonders if her mind has been playing tricks on her.
Unreliable narrators are common in crime novels, but Elie isn't the only character in The Sanatorium whose reality is somewhat warped. Dishonesty and deception are running themes in this debut novel, with characters deceiving one another and themselves.
Things start to go wrong the morning after Elin and her partner Will arrive at Le Sommet when Laure disappears into the crisp alpine air. She was last seen having a heated argument with Isaac outside the hotel after which she never returned. Apparently, Laure has some secrets to hide and she lied to her own fiancé.
Then, the body Daniel Lemaitre, the architect who went missing during the final stages of the sanatorium's conversion into a hotel, is found buried in the snow. His corpse is followed by that of a woman floating in a pool, a black gas mask strapped to her face and her wrists tightly bound. Author Sarah Pearse ramps up the tension by throwing in a storm and an avalanche, which curtail the search for Laure and confine 45 guests and staff to the hotel, where they must fend for themselves – perhaps with a killer in their midst.
Elin steps up to investigate, but seems to lack confidence in doing so. Her brother's death isn't her only emotional baggage – she has also taken leave from her police work after bungling an important case a year ago. Will she be able to solve the murders before more guests end up dead?
Clearly, Elin has a lot going on. She's a woman on the edge, confused about her future in the police and her precarious relationship with Will, who is at the end of his tether. Complex characters are the stuff crime novels are made of, but perhaps the author turns the dial too far with Elin. Her state of mind, rash decisions and illogical behaviour, especially considering her police background, don't add up. However, she is the easiest character to sympathise with because of her emotional state and vulnerability – most of the others aren't particularly likeable.
It's not the plot or the characters that stand out most in The Sanatorium. Just as the avalanche envelops Le Sommet, the chilling atmosphere and dramatic setting will overwhelm you. Pearse is clearly familiar with the Crans-Montana region, where the book is set. She moved to Switzerland in her 20s and it was an article in a Swiss magazine about a sanatorium in Crans-Montana, specifically an imposing photo of the vast, white, clinical building, that triggered the idea for an old-school crime mystery set in the area.
The sanatorium's past and its archaic practices, such as strapping sandbags to patients' chests to induce pneumothorax, are almost more spine-chilling than the murders themselves. While investigating the murders, Elin also finds evidence that patients were experimented upon. Pearse works this history into the killer's modus operandi, as well as into references to the hotel décor which incorporates artefacts from the original institution. The descriptions of the hostile environment and the hotel as a menacing, ominous, living being are entirely Elin's within subjective observations. They build suspense, but also lure you into expecting a supernatural element which never materialises. The oxygen masks found on the victims' faces, originally used as breathing aids for tuberculosis patients, conjure up an unsettling and nightmarish mental image, as well as the unexplained numbered bracelets and gruesome removal of fingers.
The visual style and ample descriptions of the hotel's décor work well in the beginning and sketch a vivid picture. However, as the story progresses there are too many references to the animosity of inanimate objects. Elin sees a threat in everything, whether it's the coldness of the building's architecture or a chandelier: "Her eyes alight on the huge chandelier above them. It's an abstract design – made up of hundreds of sharp-edged fragments of glass suspended at varying heights. At first glance, it's beautiful, but the complexity, the lack of symmetry, it is too much. It's too harsh a centrepiece." Reflections and glass are mentioned frequently and even though this might not have been intentional, the transparency of glass can be interpreted as being juxtaposition to the characters' attempts at deception. But that might be over-analysing things.
The setting and atmosphere are very evocative but they tend to overpower the plot to the point that even the unmasking of the killer's identity isn't as surprising as it could be. However, if you need an escape to the Alps during this pandemic, you'd be hard-pressed to find a more scenic, albeit sinister one. The Sanatorium was selected for Reese Witherspoon's book club and is currently a Sunday Times bestseller, fuelling the book's popularity and raising expectations.
Also see The Frozen Dead by Bernard Minier, The Mountain by Luca D'Andrea and One by One by Ruth Ware.
Penguin
Print/Kindle/iBook
£5.99
CFL Rating: 3 Stars