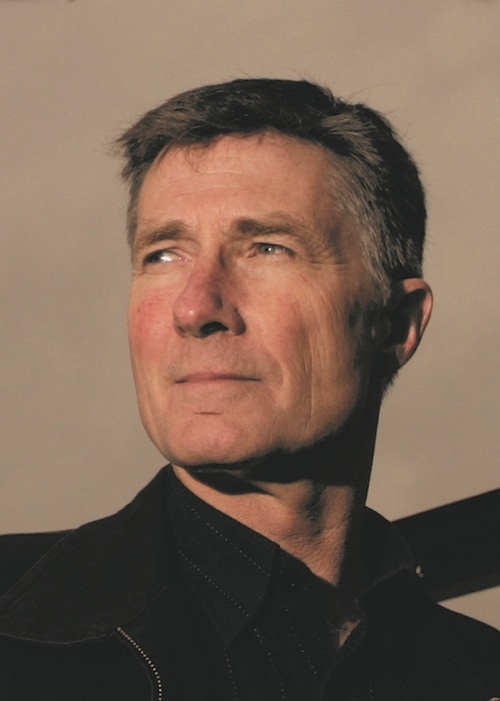 The prolific Garry Disher is a huge name in his native Australia – he's won the Ned Kelly Lifetime Achievement Award, and has had many fellow crime fiction writers citing him as a major influence. At last, the rest of the world is catching on too, and his recent releases featuring troubled rural cop Paul Hirschhausen have garnered widespread praise outside of his native land – including right here on CFL. We've previously reviewed Bitter Wash Road and Peace. Now, the third book in the series, Consolation, is about to be released in the UK, so we decided to catch up with the man who's been described as the Daddy of Aussie crime.
Please tell us a little about Consolation.
Consolation is the third Constable Paul Hirschhausen novel, set in dry, semi-outback South Australia. Once a young city detective, Hirsch has been busted down to uniform to serve in a remote, one-officer police station, and while his duties mostly involve pastoral care and investigating petty crimes, he's usually the first responder at major crimes. This set-up allows me to build on two strands of tension and suspense not usually apparent in urban crime fiction: Hirsch is not rooted to place like Rebus or Bosch but an outsider and therefore forced to decipher the locale as well as the circumstances of a suspicious death, and, being a humble uniformed constable rather than an experienced homicide inspector, he's shunted aside when specialist police arrive on the scene.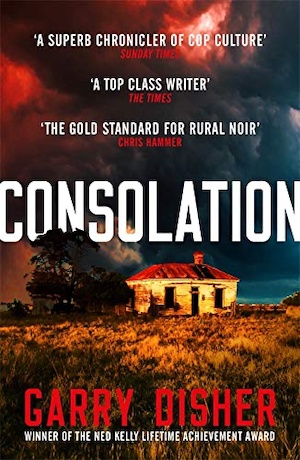 Hirsch is a great character – how did you come up with him?
I seemed to step right into his shoes. I could see him walking and hear him talking as soon as I asked myself what it might be like for a young city cop banished to the outback. Many novels start with the question: What if? I saw a long-suffering, put-upon guy who is often sidelined and overlooked but who has an inquiring mind and a wry sense of humour.
I read that Hirsch was envisaged as a standalone protagonist – what prompted the pivot to creating a series around him?
Hirsch kept tapping me on the shoulder, he had more to tell me. That's often happened to me over the years – a growing sense that I haven't finished with a character. Also, the first Hirsch novel was fun to write, and I know the area well – I grew up there.
You're such a prolific writer, what keeps you at your writing desk?
My head is always full of stories and story speculations, and my study full of jotted plot ideas and newspaper clippings. I would be lost if I didn't write. Apart from walking, reading and watching crime shows, I have few other interests.
Your books exude a tangible sense of place – is there somewhere you've always longed to feature as a setting for one of your novels?
I could give a ratbag answer and say Los Angeles so that Hollywood might pick up the film rights, but the truth is I would like to use a major city setting one day. But how to convey a big city? Cities are not homogeneous places but wildly variable. I think the trick would be to take one small, cohesive corner of it.
When CFL started, it was hard to get hold of Australian crime novels outside Australia. Over the last five years that's all changed, with authors like yourself, James Delargy and Jane Harper published in the UK and US. Is this much better international exposure affecting the scene in Australia?
Crime fiction had been growing in popularity within Australia before the success of Jane Harper and others. The fact that Australian crime novels are now finding international readers will serve to reinforce that – and improve the incomes of Australian authors published overseas. Our population is small and local writers struggle to find readers when high street bookshops keep on displaying the latest fat American crime novels. And overseas success will help break down the waning but still persistent notion in some quarters that if it's an Australian novel it won't be as good as an import.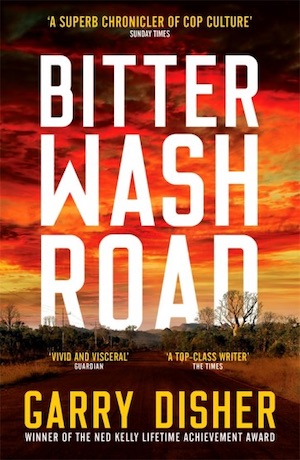 What's your must-have when working on a new book?
I need silence, blue ballpoint pens – the magic leaks away if I write with black pens – and the backs of old A4 manuscript pages. Then a beach walk at midday, during which I often solve plot issues or recast clumsy sentences. In the afternoons I type the morning's handwritten draft, effectively the typed draft is the second draft, for I usually make many changes.
If you could choose to write in a different genre, what would it be and why?
Spy fiction, which is not a great shift from crime fiction. I have recently discovered Mick Herron's Slough House novels and have long admired John le Carré.
Are you a crime fiction lover? Who are your favourite authors?
I read it all the time. Mostly for pleasure, and it rarely interferes with my own writing, but if I read a bad crime novel, I will try to work out why it's bad. I enjoy reading Michael Connelly, Ian Rankin, Dervla McTiernan, Karin Slaughter and John Sandford.
What's coming up next for you?
I will write Hirsch number four next year. Meanwhile I am near the end of a standalone crime novel in which a cop on suspension is trying to clear his father's name. The skeletal remains of his mother, missing for 20 years, have just been found and his father is the main suspect.