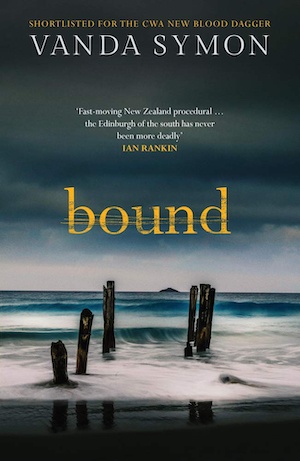 Bound is the fourth in Vanda Symon's series set in New Zealand and featuring police detective Sam Shephard. We've previously reviewed Overkill and The Ringmaster on the site but if, like me, you're a newbie to this author's writing then Bound is not too bad a place to start.
Author Vanda Symon has already been shortlisted for the Ngaio Marsh Award and the CWA John Creasey Dagger, and in Bound it is clear to see that she's settled into her crime writing stride. A case in point is a prologue that is both creepy and bathed in blood, with a woman sitting bound and gagged in her own home, facing the shattered body of her husband and hoping, praying for rescue.
Skip forward a short while and Sam Shephard is on her way to the crime scene, an isolated property in Seacliff, on the far reaches of Dunedin. It is the home of Jill and John Henderson and their teenage son Declan, who was the one to find his mother semi-conscious and his father murdered. He's in quite a state, but had the foresight to video the crime scene on his phone. The boy is distraught because he had a 10pm curfew and was home late – could he have stopped what happened to his parents?
As Shephard and the team of detectives that includes her lover Paul Frost begin their investigation, the business dealings of the dead man come into question and the original conclusion that the crimes resulted from a home invasion gone wrong become more than a little shaky. John Henderson manufactured, sold and distributed vitamin-type supplements, but it appears he had some dodgy sidelines and associates too.
As the plot thickens Shephard is keen to get stuck in, but her mind is soon on other things when her Dad is brought into Dunedin Hospital. He has cancer and is nearing the end of his life, which is a bad enough situation, but Shephard and her mother have a prickly relationship which is about to make things even more difficult. Add in the fact that Shephard and Frost are trying to hide their burgeoning relationship from colleagues and the plot strands soon resemble a bowl of spaghetti.
All that to-ing and fro-ing makes things drag a little at times and Symon ladles on even more as the book progresses, making it quite a task to keep everything in order. However, in the midst of all the confusion is Shephard, an intuitive copper who is keen to prove her worth to her colleagues – and in particular her boss, DI Johns, who has little time for the female members of his team and borders on the downright misogynistic. Anyone missing Life on Mars and Gene Hunt will enjoy this character but I personally felt like strangling him in a dark corner.
Suddenly, the pieces begin to fit and the mystery of the Henderson bloodbath is all but solved – but when Shephard's intuition leads her up a garden path that's been ignored by everyone else, it is an uphill task to convince the team that they have got things wrong. She's used to being the odd one out though, and the moments when Shephard is fighting her own corner, to the disparagement of almost everyone else, are highlights of this smartly rendered police procedural.
After such a glut of Australian-based crime fiction in recent years, it is refreshing to step into another landscape. New Zealand's South Island is a great setting for this book and it is lovingly etched by an author who obviously knows the area well. It's made me hanker after more Kiwi crime – and this Craig Sisterson article sounds like the ideal starting place!
Orenda Books
Print/Kindle/iBook
£3.79
CFL Rating: 3 Stars