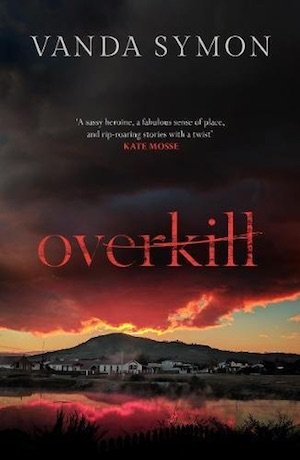 Written by Vanda Symon — Tree-lined river banks. Long, winding roads through creepy rows of corn. Secluded woods that block out the light. And houses in hard-to-reach places on the dusty plains. The rural setting is one that crime fiction lovers are passionate about at the moment, and everything from Will Dean's Dark Pines to The Dry by Jane Harper play on that sense of isolation as a dark murder mystery is played out in a natural setting. But you don't get much more remote or rural than Mataura, the very southern tip of New Zealand's South Island where Vanda Symon set her debut, Overkill.
What we have here is an entirely reworked and updated version of a book first published in 2007, revamped for Northern Hemisphere readers by Orenda Books and the author. It's all pretty seamlessly done and this book reads like a dream – a bad one, maybe, in which a woman is murdered and the woman investigating the murder is likeably authentic and annoyingly impetuous at the same time. The former, our victim, is Gaby Knowles, seemingly the perfect housewife to handsome husband Lockie, a farmer of good standing. The latter is Sam Shephard, the only cop in a farmstead where everyone knows everybody else's business.
Gaby is murdered in somewhat unusual fashion in the book's prologue, so we know all along what has happened to her but what we don't know is who's behind it, or why they've done it. In true procedural fashion, Sam secures the scene and once Gaby's supposed suicide note has been discovered she begins enquiries. She's a diligent cop and has the nous to sort out a search party though she finds the body herself, in the nearby river. Sam would be full steam ahead into solving the case, if the killer had left any clues, but the truth is it's a struggle.
She also seems to lack the self awareness to realise that she shouldn't really be investigating this particular murder. Only a few years back she was living with Lockie and was out of her mind with jealousy when he married Gaby after the two of them split. But Sam has already dug herself deep into the case, for both emotional and professional reasons. It hits her like a brick in the face when she's hauled in by her chief and the out-of-town brass who have arrived to provide the extra resource for a full-blown murder investigation. To her surprise, but perhaps not to yours, the novel's principal investigator becomes a suspect and Sam is suspended from duty.
Of course, a woman with her drive and temperament isn't going to sit back and watch cops who don't know the district trying to solve the crime. She carries on investigating off the books and digs a few more holes for herself to fall into while she's at it. There's a lot of energy and drive to Sam Shephard, frequently it's her undoing, and most of the time you can see it coming before she can. But two steps forward and one step back is still progress and soon she can see what Gaby's secrets were and what the real threats were to what seemed like someone living a charmed life.
There are times when you will wonder where the story is leading. Supporting characters like Sam's roommate Maggie, and the potential love interest, a strong and silent farm labourer called Cole, hold a fair amount of interest, but Sam's outbursts, hangovers and travails going to and fro trying to talk to witnesses do drag a little. A flat tyre turns into a major trauma for her and as funny as the scene is, by this stage of the story you'll be wanting a bit more danger and menace to be building up. Luckily, the author's style of storytelling is smooth and engaging, making Overkill very easy to read, which is enough to keep you cranking through the pages.
The ending is a cracker. Things quickly fall into place, and Sam finds herself at the centre of a major conspiracy that could not only ruin the local farming economy, but could damage the entire country. The flat tyre's plot relevance suddenly becomes clearer – just wait and see – but more than that, Sam is in a race against time and a white-hot violent battle to save herself and her friends ensues. And as a backdrop to all this, the tight knit community, cadence and usages in the New Zealand dialogue, references to local plants and wildlife and the rural way of doing things round everything off nicely and make Overkill all the more readable. We'll look forward to the next in the series because with the author's storytelling skills, the first is a pleasure to read.
For more top New Zealand crime fiction, click here.
Orenda Books
Print/Kindle/iBook
£4.79
CFL Rating: 4 Stars