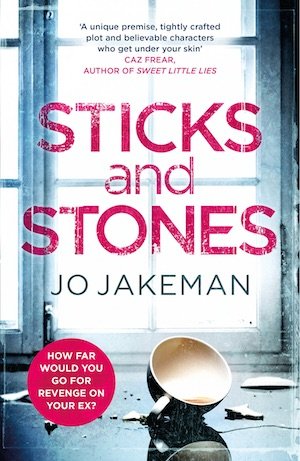 Written by Jo Jakeman — Phillip Rochester was a man who had everything – an ex-wife who acted more like his mother, a wife he was separated from, and his new young lover. When this debut novel opens, these three women are together at Rochester's funeral. Then the domestic noir story jumps back in time and each subsequent chapter counts down towards that funeral.
Although Phillip is a malevolent presence in the lives of all three women, this is really their story, told by his current, albeit estranged, wife Imogen. About three weeks before the funeral, Imogen visits Phillip at home. She's determined to stop his foot-dragging about signing the divorce papers and his increasing demands for more time with their son Alistair. Imogen isn't sure how much of this paternal interest is due to love of his son and how much to wanting to make her miserable. However, Phillip isn't home and she spends an awkward few minutes in the company of his new love, Naomi.
Imogen eventually leaves without seeing her ex. But she has seen something: evidence that Phillip is bullying Naomi in the same way she herself was bullied for years, his sneers making her feel inadequate and hurt more emotionally than physically, though plenty of that too. Seeing Naomi, it's all fresh again. "I had been naïve to think that the past would ever let me go," she thinks.
Phillip was a police officer, and Imogen reported the abuse only once, when he pushed her down the stairs. The police who arrived were friends of his, and it was clear her complaint wouldn't stand up to Phillip's half-hearted and jokey excuses.
Alistair is now six but two years before his birth, Imogen was pregnant with a daughter. A hit-and-run accident caused her to lose the baby. The episode triggered a deep depression, and she thinks that dreadful night changed Phillip as well. He became crueler. And he blamed everything on her.
Not only is Phillip not signing the divorce papers, he's begun insisting that Imogen and Alistair be out of their jointly owned house by the end of the month. Otherwise, he'll fight her for custody of their son. She argues that shouldn't be necessary as they're planning to sell it and split the proceeds. But he insists, and he's willing to play dirty, bringing up Imogen's bouts of depression as evidence she's unfit. Imogen believes she detects his real motive. In her opinion, all signs point to his having another affair and needing a trysting place.
When Phillip appears unexpectedly at her home with new demands, in a desperate moment Imogen locks him in the cellar. It's one of those small acts of revenge that feels like a good thing in the time but could turn out very badly. Will Phillip use it as more evidence of her instability? She can't keep him in the cellar indefinitely, and will he report her to the police? Is he becoming contrite down there, or is he waiting the chance to hurt her again, or worse?
By keeping most of the action in Imogen's house, and much of that in the confines of the cellar, author Jo Jakeman creates a claustrophobic atmosphere that adds to the story's power. In a way, the house and its disposition become a metaphor for the intimate relationship that has gone awry.
Ruby and Naomi appear on the scene, and over the next few days, power shifts back and forth between Phillip and the three women. The relationships among these three women are nicely developed and believable. Phillip is less convincing.
Ruby, the first, forgiving wife can't believe any of the bad things about Phillip that the other two reveal. Possibly she's aiding Phillip in his plans for revenge. Not knowing whom she can trust, Imogen trusts none of them. It appears he'll stop at nothing to maintain his control over them, but how determined are they to rid themselves of his domination?
Starting the book with the information that Phillip is dead and the women are not takes that source of tension out of the story. Nevertheless, you wonder how it happens, and the novel takes pains to tell you why.
If you like domestic noir you'll find plenty more here.
Harvill Secker
Print/Kindle/iBook
£2.99
CFL Rating: 3 Stars