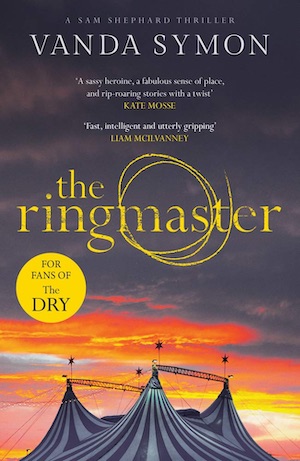 Written by Vanda Symon — Sharp-witted, no-holds-barred Sam Shephard is back. After leaving her previous position in Mataura, deep in the countryside on New Zealand's South Island, she's starting a new job at the rank of detective in Dunedin. Being promoted after only a six-month trial and climbing up the career ladder doesn't sit well with everyone.  Least of all her boss, DI Johns.
When a murder is committed, Sam is given the opportunity to prove herself. Rose-Marie Bateman, a 23-year old female student, is found dead near a walk-way in the Botanic Garden in Dunedin, home to New Zealand's oldest university.
Who would want to murder such a good girl with old-fashioned views on loyalty, love and morals, dedicated to her studies and described by her academic colleagues as clever, talented and showing tremendous potential? Could it be her devoted boyfriend? Perhaps Rose-Marie was not so innocent and faithful after all? Or was it the angry female colleague who believed everything was handed to her on a plate?
Rose-Marie's murder is initially viewed as an isolated incident, but Sam figures out that they might be dealing with a serial killer. Coincidentally, the Darling Brothers' Circus is in town and murders have been committed everywhere they've pitched their tents recently. When this news goes public, Terry Bennet and his staff turn into convenient scapegoats triggering a string of unfortunate events. In spite of the circus's connection to the murders, there are no other similarities in MO or victim profiles. It's up to Sam to find out who the murderer is before anyone else dies.
As the investigation progresses it becomes clear that the killer is an intelligent, arrogant, high-functioning psychopath who acts as the ringmaster of his own personal circus. Could he be using the Darling Brothers as a smokescreen for his killing spree?
While trying to find the guilty party, Sam is faced with multiple obstacles. Johns goes out of his way to make life difficult by humiliating her in front of colleagues and forces her to take a backseat in the investigation, thereby preventing her from doing her job.
Meanwhile, her manipulative, martyr mother unexpectedly slides into her life and won't let the opportunity pass to emphasise how much of a disappointment Sam is to her. Add a stalker who leaves threatening messages on her car and Sam has more than her fair share to deal with.
In spite of these challenges, she has Smithy, her partner, who is "built like a proverbial brick shithouse" with cauliflower ears thanks to his rugby-playing, on her side. And then there is Paul Frost, an overly helpful potential love interest from her past and best-friend Maggie, a criminologist in training.
With Sam Shephard, Vanda Symons has created an unforgettable, gutsy female character who stands her ground with humour and wit. Just over five foot tall, Sam is a package of dynamite with an attitude to match. Headstrong and armed with a sharp tongue and even sharper brain, she holds her own against anyone who challenges her.
At times Sam overshadows the main plot of the story and ultimately The Ringmaster is character-driven rather than plot-driven. If you're looking for a nail-biting, nerve-wracking, edge-of-your-seat read, The Ringmaster might not be for you. The unmasking of the murderer provides an unexpected twist, but occurs quite suddenly and could benefit from more prolonged suspense.
However, this doesn't deter the enjoyment – on the contrary, it's impossible not to warm to Sam's character and ultimately she is why you'll want to read the rest of the series. We need more strong female main characters in crime fiction and Sam Shepard is a fine start.
The first Sam Shephard novel, Overkill, which was rewritten for publication in the UK for Orenda Books, and the Ringmaster follows on from that. For more New Zealand crime fiction, click here.
Orenda Books
Print/Kindle/iBook
£3.79
CFL Rating: 4 Stars