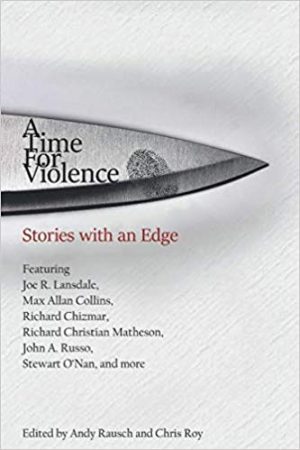 Edited by Andy Rausch and Chris Roy — Occasionally we come across an intriguing collection of crime-themed short stories. Some excellent crime fiction magazines and one-off anthologies are out there that give established writers the chance to explore shorter form crime fiction, and new ones an opportunity to be read by crime fiction's early adopters.
The theme of A Time for Violence, according to editor Andy Rausch, is violence, plain and simple, and the intent was to inspire edgy and transgressive material. In that, the editors succeeded. Rausch signals up front that while he strove for variety with this collection of 26 stories and if the material was extra-dark the editors were not going to be shy about going there. In fact, he says, one of the stories, "is neither crime nor horror by standard definitions, and yet it's the worst of both." I couldn't finish it. That wasn't the only one. And not because I'm squeamish; some of them just didn't capture my interest.
Still, with the diversity of stories on offer, there's probably something in the collection that would appeal to a many readers. I chuckled at Santa at the Café by Joe R Lansdale, which shows, once again, there's no honour among thieves. Max Allan Collins's Guest Service: A Quarry Story demonstrates an ideal way to get rid of a troublesome spouse. Elements of a police procedural make Manner of Death: Homicide by Peter Leonard fun and funny too, with its inclusion of the kind of banter prevalent among fictional cops and ex-cops.
Loved the promise of later hijinks in Andrew Nette's Ladies Day at the Olympia Car Wash, when the clean-up of a glamorous gal's trunk provides clues to homicide. Most of the stories are, I think, set in the United States, but that one is from Australia. And from Thailand comes the story of an unfaithful wife, One Hit Wonder by Elka Ray.
Murder of course, and betrayals by friends and family run through the whole collection like the bass line of a death march. So, if you like your stories on the dark side, you're sure to find much to like here.
Like shorts? Try CWA's Anthology of travel-related tales, Mystery Tour or the stellar Best American Mystery Stories, 2018.
Close to the Bone
Print
£3.05
CFL Rating: 2 Stars