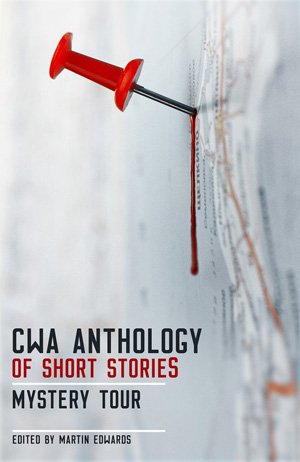 Edited by Martin Edwards — If you are planning a virtual escape to far-off lands over Christmas, this is a great collection of adventurous short stories to take with you. But, expect to be chilled, even when trekking in the heat of South Africa, dipping your toes in the tropical sea on a beach in French Polynesia or basking in Spain.
Our killers and victims pack their bags and travel to the abyss by boat, plane, train, car and by foot. Their stories take place in exotic locations, foreign cities or just down the coast on a weekend break. Among the slayers are several murderous spouses, betrayed friends, stalkers and complete strangers; those random strikers and monsters we all fear. Some are caught, some walk away, others are dealt rough justice and sometimes we don't know if they have got away with it or not. There's a bit of fraud and opportunist theft too.
The Crime Writers' Association's latest short story jaunt includes brief tales exploring the criminal mind in transit, from 28 of its members including previous CWA dagger winners, rising stars, big names and some recent debuts. Doubtless, there will be authors you will have not read before and with the new discoveries you can hunt them down to enjoy more of their work. This serves a similar purpose to our recent New Talent November series, NTN2017, where we showcased debut authors to fall in love with.
Among the 'new to me' authors whose work I admire here is Anna Mazzola, for her lyrical writing in Return to the Lake, that gently draws you into a retrospective and unexplained, lakeside disappearance, during a family holiday in France. At 15 pages this is one of the longer pieces and has well-drawn characters.
I also admire how every writer in the anthology hurls us straight through the departure lounge to the take off and touch down in just a few pages with high drama. There are slow reveals that are as satisfying as the jet-propelled crime sprees. One of the most adventurous and fun is Christine Poulson's, Accounting for Murder, which reveals the whole story behind a homicide, solely through receipts for luxury goods, a private investigation, legal bill and a prisoner inventory.
In a classic-style read, Vaseem Khan's murderous story of historic family revenge is investigated with the help of an elephant in the Baby Ganesh Detective Agency in, Bombay Brigadoon.
There are plenty of twists in the tales. JM Hewitt's No Way Back is the most chilling; an imaginative child's trip to another country that is both disturbing and provoking with fatal consequences we are powerless to prevent.
Given that these stories are all new writing, the collection could be tapped as a barometer of trending themes. There's more than the percentage of murderous female avengers I would expect, penned by the 28 authors, who are split almost 50:50 male to female. Domestic noir examples see abused wives taking back control. There's a femme fatale causing a diversion by stripping off in Prague like Lady Godiva by Kate Ellis, and a delicious queen of crime from Ann Cleeves, plotting a death, when she is tipped off her throne by a young pretender at a crime writing convention.
There are some destinations you will think twice about visiting after reading this mystery tour. In less than two pages Ragnar Jonasson may have destroyed his country's tourist board's efforts in his, Postcard from Iceland, a place the narrator was warned against going alone.
Ingenious murder methods include garroting with a guitar string, hallucinogenic drugs and suffocation using several tubs of ice cream among the old favourites of shooting, burning, poisoning and a classic set-up.
Veteran editor of 35 anthologies and author of 18 novels, Martin Edwards has done a fiendishly fine job in pulling together this journey through contemporary crime territory. You could read one story a day and savour the mastery, or binge read – I felt it hard to resist starting the next one immediately. Hold on to your hats and take the ride.
The full list of authors is: Ann Cleeves, C.L. Taylor, Susi Holliday, Martin Edwards, Anna Mazzola, Carol Anne Davis, Cath Staincliffe, Chris Simms, Christine Poulson, Ed James, Gordon Brown, J.M. Hewitt, Judith Cutler, Julia Crouch, Kate Ellis, Kate Rhodes, Martine Bailey, Michael Stanley, Maxim Jakubowski, Paul Charles, Paul Gitsham, Peter Lovesey, Ragnar Jónasson, Sarah Rayne, Shawn Reilly Simmons, Vaseem Khan, William Ryan and William Burton McCormick
Orenda Books
Print/Kindle
£7.99
CFL Rating: 5 Stars