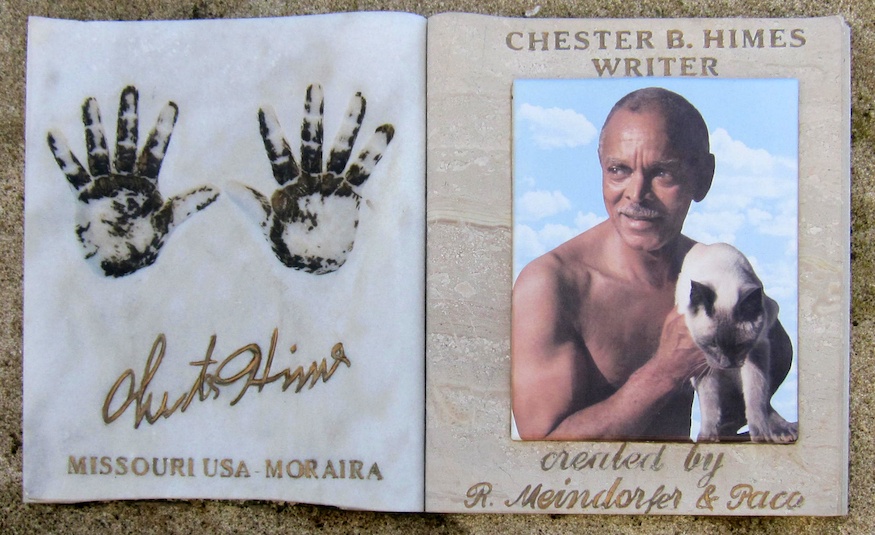 With strikingly designed covers, new editions of five novels by Chester Himes have appeared the shelves. Featuring Coffin Ed and Gravedigger Jones, the reprinting of these hardboiled detective stories is good news – Himes was an American crime fiction genius who is still underappreciated. When it comes to hardboiled crime fiction, critics regard Chandler and Hammett as the gold standard, and maybe Ross MacDonald too. That recognition is thoroughly deserved, but Chester Himes is just as important to the genre. It's hard to not of conclude that over the years racism has played a part in Himes not being accorded the same status – he was African American. The five novels in new jackets from Penguin Classics – A Rage in Harlem, Real Cool Killers, All Shot Up, Cotton Comes to Harlem and The Heat's On – ably make the case for his recognition as a master of the detective story. They prove him to be an innovator, a stylist, a noir-ist and a voice against injustice and inequality.
Himes' principal characters are African American and racism is a theme throughout his stories. These books are a damning indictment of society and as such made a lot of white readers uncomfortable – uncomfortable enough for ignorance and stupidity to marginalise Himes and his social critique. Reading them many decades after they were written, they still stand up and feel remarkably contemporary and fresh in style. Of course, the themes of racism, inequality and othering are as relevant as ever.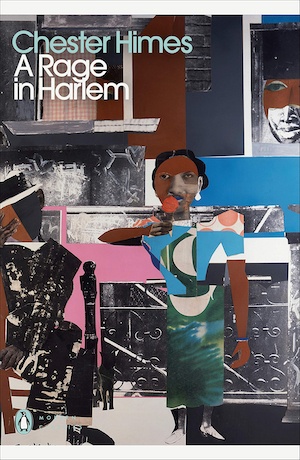 Himes has influenced many writers including Gary Phillips, Attica Locke, Iceberg Slim, Walter Mosley, Barbara Neely, Dreda Say Mitchell and Thomas Mullen. He's also impacted emerging authors like SA Cosby and Joe Ide. His influence extends to all self-respecting exponents of the hardboiled subgenre. These are stories of Harlem, voices not often heard at the time and still under represented now. They strike a chord with a universally disenfranchised class of people and lovers of seriously gritty crime fiction. Here are books drenched in noir sensibilities. It's not all about the message though, Himes is an entertainer in the purest sense, mesmerising writing, engrossing stories and amazing, colourful characters who rival Dickens in inventiveness.
French readers still love American crime fiction and were first to devour it this side of the pond. It chimed with Europe's noir cinema and literature which had earlier stormed Hollywood. A number of American authors struggling at home found acceptance and respect in France. The French took Chester Himes to their hearts. For all its faults, in some ways France was a more tolerant society in the mid 20th century. This open armed acceptance of Himes' is something to admire in the French literary world. When Himes arrived there he drank with the best and brightest of French cultural life. It wasn't perfect but it was so much better than home.
A lifetime of tragedies
Himes was born in Jefferson City, Ohio, in 1909. His family was comparatively well off, but sadly racism was a fact of daily life and not least in the conflicted views of his own bi-racial mother. She was a fierce disciplinarian but on one occasion that may have saved Himes from serious injury. Himes so angered his mother one day that she forbade him taking part in a school science demonstration with his older brother Joseph. Tragically, Joseph was blinded by an explosion during that experiment. But here's the kicker – in pain and seriously injured Joseph, was refused treatment at the local white hospital under Jim Crow Laws. Himes later recalled: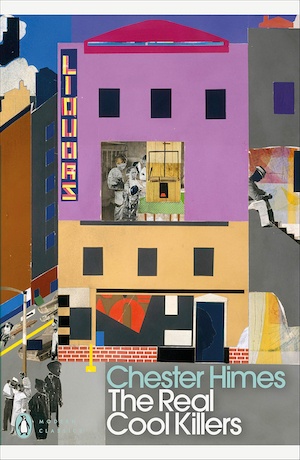 "A white man was refusing; my father was pleading. Dejectedly my father turned away; he was crying like a baby. My mother was fumbling in her handbag for a handkerchief; I hoped it was for a pistol."
By 1928 Himes had badly injured himself in a work accident, briefly attended state college and gone off the rails. He was tortured by the police when he was arrested during an armed robbery and sentenced to 25 years in the Ohio State Penitentiary. Police brutality is a theme his fiction revisits. There's an edgy cynicism and a healthy lack of respect for the callous and corrupt exercise of authority. Himes started writing in prison, gained a reputation for his short stories and was published in magazines. He was finally released from prison in 1936 and by the early 1940s was working as a scriptwriter in Hollywood. Then Jack Warner had him fired from the studio for being black. If He Hollers Let Him Go was published in 1945 to critical praise but Himes was feeling the weight of his troubled life catching up with him:
"Up to the age of 31 I had been hurt emotionally, spiritually and physically as much as 31 years can bear. I had lived in the South, I had fallen down an elevator shaft, I had been kicked out of college, I had served seven-and-one-half years in prison, I had survived the humiliating last five years of Depression in Cleveland; and still I was entire, complete, functional; my mind was sharp, my reflexes were good, and I was not bitter. But under the mental corrosion of race prejudice in Los Angeles I became bitter and saturated with hate."
He moved to France in the early 1950s and lived his life out in Europe, ending up in Spain. Marcel Duchamel, founder of Editions Gallimard Série Noire, led Himes to crime writing – the author was sceptical but the publisher was persistent. The result was A Rage in Harlem, the 1957 hit that won the Grand Prix de la Literature Policière in 1958.
The biographies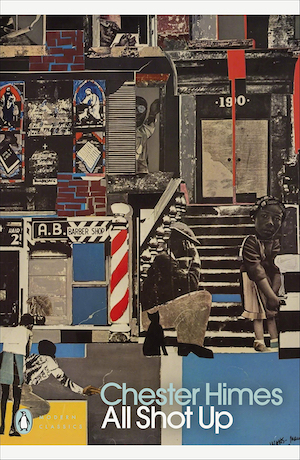 If you want to know more about Himes fascinating and disturbing life, in the 1970s he wrote a two-volume autobiography entitled The Quality of Hurt and My Life of Absurdity. There are two fantastic biographies to try as well – Chester Himes A Life by James Sallis Chester Himes A Life, and the slightly less complex Chester Himes A Biography by Lawrence P Jackson. Jackson said this in a recent interview on Crime Reads:
"It was in the works of Chester Himes that I encountered adult men who are having adult male problems. When I got to the work of Chester Himes I was just sort of like, wow, I can't believe that somebody is talking about some of the real issues that I'm facing and helping me understand a longer history of the same kinds of grappling throughout the 20th century."
There's also the essay, Survival Mode: The Crime Fiction of Chester Himes by Scott Alderberg in Sticking it to the Man, edited by Andrew Nette and Iain McIntyre. Alderberg says of Himes' writing:
"All he did in book after book was probe and examine worlds of trouble, and, as entertaining as he can be, he doesn't play. Laughs come with stings, pleasures with pain. It's the way of the world, the way of Chester Himes."
A Rage in Harlem
A Rage in Harlem could be Himes' best known work, having been adapted for the screen in 1991 with the film starring Forrest Whitaker, Danny Glover and Robin Givens. However, it was shot as a comedy rather than a darkly comic noir and received a mixed reception. However, the book introduces us to detectives Gravedigger Jones and Coffin Ed Johnson, and began a series that ran for more than a decade. Gravedigger and Coffin Ed were based on two real cops, Charles Brody and Jeff Kimbro, a rare US policeman, a communist intellectual. There's a lot of wit in Himes. He understood that tragedy often plays out as farce, which is difficult to portray on the screen.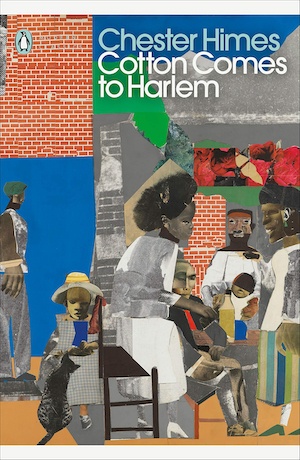 Two of his other novels were turned into movies. Cotton Comes To Harlem was filmed in 1970 and captured that tragic-comic element, and was followed by Come Back, Charleston Blue, an adaptation of The Heat's On, in 1972.
Real Cool Killers
In Real Cool Killers a white man is slumming it in the black district of Harlem. Ulysses Galen is threatened by a black man with a knife in a bar and runs for his life tripping over Pickens a drunk in the doorway. Pickens gives chase, shooting at Galen as they run. Galen is shot dead and it's a slam dunk for Coffin Ed and Gravedigger Jones who arrest Pickens. But Pickens is rescued by the Real Cool Muslims, who are actually just a street gang wearing false beards. When the detectives investigate they find out Picken's gun is a theatrical prop, which only fires blanks. Obviously it's not the murder weapon but he's the only witness so they need to find him. Real Cool Killers is a street wise novel of immense power, seething with anger at pernicious racism and corruption. The dialogue, setting and characters are pitch perfect. These policemen aren't heroes, they are hypocrites who abhor violence unless they get to inflict it themselves and they often claim a moral high ground they have no right to. All the while they bemoan declining standards and profess a belief in God and justice that their actions just don't bear out. There's a lot of violence and sex, social realism and street savvy in this chaotic world where justice is a nebulous concept and injustice is part of everyday life.
All Shot Up
If we come at All Shot Up from a different angle and just look at the writing in the first few pages we can see Himes' quality. The novel opens with a man on a Harlem street late at night, taking a front wheel off a car. There's no street lighting. He can't be seen in the dark because he's a black man, and that's the first allusion to racism. He sees car lights, his first thought is 'cops'. He hasn't been drinking, nor smoking weed, so he relaxes a little but stays out of sight. It's not cops though, it's two men and a woman in the biggest Cadillac he's ever seen. There's an old woman in black in the road but the driver doesn't see her. The man hears the screeching of tyres but doesn't see an accident happen. The car speeds off leaving the old woman flat on the deck, but miraculously she gets up, laughing. They missed her, "…a nuclear powered vampire full of fresh virgin's blood."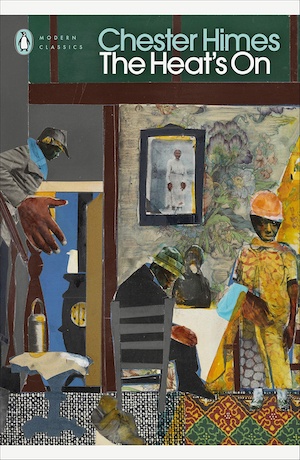 That's when the sedan with three uniformed cops comes roaring by. This time he sees it all, they hit the old woman, she is thrown into a wall, the second car speeds off. Round the corner the sedan pulls the Cadillac over, the cops aren't going to take the blame for what just happened. The three people in the Cadillac – Mr Baron, Roman Hill and Sassafras – know they are in trouble. Mr Baron tries a bribe, one of the cops saps him. These aren't cops at all, they're stealing the Caddy. Meanwhile the thief making off with the wheel panics, loses control and the wheel careens down the hill to where two cops are standing on a street corner, they go down like nine pins. By the time they pick themselves up an enterprising resident has received 'manna from heaven'… the wheel is gone.
While the desk sergeant thinks the cops reporting the incident have been drinking, a new call comes in about an incident outside a nearby bar. Three heistmen dressed as cops have left two dead and a politician in a coma, and a lot of money has gone missing too. As soon as the sergeant can find Grave Digger Jones and Coffin Ed Johnson he'll have them on the job. That precis doesn't quite do the scene justice but you can see that in three pages we've got farce, flipped expectations of characters, racism rearing its head and a flavor of Harlem. The story is already layered. Himes revels in breakneck pacing, snappy dialogue and original story telling.
The rap game
This goes way beyond our area of expertise but Hilton Als writing in the New Yorker in 2001 noted the link between Himes and West Coast Hip Hop artists such as rappers Dr Dre and Snoopy Doggy Dog. He adds: "…but the rapper with whom Himes has the closest rapport is Eminem, whose brand of rageaholism has incurred the wrath of gays and women, the legions of decents who also found Himes so disturbing. Eminem is white; Himes is middle-class; both feel marginalised within their genres and fight to prove their ghetto legitimacy for their imaginary critics."
This rounds out the picture but it leads us to another issue – Himes' volatile relationships with women. He certainly treated his wife badly, philandering and neglecting her. Just something we need to factor in. Himes was admired by Maya Angelou and his contribution to crime fiction is huge but all heroes have feet of clay and while Chester Himes was a remarkable man in many ways – a pioneer, strong, intelligent and important – he doesn't get a pass on his dark side. But his writing is the work of a genius and these five books are genuine classics of the crime genre. Read Himes, and when you talk about the greats mention him in the same breath.
The books come with splendid new jackets designed by Romare Bearden.