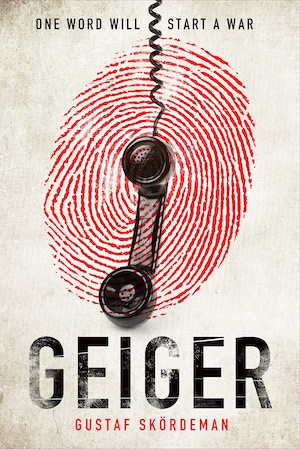 Translated by Ian Giles — It is summer in one of Stockholm's most exclusive suburban neighbourhoods, and an idyllic family gathering is coming to an end. Three generations of the Broman family have spent a lovely day together at the patriarchal home. In his heyday, in the 1970s and 80s, Stellan Broman was perhaps the most famous and most popular man in Sweden – a TV presenter beloved for his family-orientated comedies and pranks, but respected also for his gravitas and kindness. A Swedish cross between Noel Edmonds and Terry Wogan, perhaps. As everyone says their goodbyes, Stellan's wife Agneta takes a telephone call and hears the word 'Geiger'. Within minutes she has shot her husband in the head with a silenced pistol and gone on the run.
This is the attention-grabbing introduction to Gustaf Skordeman's debut, a fast-paced, high-concept novel which immediately makes you think 'sleeper agent'. Geiger was only published in Swedish in 2020, and already it is appearing in translation all over the world, and the film rights have been snapped up.
It's quite clear that Agneta has been preparing for this moment for a long time. Hidden spaces within the home hold money, passports, weapons… A simple but effective disguise is employed. A car, unregistered, is collected from storage. Agneta's plan kicks into action, but its purpose is obscure. Skordeman lets us into his protagonist's head, lets us see how she makes her choices, how her strategy guides her actions, but offers only incomplete glimpses of her motivation.
Inevitably, Stellan's murder is discovered. Sara Nowak gets herself attached to the investigation after she hears of Stellan's death and Agneta's disappearance. Sara is a detective in the vice squad, obsessed with her work, unpopular with her colleagues and close to being thrown off the force for repeated complaints of using unnecessary violence when arresting johns. However, she grew up in the Broman household, where her mother was a maid, and her colleagues need her insights on the family.
Meanwhile, in Berlin, the German secret intelligence service is put on alert. The number which called Agneta was the subject of a longstanding phone-tapping investigation. It was thought to belong to a Middle Eastern terrorist network headed up by Abu Rasil. A supposed mastermind, for some in Western intelligence Rasil is a myth, a bogeyman, the product of paranoia and imagination. For Karla Breuer, he represents almost her entire career. Rasil is a monster whose plans she has obstructed on several occasions, but who she has never quite managed to catch. Four months from retirement, she will not pass up the chance to catch him, and she flies to Stockholm with her partner, Strauss, to investigate.
From its explosive beginning, Geiger is mostly Sara Nowak's story but there are also chapters from Agneta's perspective and that of Karla too. How refreshing it is to read a novel where all the main voices are female. Sara is the most fully drawn character in the novel and she's a mess. She is trapped in a loveless marriage, and is obsessed with the injustices she sees in Swedish society. Her investigation of Stellan Broman's murder brings up some very difficult memories from her own past.
Despite its strong beginnings and a complex main character, Geiger is a book that struggles with its own identity. It begins as a high-concept thriller, and is certainly marketed as such. However, it loses its momentum in the middle, the plot moving forward unnaturally, relying on coincidence and the prompting of a deus ex machina. With secret agents, terrorists, counter terrorists, suspicions of paedophilia and all manner of reversals and revelations, it feels like the author wasn't sure what he was aiming for. Is it a fast-paced thriller, heavy on action and light on realism, or is it intended to be an examination of contemporary Swedish society? Read it and find out what you think. It's certainly a novel that has people excited and will work even better on the big screen.
For more crime fiction set in Sweden, click here.
Zaffre
Print/Kindle/iBook
£4.79
CFL Rating: 4 Stars