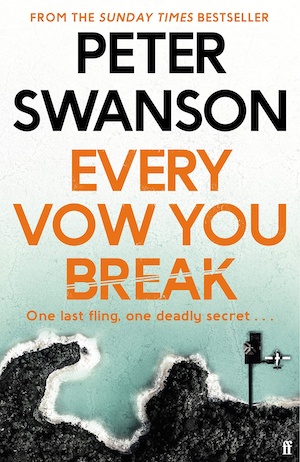 Any 'best of' list of creepiest love songs worth its salt is sure to include Every Breath You Take, the stalkerfest made famous by The Police back in 1983, when it reached number one in six countries including the US and the UK. With lines like "I'll be watching you" and "Oh, can't you see, you belong to me", it is an ode to obsession.
Anyone familiar with the song with also recognise the title of this book. It's taken directly from the lyrics and sets us up nicely for what's inside the covers. Meet Abigail, getting ready for a fancy-dancy wedding to mega-rich Bruce. She's on her hen weekend/bachelorette party, and its been organised by Bruce so you can bet it is pretty high-end too.
No neon tutus, blow-up sex toys and cheap plonk for this girl and her pals, instead Abigail and her girlfriends are in Northern California at a Spanish-style vineyard with its own hotel and restaurant, all paid for by the groom-to-be. She'd been planning a few drinks, closer to home in New York, but hey – what Bruce wants, Bruce gets.
Abigail is madly in love with her fiancé. So, what possesses her to strike up a conversation with a fellow guest at Piety Hills? And, after a conversation that lasts deep into the night, to sleep with him? She dismisses it as 'one last fling before the ring' and gets on with last-minute wedding planning. Then things become a little strange – what on earth is the man she knew as Scottie doing in her local coffee shop?
OK, a coincidence maybe? Though in a city the size of the Big Apple it's perhaps pushing the bounds of probability a little. Abigail emails Scottie but receives no reply and she dismisses her worries and gets caught up in a flurry of wedding excitement. Then it is Abigail's wedding day, and she thinks she sees Scottie again, lurking in the shadows at the refurbished barn in the Hudson Valley – with a Michelin starred restaurant and boutique hotel, naturally – where the nuptials will take place. It's a fleeting glimpse but sends shivers through the new bride. Believe me, that's nothing compared to what's to come…
Fans of Peter Swanson know this author's style all too well. He is a master of the standalone psychological thriller, with books like Rules for Perfect Murders and The Kind Worth Killing earning five-star reviews on this site. His books are cleverly plotted and designed to wrong-foot the reader at every end and turn. So if you think you've got a handle on what happens to Abigail on her honeymoon, I'd advise you to think again. Instead, settle down in a comfortable reading spot and just go along for the ride, because you'll never guess what's about to occur.
It's no surprise to learn that Bruce has planned the honeymoon to the last detail. The pair arrive there in a small private plane and Heart Pond Island is off the coast of Maine and sounds suitably named and blissfully idyllic. There are no phones, telephones or computers, with little electricity and an attentive team of staff ready to meet their every whim. There are only a handful of other guests and Bruce is attentive and loving. But something is nagging at Abigail – and when she spies Scottie again the alarm bells she had managed to ignore for so long begin ringing loud and clear. There's trouble in paradise!
Every Vow You Break is a creepy read, with echoes of the Alfred Hitchcock movies that Abigail adores – it's how she chose her name for Scottie, as Vertigo fans may have guessed. There's a really unsettling vibe that emanates from the pages and the twists in the plot are unexpected and imaginative, if at times veering towards brutal. But as I reached the finale of this book I felt somehow short-changed, perhaps because Abigail is such an annoying character that it is hard to warm to her and summon up sympathy for her predicament. Definitely worth giving this book a go, though.
Read our interview with Peter Swanson here.
Faber & Faber
Print/Kindle/iBook
£5.03
CFL Rating: 3 Stars