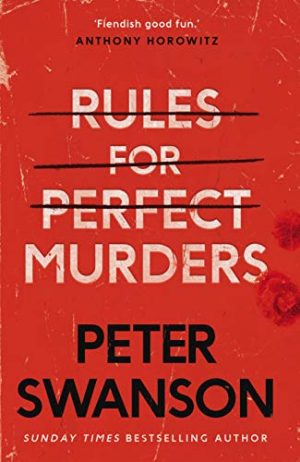 Written by Peter Swanson — Anthony Horowitz calls this entertaining new puzzle mystery by Peter Swanson 'fiendish good fun', and that really hits the nail on the head. It pulls together some of the best plots from past crime novels and combines them in a deliciously innovative way.
Malcolm Kershaw is part-owner of the Old Devils Bookstore in Boston, Massachusetts, which specialises in crime and mystery novels. Near closing time on the night of a huge snowstorm, he's visited by FBI agent Gwen Mulvey who sees parallels between a series of unsolved murders and a blog post Kershaw produced some years before. It's surprising he doesn't ask Mulvey for identification or question FBI involvement in a set of murders linked less by solid evidence than intuition. He's never sure whether she really wants his help or considers him a suspect, but you'll have your own opinion on that.
Kershaw's blog post was titled Eight Perfect Murders – cases where the murderer is not and almost certainly cannot be caught. The eight stories in his list will mostly be familiar to crime readers and film buffs: The Red House Mystery by AA Milne, Malice Aforethought by Anthony Berkeley Cox, The ABC Murders by Agatha Christie, Double Indemnity by James M Cain, Strangers on a Train by Patricia Highsmith, The Drowner by John D MacDonald, the play Deathtrap by Ira Levin and The Secret History by Donna Tartt. What's fun is trying to determine which of these familiar plots (with the aid of the synopses Swanson provides) the events of the novel best parallel.
Agent Mulvey sees a similarity between the themes of two of the novels in Kershaw's blog post and recent unexplained deaths. Her suppositions are tenuous, but as she and Kershaw discuss the possibilities, they become increasingly persuaded. Three murder victims – Robin Callahan, Jay Bradshaw, and Ethan Byrd – seem linked by their names, as were the ABC murder victims. Another body, found alongside train tracks, is reminiscent of Double Indemnity.
Kershaw is intrigued, and they discuss the difficulties in carrying out some of the plots. In Ira Levin's, for example, a wife with a heart condition is so frightened by the plotters that she has a heart attack and dies. To replicate such a 'natural death' requires a particularly fragile victim. And they find one: former Boston resident Elaine Johnson, recently relocated to Rockland, Maine, found dead in her home of a heart attack.
With Johnson's death, the murder spree veers much too close to Kershaw. She was a particularly troublesome regular at Old Devils Bookstore who'd moved away, thankfully. He hopes to hide this connection from Agent Mulvey, and it's only the first of his many cleverly disguised secrets, as you gradually realise what an unreliable narrator you have on your hands. Mulvey isn't telling him everything either, of course, and from the beginning you may have doubts about her and the entire investigation.
At first you may cut Kershaw some slack, perhaps thinking he doesn't ask all the questions he might because since his wife Claire died in a car accident, he's not thinking too clearly (the alcohol doesn't help). After Claire's death, he stopped reading stories about sudden death and loss, so refreshes his memory about the eight books in his blog post by rereading them.
Kershaw and Mulvey set up some rules for examining crimes that might link to them. First, should the murders be copied exactly, or only the idea behind the murders? They decide it's the idea that matters. And they consider the possibility that the victims should be – Kershaw uses the odd word 'deserving'. And, they're pretty sure the killer is someone he knows, or who knows him.
Is the murderer trying to frame him, to catch his attention, or will he be the next victim? As the body count continues to mount, Kershaw inevitably tries to protect himself by starting his own investigations into whom the murderer might be. The number of twists that course of action takes will have you second-guessing Kershaw, the FBI, and yourself!
Swanson maintains the story's unflagging momentum throughout, and by the time you reach the end, you realise yet another classic mystery is in play. I will let Kershaw himself tell you which it is.
Like this? You might also like England's Finest, by Christopher Fowler or The Aosawa Murders by Riku Onda.
Faber & Faber
Print/Kindle/iBook
£4.68
CFL Rating: 5 Stars