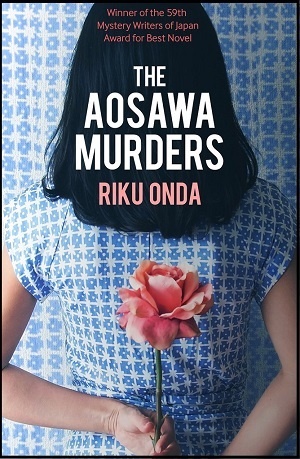 Written by Riku Onda, translated by Alison Watts — At the heart of The Aosawa Murders is a puzzle – who could have poisoned 17 people at a gathering at a house belonging to the Aosawa family, and who could have had a motive to murder the family of a prominent local doctor and all their houseguests? These questions have been plaguing Makiko Saiga, to the point where she set out to write a book about the murders. This book, entitled The Forgotten Festival, was met with a mixture of fascination and repulsion when it was released 11 years after the incident; fascination due to the subject matter, revulsion due to the title. To call the murder of 17 people a 'festival' was seen as downright heartless.
This all comes out not in a straightforward narrative, but in a series of monologues by a variety of characters, mainly told years after the events. We learn that Makiko was a close friend of the Aosawas, one of several children to attend the party in question. We learn that she saw an unfamiliar young man in a yellow raincoat and a motorcycle helmet delivering soft drinks and sake to the gathering at the Aosawa address. We learn that all those who drank from these bottles instantly became ill, all but one dying, and we learn that the Aosawas' daughter, Hisako, did not touch any of the bottles and managed to survive. Hisako, who sat in an armchair in the sitting room as the drinks were consumed, would have been the ideal witness, except for the fact that she was blind.
There's also something about Hisako that leads both the police and Makiko to believe that she had something to do with the murders. They can't quite put their finger on it, but there's something different about Hisako, a strange distance that no one can explain. Despite a lack of evidence connecting her to the crime, most of the town seems to think she had something to do with it too. Even when the young man responsible for the murders turns up dead in his apartment, his suicide note containing his confession, there's still suspicion that Hisako had something to do with the deaths. It's this suspicion that causes Hisako to flee Japan, a fact which in Japan means the statute of limitations is put on hold.
Makiko's assistant who helped her transcribe the interviews for the original book will not let the matter rest, and heads to the small provincial city where the murders took place to repeat the interview process. While he's there, this unnamed narrator (simply called The Assistant) quickly finds things that didn't add up in Makiko's account, and things that she didn't tell him the first time around. As he digs deeper and interviews more people, he finds that there's much more to the story than Makiko first suggested.
This form of novel, in which a series of different narratives come together to form one central picture, much like pieces in a puzzle, is a form that works particularly well in a Japanese context. The Dark Maidens is another such novel, as is The Tokyo Zodiac Murders. This may be because of how much is left vague and unsaid in Japanese discourse, and how social mores and polite hypocrisy create a distance between people.
The Aosawa Murders may not have the neat ending that readers may expect, however the complex plotting and twisted conclusion could not be any other way. When it was first published The Aosawa Murders won the 59th Mystery Writers Japan Award for Best Novel, and it's a deserved winner, and a great addition to the growing ranks of Japanese crime fiction in English translation.
For more Japanese crime fiction to try, click here.
Bitter Lemon Press
Print/Kindle
£6.47
CFL Rating: 4 Stars