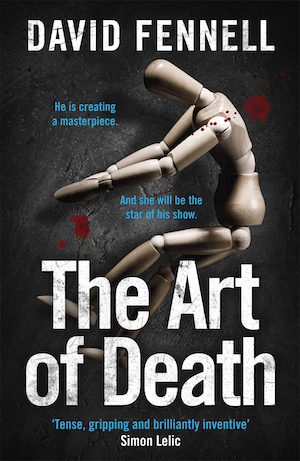 It's a debut that was making waves before it was published – The Art of Death even made CFL's list of books to look out for in 2021. But does David Fennell's novel bring anything new to the serial killer party?
It certainly arrives with all guns blazing, with an opening few chapters that fair fly by. This is a high octane approach that works well, and helps to bed in the central characters quickly, in particular DI Grace Archer. In her, we have yet another police officer with problems. As The Art of Death opens, she is about to start a new job at Charing Cross Police Station. Archer has plenty to prove, not least because she is taking the place of ex-DI Andy Rees, the corrupt copper she helped to arrest and send to jail. Rees was well liked by his peers so it's going to be quite a task to get them on her side.
But Archer has to hit the ground running when an art installation planned as part of the Lord Mayor's Parade in London takes a macabre turn. Three glass cases have been delivered to Trafalgar Square. Each of them contains the dead body of a homeless man, floating in formaldehyde like Damien Hirst's shark – AKA The Physical Impossibility of Death in the Mind of Someone Living. The shadowy, Banksy-esque artist @nonymous has made his first 'artistic statement' and, scarily, there are hints of more to come…
But first the twisted artist has to get rid of the evidence, so the poor unfortunate blokes who delivered the glass cases meet a nasty end too. If you like your crime writing with a side order of gore, then The Art of Death delivers. Not content with creating a nasty mass murderer, David Fennell has plenty of other tricks up his sleeve.
A child being held against his will? Check. A missing MP? Check. A journalist who keeps getting in the way of the investigation? Check. A difficult home life for the main protagonist? Check. Yep, we have everything but the kitchen sink thrown in here and it can all get a little overwhelming at times. The author has a light touch where characterisation is concerned and I enjoyed the clever use of social media as the story moved along, but beneath it all there is the sense that this debut is perhaps trying just that little bit too hard.
There's always room for another London-based crime novel, and this one brings the city to life, warts and all, while turning the spotlight on parts of the capital that many of us will not be familiar with. Some authors create their settings with a broad brush, this writer is to be applauded for the way he conveys such a keen sense of place.
There are elements of this book that are strongly reminiscent of Fiona Cummings' Rattle – a debut that stayed in my mind long after I'd turned the final page. Daniel Cole's Ragdoll also sprang to mind. That is one of the most chilling books I've read in a long time. The Art of Death tries hard to compete but somehow just misses the mark. Which is a pity, because Fennell has created a great new character in DI Grace Archer, who deserves her place among the serried ranks of damaged detectives that populate a crime fiction lover's bookshelves these days. I certainly hope to meet her again in the future.
Some debuts hit you between the eyes, while others sputter and fail, never to be seen again. The Art of Death falls somewhere between the two extremes, showing enough promise for me to add David Fennell's name to my list of ones to look out for.
Take a look back at our top crime debuts of last year. Breathe by Dominick Donald is another debut set in London that gives the English capital a starring role.
Zaffre
Print/Kindle/iBook
£7.19
CFL Rating: 3 Stars