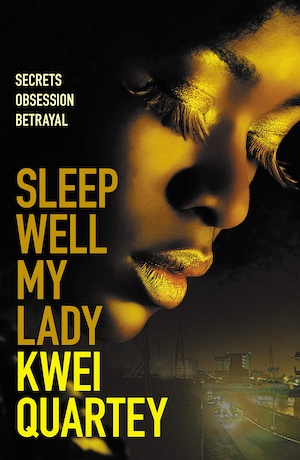 The butler did it. Or in this case, the chauffeur. Well, at least that's who the Ghana police pin it on when renowned fashion designer, Lady Araba, is found bludgeoned to death in her luxury villa in a gated estate in Trasacco Valley – the Beverly Hills of Accra. Don't be fooled by the cosy-sounding set-up, though. This is no rehash of The No1 Ladies' Detective Agency. Kwei Quartey's second Emma Djan novel is dark detective fiction with a hint of noir and an authentic African flavour.
Ten months after the murder, Dele Teffeyfio, Araba's dressmaker aunt who took her under her wing as a child, walks into the Sowah Private Investigators Agency requesting the murder be reinvestigated. Dele is convinced that Araba's on-off celebrity boyfriend, Augustus Seeza, is guilty of her murder. Seeza's depended on Araba to maintain his luxurious lifestyle, which included smart cars and imported cigars, combined with his addiction to alcohol. This makes him a likely candidate.
What's more, it looks like the police have bungled the case. Kweku-Sam was just a convenient scapegoat and the crime scene was trampled over, with forensic evidence failing to reach the laboratory. For some reason, Detective Sergeant Isaac Boateng, the lead crime scene investigator in the homicide unit, was abruptly removed from the case despite his forensic experience.
Detective Emma Djan, who some of us met the first time around in The Missing American, is no longer a member of the Ghanaian police force, despite her dream to follow in her detective father's footsteps. Although she is still a rookie, Emma earns her worth at the Sowah Detective Agency. The occasional sexist comment from her colleague, Walter, only adds fuel to the fire to prove herself. Especially since this isn't the first time Emma has experienced sexual harassment in the workplace. Sexual assault by a senior police officer is what brought her career in the service to a halt.
Emma and the rest of her team start investigating the extensive list of potential suspects the old-school way – by going undercover and extracting information from them. When they dig deeper, they find Seeza isn't the only viable suspect. Everyone from Araba's fashion nemesis, Lady Pizzaz, to her own father, the dubious Reverend Fifi Tagoe, had a potential motive. Obsessed with the sin of fornication, the Reverend is desperate to keep a family secret hidden from his followers and to protect his reputation as religious leader. However, Araba planned on outing him in public. Was that reason enough to kill his own daughter?
Sleep Well, My Lady is like a classic police procedural but with private detectives at its heart. The team systematically investigates each potential suspect and lead one by one. There's no chance you'll get confused, as their findings are recapped after each day spent undercover in the field. This approach ensures that you won't miss anything but it won't bring you closer to guessing the murderer's identity either. You might as well just go along for the ride.
There's more to the story than simply solving a murder, too. Quartey clearly highlights the corruption that permeates the police service and judicial system in Ghana, a critique that could apply to several African countries and developing nations on other continents too. With bad people in top jobs, the abuse of power surely follows. And it has marked the lives of both the victim, Lady Araba, and the investigator, Emma Djan. Sexual assault and long-term sexual abuse remain taboo in many countries and victims are ashamed of it, especially in a family context. Then Quartey throws religion into the mix…
Despite tackling some serious subjects, Sleep Well, My Lady has a consistently engaging story, supported by a cast of colourful, mostly likeable characters. Colloquial conversations and use of the odd local word add authenticity. Characters like Kweku-Sam are easy to warm to, while Augustus Seeza and his family come across as truly despicable human beings.
There's a real-life underpinning to the story as well. Quartey based his novel on the actual case of Careen Chepchumba, a 26-year-old Kenyan women who was murdered in a luxury complex in Nairobi in 2012. Unlike Lady Araba's murder, this case remains unsolved due to shoddy police work by the Kenyan police. Careen was also involved with a charismatic TV celebrity, Louis Otieno, who was questioned but cleared of all charges. Does this fictional telling have a more satisfactory ending? You'll have to read it to find out.
Sleep Well, My Lady is a tightly narrated detective crime fiction novel with a good dose of African flavour. The Emma Djan series is a welcome addition to both the African crime fiction catalogue and the international crime fiction scene.
Also check out these great Nigerian authors, or watch the Senegalese crime show Sakho & Mangane.
Soho Press
Print/Kindle/iBook
£5.69
CFL Rating: 4 Stars