What are you most looking forward to in 2021?
No, don't answer that. We know. It's fantastic new crime novels, isn't it?
Well, you've come to the right place. 2020 has been a tough year, and many countries will begin 2021 with COVID lockdowns still in place, but if you're a keen reader at least you'll have the chance to discover some wonderful new crime novels. To give you a few ideas, we've assembled our 'most wanted' list for 2021 and it includes some very exciting books. There are debuts, novels from Japan, new takes on espionage, historical crime and more. Plus… are you ready for the return of Laidlaw?
We can't wait…
The Art of Death by David Fennell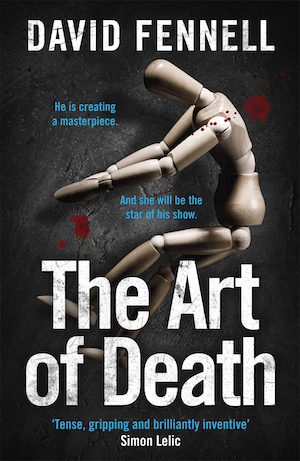 From Buffalo Bill in The Silence of the Lambs to the Miniature Killer in CSI, there's something fascinating about serial killers who set about their work with the dedication of a true artist. If that sort of thing is your bag, then The Art of Death is a debut by David Fennell with a premise that will excite. In it, a Damien Hirst-style artist is leaves three vitrines containing the posed bodies of homeless people in Trafalgar Square. It's up to DI Grace Archer and DS Harry Quinn to gather clues from the audacious installations and try to identify the killer before they strike again. In recent years we've enjoyed serial killer thrillers that border on horror by the likes of Fiona Cummins and Chris Carter, and it will be interesting to see if David Fennell joins their… um… artistic movement. Watch for this one from 4 February.
Pre-order now on Amazon
Slough House by Mick Herron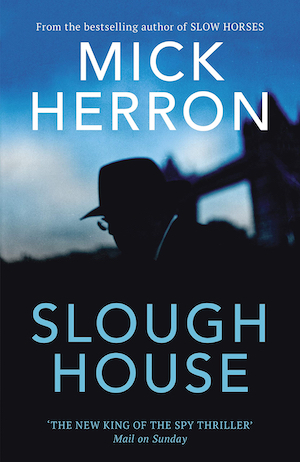 Back in 2010, Mick Herron started writing about Slough House, a stable of spooks and spies regarded by MI6 as not quite good enough for the cut and thrust of regular espionage and counterespionage. Instead, Jackson Lamb and his 'slow horses' get involved in more diversionary work – unusual operations which often have strange origins and even weirder outcomes. Herron's books are cut through with dry humour as well as sly-yet-accurate observations about the world we live in. Six novels and three novellas later, the author has seen his work optioned for TV, with Gary Oldman set to star. Here, in the seventh novel, it appears as though the slow horses may become pawns in service's belated response to Russia's novichok attack on British soil. Intrigue is guaranteed, and it's arriving on 4 February.
Pre-order now on Amazon
The Edge of the Grave by Robbie Morrison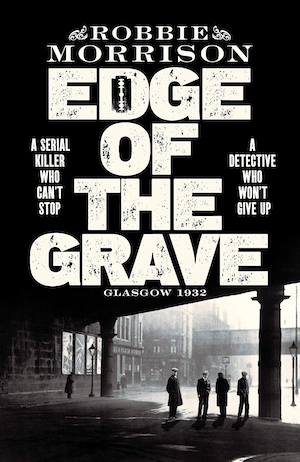 The comic book writer behind the Nikolai Dante series has written his first crime novel, setting it in his native Glasgow during the brutal years of the Great Depression in the 1930s. Much like society today, the Glasgow in this novel is a city divided. Rich, poor. Workers, capitalists. Protestants, Catholics. Gangsters, polis. Navigating these divisions are detective James Dreghorn and his partner Archie McDaid. Dreghorn has been specifically requested to investigate the murder of a man, pulled from the Clyde with a cut throat, by the victim's widow. Heiress to a shipbuilding empire, Isla Geddes is an old acquaintance of the World War I veteran – will class divisions keep them apart? And what of the killer, who is still out there on the streets? The Edge of the Grave is out on 4 March. We've already had a quick scan and it looks a very atmospheric period read.
Pre-order now on Amazon
The Last House on Needless Street by Catriona Ward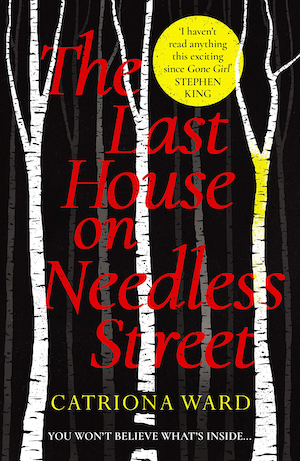 With author Catriona Ward stepping from horror into the crime genre, The Last House on Needless Street is generating the kind of pre-publication hype last seen with Blacktop Wasteland by SA Cosby. Cosby's novel turned out to be a hit and it seems likely Last House will follow suit, although it is a very different type of book. Inside, you'll meet Ted, an ordinary father living in an ordinary house with his daughter and his cat. Or so it seems. At the end of their road is a dark wood, and in that wood a secret lies buried. You get the idea… It's gothic, scary, and it involves a missing child. Watch for it on 18 March 2021.
Pre-order now on Amazon
The Rose Code by Kate Quinn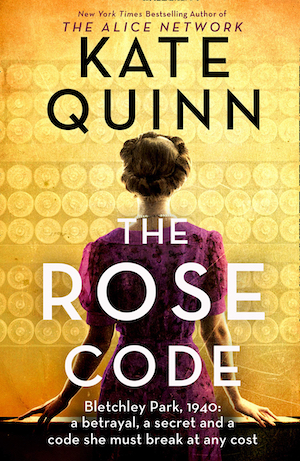 Also arriving on 18 March is The Rose Code by Kate Quinn. Having established herself with historical crime novels set in Ancient Rome and Renaissance Italy, Quinn turned to World War II with The Alice Network and The Huntress. The Rose Code is her third novel set during this period, and takes us into the lives of Osla, Mab and Beth, three very different women working at Bletchley Park, breaking German codes and helping the Allies win the war. But, seven years later in 1947 it's a different story, and their friendship has been shattered. As Prince Philip of Greece – who once had eyes for Osla – prepares to marry Princess Elizabeth, a new threat looms and the three women must use their codebreaking skills once again to avert disaster. What The Rose Code will offer is a female perspective not found elsewhere on the heroic work done at Bletchley Park.
Pre-order now on Amazon
Red Widow by Alma Katsu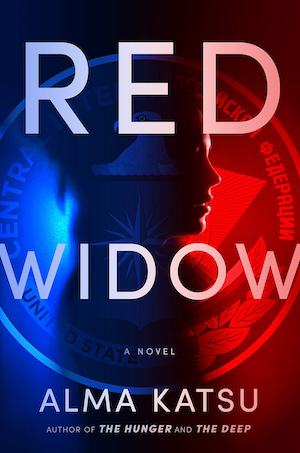 Alma Katsu has a distinguished career working in intelligence and foreign policy in the US government and for the Rand Corporation. In addition to this, she's the acclaimed author of several novels covering horror, fantasy and historical fiction. With Red Widow, Katsu brings together her day job and her passion for writing to create an espionage thriller. The Red Widow of the title is Theresa Warner, who is a bit of a celebrity spy in the CIA's Russia Division. Her husband was a CIA director, killed in the field. Meanwhile, young agent Lyndsey Duncan is recruited by the Russia Division to help them identify the mole in their Moscow Station. After all, Lyndsey is known as 'the human lie detector'. Then Lyndsey befriends Theresa, the Red Widow, and things get interesting. We're looking forward to this one, because espionage remains a fairly male-dominated genre and a new, authentic female voice here could give it the shake-up it arguably needs. Put 23 March in your diary.
Pre-order now on Amazon
Bullet Train by Kotaro Isaka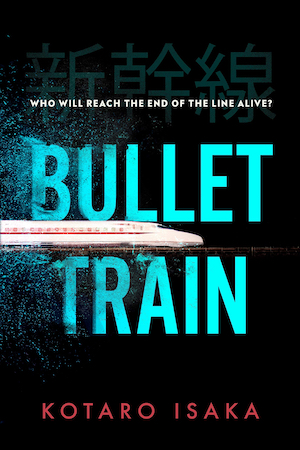 This high concept thriller from Japan has the most intriguing set-up. A bullet train pulls out of Tokyo heading for Morioka and on board is Kimura, the father of a boy who lies in a coma because of fellow passenger, the psychopath Satoshi. He's out for revenge, but little does he realise that also on board are Nanao – the world's unluckiest assassin – and a killer duo called Lemon and Tangerine. Plus, of course, there's a suitcase full of money that the criminals are after. With five killers in close quarters, strap in for a deadly ride… Following rave reviews in Japan, Kotaro Isaka's Bullet Train arrives in translation on 1 April – and it better be on time!
Pre-order now on Amazon
Lady Joker, Volume 1 by Kaoru Takamura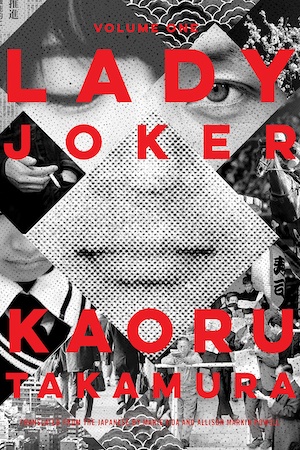 In 1984, Japan was rocked by a criminal, or group of criminals, known as the Monster with 21 Faces – a case of kidnapping, blackmail and an attempt to poison food in Japanese supply chains. The unsolved mystery was part of the inspiration for Kaoru Takamura's epic novel, Lady Joker. The 1,000-page story is being split into two volumes for its arrival in English, and centres around the extortion of a beer company by criminals. Set in 1995 and involving 27 different characters – from criminals and the disenfranchised to the wealthy and powerful, and on to the forces of law and order – it goes beyond a mystery to explore the wider reasons for the crimes and the attitudes driving the various actors. Lady Joker has been likened to James Ellroy's American Tabloid series, and Don Delillo's Underworld. Translating it has been an enterprise of itself, with Soho Crime bringing a Westerner and a Japanese translator onboard to get the meanings just right. 13 April is your lucky day if you love Japanese crime fiction, and watch for Volume 2 in 2022.
Pre-order now on Amazon
The Therapist by Helene Flood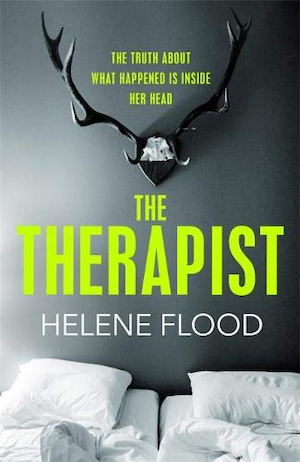 MacLehose Press is the UK publisher that 'discovered' the Swedish author Stieg Larsson and brought his Millennium series to English-speaking audiences around the world in 2008. In 2021, the company's lead debut is The Therapist by Norwegian author Helene Flood and it too looks to be a very interesting discovery. The Therapist begins when Sara picks up a voicemail from her husband saying that he's arrived at their holiday cabin. Then she gets a call from a friend saying that her husband hasn't arrived. Sara wonders where he is, going through annoyance, anger and then fear. She has deleted his voicemail, and the police want to know why, but more unsettling for Sara is the feeling that she's being watched. From a hopeful future, in the space of a few days she is consumed by the fear she will become a victim. Helene Flood is a psychologist who specialises in violence and victim guilt, and could be the next exciting voice in Scandinavian crime fiction. We'll find out on 8 July. The book has already been optioned by Anonymous Content, makers of True Detective and Mr Robot.
Pre-order now on Amazon
The Dark Remains by William McIlvanney and Ian Rankin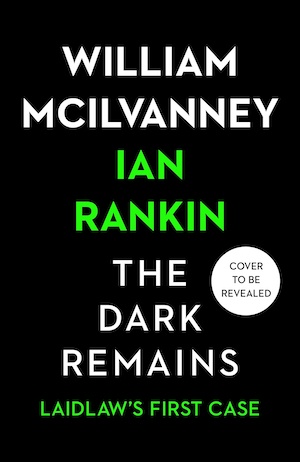 Known for his novels about tough people in even tougher environments, William McIlvanney is regarded as the father of Tartan noir. His Laidlaw trilogy – Laidlaw, The Papers of Tony Veitch and Strange Loyalties – set the tone for and inspired a generation of Scottish authors that includes Ian Rankin, Val McDermid and even Irvine Welsh. When McIlvanney passed away in 2015, he left behind many papers describing what could have been a fourth Laidlaw novel. At the invitation of his estate, Ian Rankin has been looking at these documents and has found a way to assemble them into a new story. We have no clue as to what The Dark Remains will be about, but it will arrive on 2 September 2021 and we'll be ready. "I've never tried to capture another writer's voice and world before – but what a thrill it was to walk alongside Jack Laidlaw through the streets of early-70s Glasgow, a city where poetry is as likely to break out as violence," said Ian Rankin in his newsletter. Not to be missed.
Pre-order now on Amazon
The Detective Up Late by Adrian McKinty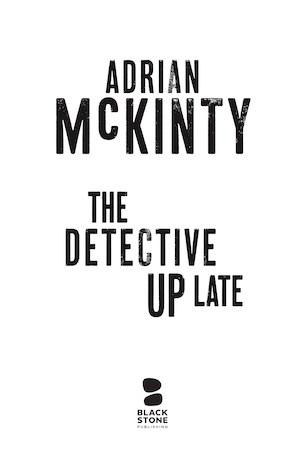 It's funny how things turn out. Adrian McKinty has written six superb novels about a Catholic detective, Sean Duffy, surviving in the predominantly Protestant Royal Ulster Constabulary in Belfast. They were well-received and here on CFL we loved them, but they missed out on the glory they deserved. About to give up on crime fiction, McKinty decided to have a crack at writing a mainstream thriller set in the US. The Chain hit the big time, winning awards galore and landing a movie deal with Paramount. Now another Duffy novel is ready – and we can't wait. The Detective Up Late was delayed while the author struggled to find a publisher for it, and once he did, it was put back again in 2020 due to the pandemic. It should hit the shelves in October. Having begun in the early 80s, the series swings into the 90s and while a Unionist gang called the Shankill Butchers is terrorising Belfast with an escalating sequence of brutal murders, Duffy is investigating the disappearance of a 15-year-old girl from a trailer park. In amongst interviewing creepy middle-aged men, he's in touch with British Intelligence via an unpredictable triple-agent. This is the seventh novel in what was intended to be a trilogy… It's funny how things turn out. (Image shown not the actual cover.)
For some perspective on the crime fiction scene, why not check out our most wanted crime novels were for 2016?