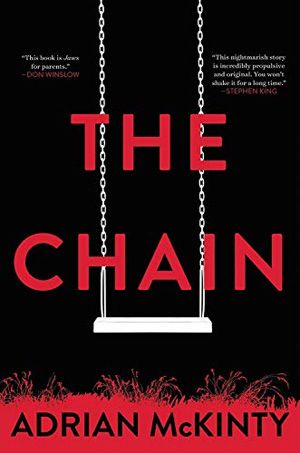 Written by Adrian McKinty — If you've gotten comfortable with Adrian McKinty's series featuring the knock 'em sock 'em Belfast detective Sean Duffy, then get ready for something new. The author has produced an American standalone thriller with an intriguing concept behind it, and The Chain is big news. It's been optioned for the big screen by Paramount Pictures.
We all know about chain letters, don't we? And more recently the tech world has give us blockchain – the secure method of digital exchange that doesn't require third party authentication which is behind cryptocurrencies, for example. Now, try to imagine a kidnapping scam featuring the same level of security, and that can perpetuate itself to make millions for its creators. Well, McKinty and his chief baddies have imagined just that and put it into action. Here's how…
One day in the Fall, 11-year-old Kylie is waiting for her school bus when a man with a gun bundles her into a car. It's pretty clear the man, and the woman driving, are terrified. They even shoot dead a state trooper en route to the hideout where they're going to incarcerate Kylie. Why the terror? Why the violence? Well, it's because their little boy is being held and unless they kidnap Kylie, pay a ransom, and force Kylie's mother Rachel to do the same, whoever's holding their boy is going to shoot him. In turn, the parents of the child Rachel must kidnap will continue in like manner.
That's The Chain, folks. Everyone kidnaps, everyone pays, and if anyone narks they'll have to go to jail for a major felony because, at the end of the day, everyone's guilty and none of them know who they're working for because it's all managed through burner phones, Dark Web apps and Bitcoin. Each link creates another link.
Only The Chain didn't reckon on Rachel O'Neill. McKinty's heroine had the resolve to beat cancer so maybe she can get through this too. Based in a rickety house on Plum Island, Massachusetts, she enlists the help of her ex-brother-in-law, Pete. Pete saw action in Afghanistan, and more recent work in private security has seen him develop his digital talents. There's a chance, albeit a slim one, that not only could they get Kylie back in one piece, but also find out a bit more about The Chain and get some payback.
This novel is written in the great tradition of New England thrillers, and will remind you of books like Tell No One and Just One Look by Harlan Coben, and maybe even of the early Monkeywrench books by PJ Tracy. Sure there are parts where McKinty pushes believability to the limit, but The Chain is a novel of pace, of intrigue, of imagination and of action. There's technology and counter technology, there's violence and payback, desperation, humanity and the author flexes his poetic side here and there too amid the sudden plot twists.
Rachel is a woman who can think on her feet, Kylie is a sharp kid who won't take kidnapping lying down, and Pete is a flawed accomplice – brilliant one moment, jonesing for a fix the next, because his war wounds have made him a victim of the opioid epidemic. Topical. The Chain is that too.
And as with characters like Coben's Eric Wu, the baddies here are bad beyond all probability. I'd like to tell you more about them but it's probably better if you read The Chain and meet them for yourself.
Orion
Print/Kindle/iBook
£8.99
CFL Rating: 5 Stars