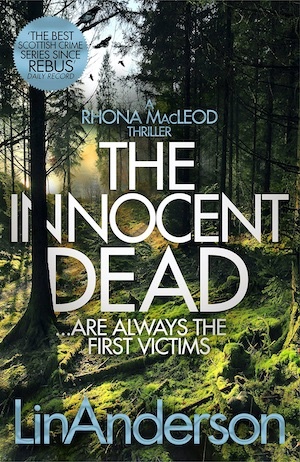 The Innocent Dead is 15th in Scottish author Lin Anderson's long-running series of police procedurals featuring forensic scientist Rhona MacLeod and the Glaswegian team she works with. Echoes of several of those earlier books appear rather frequently in the pages of this new one, although this is the first of hers I've read.
Forty-five years before the book opens, 11-year-old Mary McIntyre disappeared from East Kilbride, south of Glasgow, following her confirmation. Her fate was never learned. Now, strange portents are disturbing Mary's long-ago best friend, Karen Marshall. Karen is a widow living near Stirling, some 40 miles north of East Kilbride. Though Karen has blocked out her memories regarding Mary's disappearance, she's overwhelmed by a resurgent feeling she knows something and a vague sense of guilt. She searches out her diary from that time and begins to read, hoping it will help unlock the closed doors of recollection. When there's a news report of a body in a raised peat bog near East Kilbride, Karen believes her recent preoccupation with Mary was no coincidence.
Forensic investigator Rhona MacLeod and her assistant handle the excavation, which reveals a naked child, its head resting on a plastic bag filled with a folded white confirmation dress and accessories, like a pillow. Rhona can't determine the body's gender from observation, but the dress suggests it was a girl.
In the intervening four-plus decades, advances in forensic science enable Rhona and her team to analyse considerable evidence from the body, the clothing and the entire scene. Acid in the peat has preserved and darkened the corpse and caused its DNA to deteriorate. Still, Rhona finds a small area under the skull containing enough genetic information for comparison with that of Mary's surviving siblings. Karen's hunch was right. The body is that of Mary McIntyre.
DS Michael McNab and his partner Janice Clark are put in charge of the murder investigation, and one of the first directives they receive is to look up Jimmie McCreadie, a former police detective inspector-turned-wildly-successful-crime-writer who lives in Stirling and near Karen Marshall, as it happens. McNab never quite trusts McCreadie, believing he may be holding back information to use in a future novel.
The police identify several possible suspects in Mary's disappearance and death, but none is particularly compelling. However, as Karen remembers more and more about the events surrounding Mary's disappearance, she herself becomes a potential target.
Anderson's descriptions of the peat bog area and the town of East Kilbride are vivid, though I had the impression the town was practically a village. Perhaps it was, 45 years earlier, but in our day, it has some 75,000 inhabitants. Much time is spent on the roads between East Kilbride, Stirling and the police HQ in Glasgow.
There are good interactions among members of the police team, men and women, and with their significant others. McNab is a widower with a testy girlfriend, Clark is a lesbian, Rhona has a grown son she rarely sees and a smarmy ex-husband. These relationships are diverse enough to keep them interesting, even though in general Anderson doesn't devote much real estate to them.
Rhona has a more central place in the ongoing investigation than seems usual, but perhaps that's how investigations are conducted in Scotland. Near the book's conclusion, Anderson relies on the unsatisfactory device of quoting signed statements, police reports, and news articles to tie up loose ends, rather than creating scenes in which the information would be revealed.
Years ago, writing about violence done to children had a certain shock value, but so many books have been written on this theme that it is no longer automatically compelling. What makes this one interesting is the combination of Karen's fragile emotional state (including her conversations with her dead husband, Jack) and how the investigators gradually build a case out of next to nothing. Although you may have a pretty good idea who the murderer is well before they get there, Anderson has some nifty surprises in store. For me, it was a solidly plotted story, but not a particularly engaging one.
More children are in danger in The Rabbit Hole by Jon Richter and Adrian McKinty's award-winning The Chain. If it's peat bogs you're after, try Val McDermid's Broken Ground.
Hard Case Crime
Print, Kindle
£8.49
CFL Rating: 3 Stars