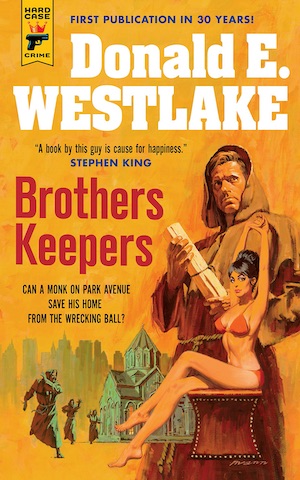 Donald E Westlake's books first appeared on my shelves in the 1970s, sort of mid-way in his 60-year publishing career. Westlake was the award-winning author of more than a hundred books – not all of them novels. He specialised in crime fiction and, especially, novels about crime-capers-gone-awry. He wrote under his own name and a great many pseudonyms, including Richard Stark (darker stuff) and Alan Marshall (soft porn), but the books I recall were hilarious, displaying masterful inventiveness in their plots.
Even if you haven't read any of the books, you may recall the films made from them – comedies like The Hot Rock, with Robert Redford and George C Scott, Cops and Robbers with Cliff Gorman and Joseph Bologna, or the movie versions of his darker work: The Outfit with Robert Duvall or the cult classic Point Blank with Lee Marvin. He also wrote the occasional screenplay, including one of my all-time favorites, The Grifters, with Annette Bening, Anjelica Huston, and John Cusack as a trio of con artists.
When I found a couple of Westlake paperbacks in a stack on its way to the local library book sale, it was time for a re-visit. I read Brothers Keepers (1975), which maybe was a poor choice, because I'll admit to being disappointed. It's always riskier to recommend a comedy than a drama, whether book or film, because there's so much variation in people's sense of humour, and maybe mine has changed over time.
There is certainly potential humour in the book's underlying premise and plot devices: a small order of monks has been occupying a piece of prime Manhattan real estate for decades. Their lease is up, and they're about to be evicted because the landlord wants to turn the parcel into an upscale apartment building.
If you think that 15 or so cloistered contemplatives would be easily outmatched by rapacious New York real estate developers, everyone involved thought the same. But people aren't born into the monk game; they had other careers. Skills. A bit rusty, maybe, but the situation is desperate. Eventually, they all pull together to try to save their home.
Knowing the book's premise, I was misled by the cover of my Mysterious Press edition. Brother Benedict is holding a tray of cocktails, which led me to think the monks perhaps enlisted the support of their Park Avenue neighbours by opening an upscale bar in their cloister, but it turns out the picture has nothing whatever to do with the plot. Nary a cocktail in sight. The jacket above is from the Hard Case Crime edition published in 2019, which is misleading in its own way.
If these high-anxiety times make some gentle humour appeal to you, give Westlake a go. Or for his books with a little more bite, try one of his Richard Stark stories in the series featuring professional thief Parker, first name withheld. Westlake was a superb writer, worth a fresh look.
For something with wit that's more recent, try Matthew Henson and the Ice Temple of Harlem by Gary Phillips or Palm Beach, Finland by Antti Tuomainen.
Hard Case Crime
Print, Kindle
£4.79
CFL Rating: 3 Stars