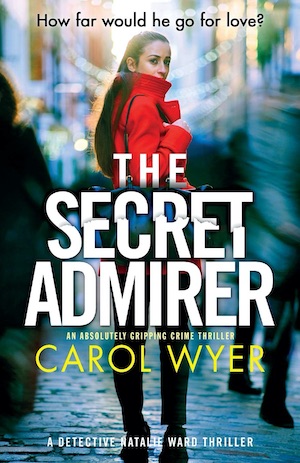 Fans of Carol Wyer's series of police procedurals featuring DI Natalie Ward were left with their mouths agape at the end of her last book, The Blossom Twins. Ward had suffered a devastating loss, and as The Secret Admirer opens it is just three months since her daughter, Leigh, and Leigh's best friend, Zoe, were murdered.
Ward is on compassionate leave, brooding alone in her rented flat near to the Samford Police HQ where she is based, and weighing up the pros and cons of going back to work. Then, just as her mind is made up, Ward is thrown into a case that bears painful similarities to her daughter's death. Gemma Barnes is 19, a promising and popular student studying languages at Samford University, when she is attacked with acid outside the university library. She dies at the scene.
Gemma and her mother Sasha were extremely close, and as Ward breaks the news to Sasha, all manner of memories come flooding back. Has she returned to work too soon and is she really up to this? Ward's colleagues aren't sure, and it's a mark of the author's skill that we readers find ourselves worrying alongside them.
A search of Gemma's room in the house she shared with four other students unearths a note from a secret admirer – who could it be? Does it have any bearing on the case? Further notes are revealed at random to readers as this story develops, their tone becoming less and less admiring as the pages fly by. You'll find yourself guessing at the identity of the writer, but when another student dies, the pressure mounts on Ward and her team.
If a testing case isn't enough to rattle Ward's cage, her personal circumstances just add to the pressure. She is now separated from her husband, David, a reformed gambling addict who, it seems, still can't resist the lure of a bet, and her son Josh, fed up with his dad's unpredictable moods and incessant drinking, wants to move in with her at the little flat she's currently renting. Then there's Mike Sullivan, David's best friend and the head of forensics at Samford HQ. He and Ward have history and are itching to start a relationship – but will the time ever be right?
It's obvious that Carol Wyer enjoys juggling the professional and personal lives of her characters, which can sometimes be a tricky manoeuvre to pull off. It tended to overshadow things in The Blossom Twins but I'm glad to say that in The Secret Admirer she gets the balance just about right. The police procedural aspects of this book are meticulously rendered, offering the reader a realistic glimpse into the highs, lows, detours, dead ends, frustrations and breakthroughs of an active case. There are some sneaky twists to keep things interesting, and as ever in a Wyer novel, the setting is as vivid as a Google map.
After a bit of a stutter in the previous book in this series, Carol Wyer has hit her stride again and come up with an absorbing read that is also entertaining and thought provoking. Fans of the series will be thrilled to meet plenty of familiar faces once more, but recent developments have wrought a change in Natalie Ward. As The Secret Admirer opens, she's still wedded to her work, but by the end of this book there are hints that she may finally be ready to take her foot off the gas a little – I'm interested to see how her story is going to pan out.
Police procedural lovers may also enjoy Sarah Hilary's Marnie Rome series, beginning with Someone Else's Skin, or Cara Hunter's Oxfordshire-based series featuring DI Adam Fawley and starting with Close to Home.
Bookouture
Print/Kindle/iBook
£2.99
CFL Rating: 4 Stars