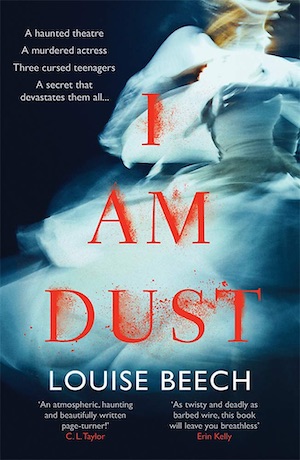 The work of Hull-based author Louise Beech is really difficult to categorise. This is a writer who isn't constrained by genre and her free-flowing style is all the better for it. You won't find all of her work in the crime section at the book store, but it's always welcome news when she strays into CFL territory.
So let's meet Chloe Dee. Prone to self-harming, flights of fantasy and sudden blackouts, she works as an usher at the Dean Wilson Theatre in Hull. Chloe is a local lass and as a teenager she was a member of a youth drama group. Flashbacks take us to the summer of 2005, when the young would-be performers were about to put on their version of Shakespeare's 'Scottish play' in a run down church hall in Hull. Chloe was one of the three witches, while her best friend Jess was cast as Lady Macbeth, with Jess's current crush Ryan as Macbeth.
Chloe feels the stirrings of young love for her friend, but Jess only has eyes for Ryan and when he suggest the trio play a game, Jess is keen to join in. Chloe is not so sure, but as they take their first faltering steps into the dark world of spirits and ouija boards, Chloe suddenly becomes the star of the show. Her gran always 'knew' things and it seems she passed on those skills to her granddaughter, because soon the three teenagers are receiving messages from the Other Side…
Back to the present, and Chloe and her workmates are excited to hear that a play synonymous with the Dean Wilson Theatre is about to be revived. Dust is a musical, written by Dean Wilson himself, which premiered in the then brand-new theatre 20 years ago to critical acclaim. But four days into the sold-out run, Morgan Miller, who had the leading role of Esme Black, was murdered in her dressing room. The killer was never caught and Morgan's ghost is reputed to still haunt backstage at the theatre.
Dust is to return on the 20th anniversary of its premiere – perfect timing, or crushingly bad taste? As opening night approaches, Chloe is plagued with bad dreams and premonitions, and long forgotten memories of that fateful summer with Jess and Ryan come back to plague her. Then the identity of the new leading lady is revealed, and Chloe's world comes tumbling around her ears.
If you like your crime novels with a touch of other-worldliness then I am Dust is definitely the book for you. The scenes when the three youngsters are summoning up spirits are edge-of-the-seat spooky and probably best not read in the dead of night. Yes, we're straying into the realms of fantasy here, but somehow Louise Beech seems able to make it all seem so probable!
They say you should write about what you know, and this author is an usher at Hull Truck Theatre so she is certainly taking that advice on board. It's great to be treated to a peek behind the scenes, and Beech shares some tasty little nuggets of backstage life and lore that add to this book's sense of authenticity. With its cast of leap-off-the-page characters, solidly created settings and a story arc that will keep you guessing, all delivered in this author's trademark lyrical style, I am Dust is Louise Beech's best crime book to date and I advise you to grab a copy as soon as you can.
A former child star is the unusual protagonist in The Last Act by Brad Parks. Enjoy more Hull-based crime in Nick Quantrill's series featuring failing private eye Joe Geraghty. Here's our review of The Crooked Beat.
Orenda Books
Print/Kindle
£3.79
CFL Rating: 5 Stars