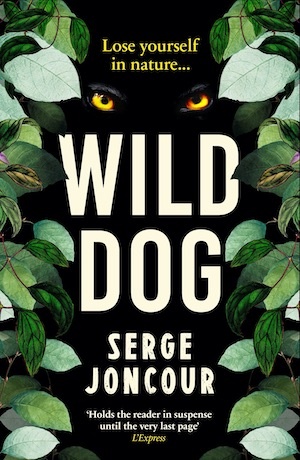 Translated by Jane Aitken & Polly Mackintosh — Novelist and screenwriter Serge Joncour brings us a dual narrative set in a small, rural town high up in the French mountains with Wild Dog, his first novel to appear in English.
The year is 2017 and Parisian couple Lise and Franck feel the need to get away from modern life. Lise, a retired actress, wants to disconnect and spend a month away from everything which she believes caused her to fall ill. "She felt irradiated by the waves from those millions of connections, phone calls and networks which were always there, passing through us…" While browsing the classifieds she locates a remote house for rent, hidden away in the mountains 25km from the village of Orcières.
Mont d Órcieres, built in the 19th century, promises to be the idyllic setting for Lise's plans to paint, meditate and be at one with nature. Without internet, phone reception or electricity, and access only by 4×4 up a precariously steep road, it couldn't be more perfect. Franck, Lise's movie producer husband, is less enthusiastic about his month in isolation without any connection to the outside world. This comes as no surprise. From the get-go Franck is depicted as a stereotypical, money-driven city dweller, obsessed with staying connected and utterly lost without WiFi and a mobile phone signal.
The couple barely arrive at the house before Franck anxiously starts to wander the field in his pink polo shirt and city trousers, phone held high, desperately searching for a signal. He admires his wife's calmness and ability to seem in control under the circumstances when the mere thought of cutting himself off from civilisation induces a panic attack. Like a wild animal, Franck is angry because he feels threatened and cornered – which stems partly from his loss of control at work. His last two films bombed. His two young and hip colleagues, Liem and Travis, are also pressuring him to adapt to the digital age. Despite his reliance on smartphones, this is something Franck is frightfully resistant to.
He soon finds an ally in a wild dog presumably looking for a master: "It was a kind of wolf dog; its coat long, both soft and coarse, and it was thick; the dog had an air of arrogance, the majestic indifference of those who know that they answer to nobody."
His relationship with the dog he names Alpha gradually exposes Franck's more savage side and his initial anxiety morphs into an appreciation for the wild. Much to vegetarian Lise's surprise, Franck suddenly becomes interested in dead animals, slaughter and the local butcher's meat.
Franck's transformation from the always-on-edge, stressed man to one who rapidly not only accepts his circumstances, but savours them and finds his inner savage, is an interesting one. It also begs the question whether we are all inherently savage when forced into an unfamiliar situation.
Parallel and in stark contrast to Franck and Lise's leisurely mountain holiday, we are transported to Orcières in July of 1914 with the onset of World War I. Within days the men of Orcières are summoned to fight and the women are left to keep farming activities running.
In the midst of the war, a German lion tamer, Wolfgang Hollzenmaier, arrives in the village and settles in Mont d Órcieres with his lions and tigers. Villagers are immediately suspicious of the incomer and the potential threat of his animals, whose chilling roars are heard down the valley at night. Rumours about the wild cats' metal cages causing lightning and storms spread and the villagers blame the lion tamer for disappearing sheep.
The ominous sound of the roaring animals becomes a physical manifestation of the threat of war and the villagers' fear of an impending danger they have no control over. When Josephine Manouvrier, widow of the town's doctor, volunteers to go up the mountain and investigate the sheep's disappearance, she is instantly infatuated with the lion tamer and his powerful animals.
Joncour highlights our society's obsession with being connected and how lost we are without technology. The contrasting need to be at one with nature and the superficiality of this trend is perfectly depicted in Lise's unrealistic expectations and slightly pretentious and flaky approach to life, whether it's her belief in harmful technology, the benefits of organic food or veganism.
Of the two storylines, the one based in 1914 is much richer, detailed and interesting and overshadows Lise and Franck's escape to the country. If it's a pure crime fiction novel you're looking for, Wild Dog might not be the perfect match. Nonetheless, its almost 400 pages are packed tightly with suspenseful moments and a consistently ominous atmosphere, even if it's a slow read at times.
There's a feast of French fiction in our guide to the best of France's crime writers. Or how about some World War I crime fiction?
Gallic Books
Print/Kindle/iBook
£10.99
CFL Rating: 3 Stars