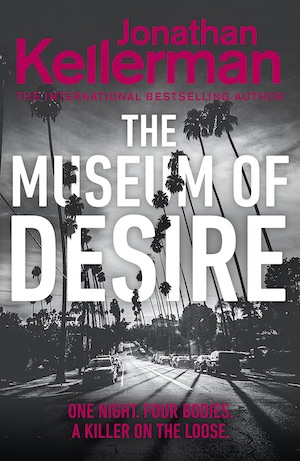 Visiting LA after reading a Jonathan Kellerman novel is a wonderful experience. Described in sparse but vivid prose, the city and its suburbs, strip malls and beach-side bars are such a part of his mysteries, that once you've read a few novels in the 35-strong series, you believe you could navigate the roads from memory. La Cienega Boulevard, La Brea Avenue, the stop sign before Beverly Glen: Kellerman's eye for detail draws you into the sun-kissed, traffic-choked world of Alex Delaware and Milo Sturgis. Take a holiday in California and you'll feel at home.
Jonathan Kellerman's characters have been solving grotesque murders in the LA suburbs since 1985's When The Bough Breaks, his debut novel that introduced us to narrator Delaware, a child psychologist. The author himself has a background in paediatric well-being, so we can assume that aspect is based on his own experience. With a calm demeanour and empathetic character, despite an abusive childhood of his own, Delaware strikes up a friendship with gruff, overweight detective Milo Sturgis. Driven to overcome prejudice at the LAPD, Sturgis, who's gay, has the highest solve rate in the precinct. But he needs support with the weird cases, so drags in Delaware as a consultant. The pair, with a small cadre of trusted junior cops, tackle California's grosser whodunits with a mix of street-level surveillance, probing interrogation and madcap hypothesising.
An area where Kellerman never disappoints is the murder itself. The Museum Of Desire features a fantastically curious set-up. In fact, this case might be even more of a head-scratcher than usual because there are four corpses here, all seemingly unconnected victims, all killed in different ways, all posed theatrically in a limousine parked outside a tacky mansion. There's a sexual overtone to the way the scene's been staged, hinting at depraved motives; of course Milo Sturgis needs a shrink's insight. The hunt through LA's party scene begins.
Over time it's felt like the annual novels have shrunk slightly, becoming less of a meaty read, both in terms of physical size and narrative depth. The Museum Of Desire definitely has the slenderness of a latter-day work. In your hand it's only 348 pages, vastly slimmer than something like 1990's Time Bomb. Size isn't everything, but the older books also seem to challenge our heroes in more personal ways – the periods where Alex and his girlfriend Robin split up are way behind us; these days there's a background of domestic bliss that plods along with earnest familiarity. Milo no longer clashes with the brass, either; those departmental conflicts are always referred to as long-gone trials. In 2020 you're very aware of the established status quo. At least it means our heroes can get on with cracking cases, even if it does seem a little rushed overall.
With each new novel, Alex Delaware himself appears to be becoming more of a wish-fulfilment figure. Understandably, a hero needs to have certain outstanding qualities, but the good doctor is, by this point, darn near perfect. He can't order coffee without someone remarking how decisive he is. Two witnesses flirt openly with him. "You're so young. And handsome!" says one, without any prompting, on opening the door to him. At least two of the LAPD Homicide Department owe him their lives now, something that's dropped into conversation from time to time. He's annoyingly talented, cool, and lucky – annoying, because the prose is presented as first-person narration, so he sounds like your smug friend who won't stop casually reminding you about his charity work. Okay man, we get it, you're awesome.
The Museum Of Desire unfolds in a familiar way with the protagonists batting theories around over breakfast, then knocking on witnesses' doors. It's a vibrant cast of characters, all memorable, with Kellerman's trademarked eye for description. His language is electric with observation. The limousine "was as white and fat as a larva", the waiter at the corner café was "hunched so severely he resembled an angle bracket with shoes" – this is pulp poetry. His attention to detail and his ear for dialogue remain first class, and should be considered a masterclass for any aspiring writer.
Is it a solid police procedural though? Not entirely. The investigation moves forward in wild leaps as Alex and Milo follow their hunches. Alex solves problems by driving around in the night and fortuitously spotting a suspect. He and Robin appear to be the only people involved who know how to Google facts. And the denouement is preposterous, involving Hermann Göring (yep, the Nazi), obscure art, and a final explosion of violence that leaves us without true closure.
However, that deep dive into the landscape of LA is still there. And at its core, despite all the problems, it's just very comforting to spend time in the company of these investigators. The easy friendship, the outlandish mystery, the intense prose, all add up to an immersive few hours spent on the California tarmac.
Jonathan Kellerman's series remains well worth exploring. There's an energy and intellect here that keeps the Delaware-Sturgis mysteries on top of any recommended reading list. But you should start with one of the earlier entries. The Museum Of Desire is fun, but really serves as a pleasant time-filler for existing devotees.
The Museum Of Desire is out now in hardback, Kindle and audiobook. The paperback is released on 12 November. For more LA crime check out Michael Connelly or James Ellroy.
This review was written for us by crime fiction, science fiction and computer gaming expert David Bradley. See also his piece on the seminal TV detective Columbo. Follow David on Twitter.
Century
Print/Kindle/iBook
£7.99
CFL Rating: 3 Stars