I'm always partial to modern historical crime novels and thrillers and my selection includes books set in the 1840s and the 1930s, 40s and 50s. I also enjoy short stories and include a collection spanning the 1930s to the present day. Some things never change, and one is human nature and our fascination to try understand it, through a good book.
5 – The Vanished Bride by Bella Ellis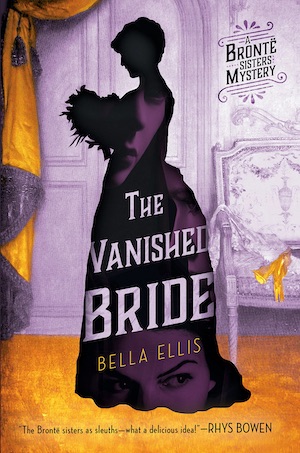 Charlotte, Emily and Anne Brontë become lady detectives when they set off across the windswept moors in pursuit of the truth in 1845 Yorkshire. A young bride has gone missing from her home leaving no trace save a large pool of blood and a slew of dark rumours about her marriage. The sisters use their resourcefulness and boundless imagination when they spot unsettling details about the crime scene. There's plenty of allusion to the sisters' books and their characters with a gothic and theatrical atmosphere and a tale rollicking with romance, ghosts, peril, madness and feminist commentary of the Victorian kind. This is the first in the Brontë sisters mystery series, written by author Rowan Coleman, using a pseudonym inspired by Emily Brontë's pen name Ellis Bell. See what she did there? Read my full review here.
Buy now on Amazon
4 –  Indian Summer by Sara Sheridan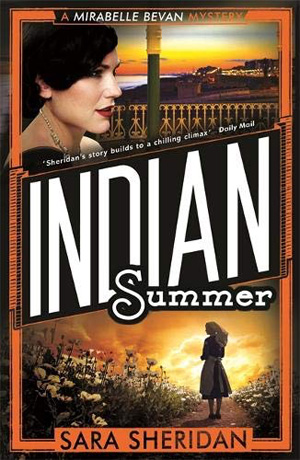 The Mirabelle Bevan mysteries, starring the former Secret Service backroom girl, a debt collector and sleuth in the 1950s, fall into the cosy crime category. But like many others of its ilk, Indian Summer has its fair share of gruesome deaths. Mirabelle becomes a strong suspect for a priest's murder and she's on her own as far as any favours with the police in Brighton go, as she's fallen out with her former lover, Superintendent Alan McGregor. As always the stakes are high for our stylish sleuth, who won't back down in the pursuit of justice. This series is, thankfully, as fast-paced on the publication front as its page-turning and satisfying stories. Read the full review for more.
Buy now on Amazon
3 – Nemesis by Rory Clements
If you've read the previous two adventures by Rory Clements featuring Cambridge professor Tom Wilde, you will know that he has little time to bury himself in dusty archives. For this action man, who has spied for both the British and American governments, is once again caught up in the seismic events leading up to the outbreak of World War II. This time the consequences of his decisions and actions are even more crucial, as we are right on the cusp of war in August and September 1939. He's caught up in a plot that will determine whether America will join the Allies against the Fascists and this is at the heart of the book's premise. What Clements does so successfully is paint an authentic picture to immerse you in that world, when every citizen was in jeopardy. Although this spy thriller is plot-driven, this is not at the expense of a fine cast of characters with Wilde at the helm. He's complex and always ready to act under fire, sometimes rashly, to protect those he loves and what he sees as right.  Nemesis is right on target again. Read the full review here.
Buy now on Amazon
2 – England's Finest by Christopher Fowler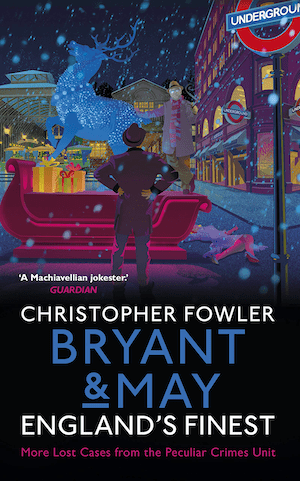 The exploits of extraordinary elderly eccentrics DCIs Arthur Bryant and John May of the Met's Peculiar Crimes Unit are misremembered with much dark humour in Bryant's memoirs of 12 lost cases in this short story collection. Bryant has a mandate to ignore the rules of policing in London, and for all his apparent bumbling, he is as dexterous as a magician as he pulls unforeseen answers from the sleeves of his Harris Tweed overcoat and solves oddball mysteries with verve and a lot of wit. His age is described as being "somewhere between prostate and post mortem". His exasperated partner, May ,often smoothes the way with witnesses and suspects and is allowed to shine by solving some of the crimes himself, as do some of the unit's other oddball team members. Fowler is a playful trickster, up there with the best mystery writers, and hides puzzles amongst the jokes and low comedy. Bryant dazzles with his explanations and final reveals. So much fun. Read our full review.
Buy now on Amazon
1 – Ungentlemanly Warfare by Howard Linskey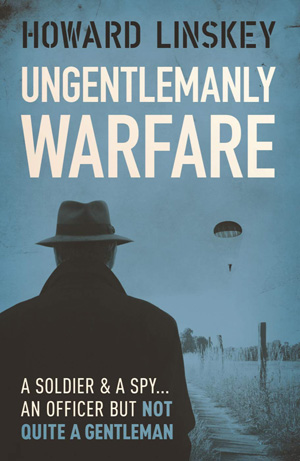 When the assassination of the scientist behind Hitler's miracle jet fighter is ordered, there is only one man who can do the job: burned-out soldier, spy and not-quite-a-gentleman Captain Harry Walsh. Ungentlemanly Warfare is set around Rouen in Normandy in 1943, the year before the D-Day invasion. Walsh and three others are dropped into this highly-charged territory to train up a disorganised band of Maquis to wreak havoc on the German occupiers and influence the outcome of the War. There's high stakes and violence, but always with the light touch of an iron fist in a velvet glove before the punch smashes through. Like Linskey's first wartime novel, Hunting the Hangman, which features a mission to kill evil super Nazi Reinhard Heydrich, the main architect of the Holocaust, this is a superior historical caper – page-turning and irresistible with the flavour of a classic World War II thriller. Read our full review.
Buy now on Amazon
Read my top five books of 2018 here. And see the top five books each of my colleagues on CFL has selected here.