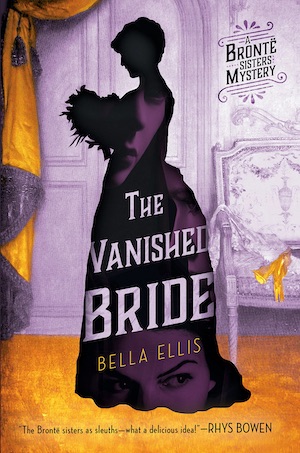 Written by Bella Ellis — Would you believe the premise that three spinster sisters living in a Victorian parsonage would have the experience and nous to solve a crime? And really, would you believe that the work of such seemingly innocent and almost unworldly women could have a place at the high table of the literary world for 170 years? You would have to suspend your disbelief if the latter was not true of the Brontë siblings.
In The Vanished Bride, the fictionalised Charlotte, Emily and Anne Brontë become 'lady detectors' when they set off across the windswept moors from Haworth in West Yorkshire in pursuit of the truth in 1845. A young bride, Elizabeth Chester, has gone missing from her home leaving no trace save a large pool of blood, signs of a violent struggle and a slew of dark rumours about her marriage. 
Charlotte, Emily and Anne are yet to publish their famous novels, but they are horrified and intrigued to investigate what has happened, and escape their mundane existence through this opportunity for adventure. They have a way in, as Charlotte's childhood friend Mattie French is a governess at Chester Grange and it is her mistress, stepmother to her charges, who is missing.
The trio waste no time, except to squabble when their hedonistic and disgraced brother Branwell begs to tag along, to set off with him to the grange to offer comfort and assistance to Mattie.
The sisters use their resourcefulness and boundless imagination when they spot unsettling details about the crime scene. It's clear that no one else is working on the case; the police blame a band of gypsies camping in the woods for the suspected slaughter of the young wife. The detectors don't buy this cop out and are determined to seek the truth. An obvious suspect is Robert Chester, the charismatic husband of the missing woman.
Charlotte and Emily team up to question the villagers, using their invisibility as humble parson's daughters to their advantage. Anne and Branwell go undercover as a doctor and his sister at the grange itself. This isn't as fantastical as it seems. After all, the Brontë sisters wrote their novels under male pseudonyms.
Each sister propels the story forward in chapters from their point of view. Charlotte is ambitious and strategic, while nursing a broken heart following her disatrous obsession with her former tutor Monsieur Héger in Brussels. Emily is wild and restless, thrilled by the crumbling gothic grandeur of the grange and seeing a story in every corner. Anne is gentle and retrospective, haunted by the deaths of her mother and younger sisters, and feels compassion for the children at the grange who have lost their mother and stepmother.
There's plenty of allusion to the sisters' books and their real life characters and experiences, with a gothic and theatrical atmosphere and a tale rollicking with romance, ghosts, peril, madness and feminist commentary of the Victorian kind. Death is a frequent visitor, as it was in the Brontë's own lives. Emily and Anne would be dead by 1848 and 1849, so Bella Ellis will need to get her skates on for the sequels.
You don't need to be a Brontë fan or be familiar with their lives or novels to enjoy this, although you would have more fun recognising the fictional inspirations for Jane Eyre, Wuthering Heights and The Tenant of Wildfell Hall. There are a few stumbles in the backstory in the short opening chapters, but Ellis gathers pace and weaves the literary allusions into a compelling mystery with good storytelling at its heart – thankfully without the full on melodrama of the Heights. I feel the sisters would have approved, although Charlotte fiercely guarded the reputation of the Brontë brand.
This is the first in the Brontë sisters mystery series, written by author Rowan Coleman using the pseudonym inspired by Emily Brontë's pen name Ellis Bell. See what she did there?
Check out our guide to ten books featuring writers as sleuths, or see Ambrose Parry's The Way of All Flesh, set in Edinburgh in 1847.
Doubleday
Print/Kindle/iBook
£12.05
CFL Rating: 5 Stars