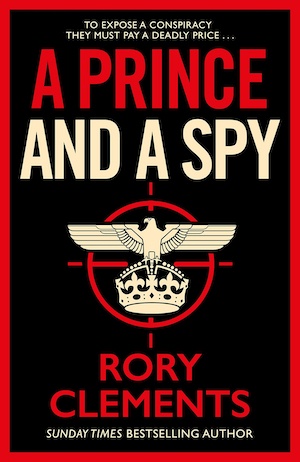 At the centre of the intrigue in each of Rory Clements' World War II espionage novels sit true historical events. Cambridge history professor Tom Wilde's task is to step in and save the world from the iron glove of Nazi tyranny. One false move and the consequences will be lethal.
No pressure then for our American academic turned action man.
Being drawn into the drama of real life events on a reimagined human level is a compelling hook. It's always fun to look up contemporary accounts or read what historians say happened. The author includes historical notes at the end of the book too.
In A Prince and a Spy, Clements opens his political spy thriller in August 1942, as he imagines the King's brother (the present Queen's uncle) Prince George the Duke of Kent, meeting his cousin Prince Philipp von Hesse, a close friend of Hitler, at a secret rendezvous in a Swedish palace. The British prince rejects attempts at peace talks and capitulation during the conversation.
Prince George is killed along with all but one other passenger when a flying boat carrying him back to Britain crashes in Caithness in the north highlands of Scotland. The official line is that the prince was on his way to Iceland and the crash was pilot error – a tragic accident. But is this true, and was the plane sabotaged or shot down?
Meanwhile, Wilde is on a train in England when a young soldier of his acquaintance asks him for help, claiming to have been responsible for the deaths of thousands of Allied troops, but then crunches on a cyanide capsule before he can divulge more.
When Wilde is asked by the American secret intelligence service OSS to travel to the aircraft crash site on the pretext he is there to pay respects on behalf of President Roosevelt, a friend of the late prince, he takes the long trip north to investigate. There, he meets witnesses and a typical cast of friends and foes, both fictional and historical. They range from a canny fisherman who first alerts Wilde that something about the RAF's story doesn't add up, to an obstructive advisor to the prime minister called Walter Quayle and a mysterious female spy, Harriet Hartwell, who is being hunted by both British and US intelligence agents. 
As Wilde asks questions about the prince's mission, his quest to find answers takes him from Scotland to a London nightclub and a national newspaper office, to the scene of a grisly murder in Suffolk, a snake-infested isle in Sweden and back home to Cambridge.
As usual he's followed by shady characters and is in constant jeopardy as he swims through an ocean of pacey plots and subplots and finds nets of red herrings before the real catch, and some explanation to how they are all linked.
If you find cruelty and gore makes you queasy, there is some look-away-now violence in A Prince and a Spy – just a few scenes, but some of these are so bad they cause a hardened SS man to throw up. The violence is necessary as the story asks if the Allies did look away when news of an unthinkable genocide of millions reached them, midway through the War. Did Churchill know about the Holocaust and was he powerless to intervene, as is suggested here? 
Evil is not exclusive to the Nazi regime, such as head of the Gestapo Henrich Müller and chief architect of the Final Solution, Adolf Eichmann, who both get speaking roles. It's also present amongst the German nobility and at the heart of the British establishment, from the old boy network that began in a feared public school secret society to the ruling class.
Wilde's partner Lydia has played active roles in the previous four books. This time it is a shame that she is confined to domestic duties looking after their young son and irked by Wilde putting himself (and by default her and their son) in danger.
We have three years left of the War to run, so there is plenty of scope for the series and Wilde will return, I am pleased to report. I look forward to seeing which cataclysmic event he will subvert next time. 
Previous outings include, fascism and communism colliding in 1936 in Corpus, the arms race in Nuclear and conflict over the US entering the war in Nemesis.  I felt Hitler's Secret went a bit too boys' own for my tastes but A Prince and a Spy gets things back on track.
For another political thriller set in the Third Reich try Ben Pastor's The Night of the Shooting Stars.
Zaffre
Print/Kindle/iBook
£7.19
CFL Rating: 5 Stars