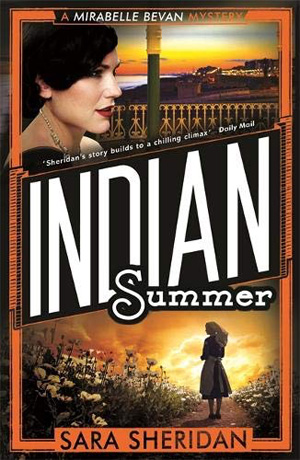 Written by Sara Sheridan — In the scheme of things across the genre, the Mirabelle Bevan mysteries fall into the cosy crime category. But like many others of its ilk, Indian Summer has its fair share of gruesome deaths, beginning with that of Catholic priest Father Grogan. Mirabelle trips over his body in his bathroom whilst trespassing in his house on the trail of suspicious activity at a children's convalescent home that the priest is connected with.
This scenario is par for the course for our smart, ex-secret service backroom girl. The year is now 1957, and the war has been over for 12 years, but Mirabelle can't resist a cry for help, this time from a young and frightened Jamaican child she finds crying on the beach in Brighton, who is being bullied. She escorts the child back to the home for children with tuberculosis, with Father Grogan, and her antennae go into overdrive and her heart beats faster as she realises something is amiss.
She's been starved of any cases for a year and cheerfully sets herself up to watch the church and home. There's no harm in waiting and keeping an eye on things, she tells herself. When the old priest staggers home from church she can't resist climbing in a window to see what he had left in his study – something had piqued her interest – but it's his poisoned body she lands on.
Mirabelle becomes a strong suspect for the priest's murder and she's on her own as far as any favours with the police go. She fell out with her former lover Superintendent Alan McGregor in the last book, Russian Roulette, for his perceived betrayal, on a personal and professional front. Our heroine would never betray her own principles and turn to McGregor for help.
She also can't rely on help from her business partner at her debt collection agency, Vesta. In the past the girl was involved in numerous adventures with Mirabelle, but as a new mother she won't take any personal risks and now openly disapproves of Mirabelle's 'reckless' actions.
As Mirabelle is drawn to help the sick children at the seaside sanatorium, the nursing sister who was seen arguing with the priest on the day of his death goes missing. Another nurse is acting suspiciously and she makes enemies of some of the others, who obviously have a big secret to hide and Mirabelle is banned from the building. There are links to a high-class brothel, and a brutal gang and Mirabelle, who is addicted to risk and excitement, gets a thrill from hanging out with the call-girl boss (with a good heart) who she has encountered in previous books.
With McGregor firmly out of her love life, Mirabelle is attracted to police doctor Chris Williams, even though it will be fairly obvious to you that she is flirting with danger with this man. He's a handy person to know though, as he's the police surgeon and first on the scene during a series of brutal killings in Brighton.
Mirabelle has excellent surveillance skills and uses her SOE picks on locks just about anytime she faces a closed door. Her tenacity is unstoppable as she trails suspects, breaks into apartments, doorsteps witnesses and generally annoys the hell out of pretty much everyone, apart from her close friends and those of us who admire her.
In the late 1950s so many metaphorical doors are closed to Mirabelle as a single woman through sexism from the professional male investigators, who underestimate her intelligence and skills, and that goes for pretty much the whole population too. She often teams up with those on the edge of the law and one of the many strengths of this series is that there are good and bad people in all walks of life.
Mirabelle has the smart intellect to read people and understand their motives, though of course, she's blind to many of her own drivers and makes some errors of judgment. As always the stakes are high for our stylish sleuth, who won't back down in the pursuit of justice.
If you haven't yet fallen for Mirabelle's charms, there is a good introduction to the Mirabelle Bevan novels in our interview with Sara Sheridan, posted when her first novel, Brighton Belle was published. Just nine months ago we reviewed the last book Russian Roulette. This series is, thankfully, as fast-paced on the publication front as its page-turning and satisfying stories.
Constable
Print/Kindle/iBook
£8.99
CFL Rating: 5 Stars