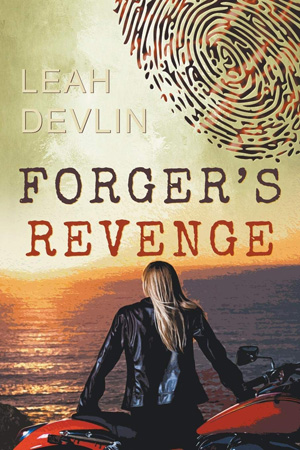 Written by Leah Devlin — Ella Winston is just out of prison, banged up for something she did… and also for something she didn't do. The former art forger is on the straight and narrow now, but she's also on the hunt for evidence that'll help to prove her innocence.
Back in the day, Ella was a talented artist, and when the offer of big money came along she also proved to be a talented art forger, with the historic works of autistic artist Adam Eaton her speciality. She's desperate to find originals of Eaton's work, and that's what brings her and her trusty BMW motorcycle to the little town of River Glen on the edge of Chesapeake Bay.
But trouble is hot on Ella's tail, and soon she's neatly in the frame for murder. Can this gal never catch a break? Luckily the little town she's landed up in contains a number of friendly, helpful folk who are willing to give Ella the benefit of the doubt. River Glen is full of visitors, all enjoying the myriad attractions of the annual Pyrate Festival, making it easy for a killer to hide in plain sight. But just who is the murderer and can he or she be apprehended before they strike again?
Fans of Leah Devlin's Chesapeake Tugboat Murders series will recognise the players here. If, like me, you're joining the party at book three then you really won't feel at much of a disadvantage. Julia Hale and Alex Allaway have been central characters in previous books but this time Julia makes but a fleeting appearance, leaving marine biologist and crabber Alex in the middle of a murder mystery that's about to unearth all manner of River Glen secrets. And, believe me, this place is riddled with them – when it comes to death and intrigue, it rivals Midsomer and Cabot Cove!
Detective Jay Braden, mourning the death of the love of his life and seeking solace at the bottom of a gin bottle, is another important pawn in this game, as is village lawyer and part time historian James Collins, love interest of professor Nina Vega. Another vital cog is assistant detective Will Wilkins, Jay's partner and romantically attached to Alex. Over time they'll each have occasion to interact with Ella Winston, some more intimately than others.
With its talk of pyrates, Civil War history, works of art, ghosts and, erm, motorcycles, Forger's Revenge falls neatly into the cosy category of crime fiction. In fact, there are times when it bears more than a passing resemblance to a Scooby Doo plot, although the dogs in this novel are mere bit players. There are some neatly turned plot manoeuvres and you may be taken by surprise at what transpires in the final denouement. Let's just say that not everyone is quite what they seem…
Devlin demonstrates a sure hand in quirky characterisation and her settings are so well drawn as to be postcard perfect. The action flits between River Glen and Gettysburg although at times I lost track of which was which. This is a book that doesn't take itself too seriously, and if you're looking for a light read to start off the year it could fit the bill.
Sadly, this edition contains a number of editing errors which tends to mar the reading experience. There's also the odd misstep. Would a proud and canny Scotswoman really have her motorbike and sidecar custom painted with the union flag – surely it would have to be the saltire? But if you're a lover of cosy crime, don't let these niggles put you off, because Forger's Revenge has much to recommend it.
Also try Vaseem Khan's Murder at the Grand Raj Palace, set in India, or visit Canada in A Hole in One by Judy Penz Sheluk.
Penmore Press
Print/Kindle
£3.53
CFL Rating: 3 Stars