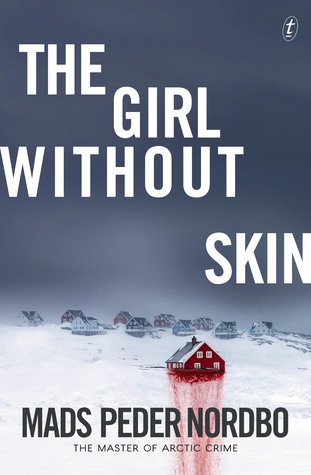 Written by Mads Peder Nordbo, translated by Charlotte Barslund — Danish writer Mads Peder Nordbo's Nordic thriller begins with journalist Matthew Cave returning to Greenland, the country of his birth, after a tragedy in Denmark claimed his wife and unborn child. There are few diversions for the guilt-ridden reporter in the small town of Nuuk, so when a mummified corpse is discovered in a glacial crag, apparently a genuine Viking body, it looks like the scoop of the century for Matthew and his local newspaper. While he waits for confirmation from an archaeological team, someone steals his pictures of the scene. Soon after, the policeman guarding the corpse is himself is murdered, his corpse gutted and flayed in a manner similar to the mummy, which itself has vanished.

As the newspaper adjusts to this nightmarish setback by sitting on both stories, the frustrated Matthew is referred to a cold case from 1973. Four men were murdered and flayed in similar fashion. During his research into the unsolved case, he comes into the possession of the personal notebook of Jakob Peterson, a Danish expat on the local police force who investigated the case. The diary ends abruptly because Jakob himself vanished without a trace, but the contents point to a systemic cover-up of child abuse and governmental wrongdoing whose participants still thrive today, particularly local politician Lyberth. As Matthew digs into the diary, we are taken back into Jakob's timeline in the 1970s and his investigation of child abuse, murder and institutional corruption.

Norbo shuttles us smoothly between the past and present, between Matthew's persistent investigation and Jakob's dogged, desperate effort to protect Paneeraq, a young girl whose abusive father is flayed along with three other men suspected of incest. Both cases smell of a cover-up from the higher echelons of government, and are presented with a masterful blend of cultural atmosphere and journo-investigative procedure incorporated into suspenseful thriller. The native belief in spirits hovers ever in the background, where past and present blend in Nordbo's beautiful descriptions of ice and fog.

As Matthew and Jakob wade precariously through corrupt officials to identify the unknown killer, we learn the mummified corpse in the glacier is a more recent murder and not a true Viking, but the best is yet to come. Matthew crosses paths with the moody and dazzlingly exotic Tupaarnaq, a rebellious, tattooed seal hunter now released from jail after 12 years for shooting to death her mother and sister and flaying her father like a seal, making Tupaarnaq a prime suspect for the current murder. The anti-social Tupaarnaq claims innocence in both cases, but she knows more than she's saying, so Matthew must gain her trust if he is to get to the bottom of the connected mysteries.

As we pass between stories we learn from Jakob's notebook that he is a detective with professional integrity and the soul of a poet. A Danish transplant in Nuuk during the 1970s when it was called Fordsbro and the surrounding towns all have Danish names, he has an uphill battle to gain the trust of the Greenlanders, hindered at every turn by a corrupt chief who tries to quash his investigation. As he harbours a young girl named Paneeraq from her father's sexual abuse, her father becomes the last victim, and Jakob finds himself being framed for the murders. While being openly threatened by local politician Lyberth to cease his investigation, a mysterious other party is leaving film reels in his flat that reveal the gradual torture of a missing girl. Jakob finds he can only trust his partner Karlo, but we know from the disturbing pages of his diary that dark forces beyond his control are winning the day.
Fans of Scandinavian crime fiction will find this a thoroughly atmospheric, melancholy and ultra-graphic thriller that casts a socially critical eye – attributes that are all the calling cards of Nordic noir. But unlike so many books now glutting the market, The Girl Without Skin doesn't feel tendentious or derivative, despite its own tattooed star Tupaarnaq, who seems to be evoking Stieg Larsson's infamous Lisbeth Salander from the iconic Millennium series. For folks whose introduction to Nordic noir was The Girl With the Dragon Tattoo or even Peter Hoeg's Miss Smilla's Feeling for Snow, this book is just as captivating with its endearing characters Matthew and Tupaarnaq, among other memorable characters. Greenland provides a new and interesting setting, with some of the native culture woven into the story, similar to MJ McGrath's White Heat.
Charlotte Barslund's translation, clear as Arctic ice, is so fine you won't be aware it wasn't written in English. Fortunately for us, this book is the beginning of his Greenland series which will be followed by Cold Angst.
Text Publishing
Print/Kindle/iBook
£10.44
CFL Rating: 5 Stars