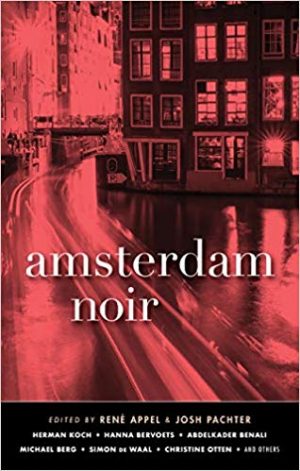 Edited by René Appel and Josh Pachter — Fourteen of The Netherlands' premier authors of crime and literary fiction contributed to this collection, with the editors – top-rated crime authors themselves – providing the 15th. Amsterdam Noir is the latest in Akashic Books' long-running series of place-based crime anthologies. If this enterprise is in part intended to give a flavour of the locale under the authorial microscope, this collection is another success.
Collectively, these Euro crime tales give you not just an impression of the city, but a sense of the residents' character as well. Whenever a story purports to represent a certain place, you can fairly ask yourself, could these events have unfolded this way anywhere else? In other words, has the author effectively captured the uniqueness of the setting and its influence on the residents there? Geography, history and culture all affect what can and does take place in a city and the official and unofficial reactions to events. In the front of this book is a handy map indicating where the stories take place, and you may find yourself referring to it, in search of the cultural connections across neighbourhoods.
In their introduction, Appel and Pachter say, "In our opinion, each of the stories in this volume is a little film." This explains the organising principle selected – they assigned the stories to four broad headings inspired by classic film noir, and this review briefly describes just a couple of the stories under each of these headings.
In the Out of the Past section, Welcome to Amsterdam by Michael Berg is a story of revenge – a revenge the wronged man never thought he could achieve. It's pretty strong stuff. Berg was the 2013 winner of the Golden Noose, the award for the best Dutch-language crime novel of the year. Herman Koch, who wrote 2013's best-selling crime novel, The Dinner, contributed Ankle Monitor. It launches with a brilliant first line: "Maybe it was a mistake to go back to my old neighborhood on the very first day of a weekend leave." No stopping reading there.
The three stories in the Kiss Me Deadly section are all about ill-conceived love and all written by women, interestingly. Silent Days by Karin Amatmoekrim proves that just because a woman is old and alone doesn't mean she is helpless in the face of someone else's calamity.
There's more than a Touch of Evil in that eponymous section: Satan himself, a pedophile, an alcoholic fratricide and a man channelling Ted Bundy (for an international touch). Nevertheless, a hard-working police detective unexpectedly comes out on top in Theo Capel's entertaining story, Lucky Sevens.
The four stories in the final section, titled They Live by Night, echo that film's theme of inescapable tragedy. Most are from the victim's point of view, but Abdelkader Benali's The Girl at the End of the Line is told through the eyes of a Moroccan police officer, assigned to find the killer of a Muslim girl. It's no surprise that Benali has won a top literary prize, since he opens this story with: "A farmer found her with her head facing southeast, toward Mecca, as if in prayer." This one sentence is an effective reminder of the pluralistic culture of Western European cities today and a strong intimation of the layers of social complexity the story will probe.
Many other prize-winning authors are featured in this collection too, and it includes both well established authors, like Capel, and writers new to the scene, like Amatmoekrim. Meet some of the very best Dutch authors, right here in these pages.
Also try Return to Hiroshima by Bob Van Laerhoven or the TV series Fenix. British author David Hewson also sets some of his novels near Amsterdam, such as 2017's Little Sister.
Akashic Books
Print/Kindle
£9.51

CFL Rating: 4 Stars