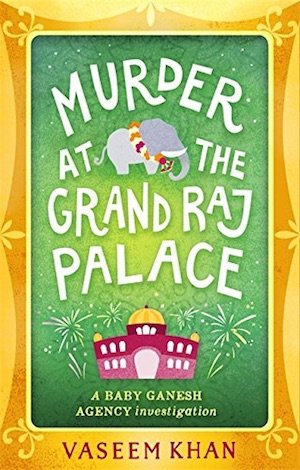 Written by Vaseem Khan — That most honourable of retired police inspectors, Ashwin Chopra, is back on the case for the fourth time with his baby elephant Ganesha when an American billionaire is found dead in Mumbai's most luxurious and iconic hotel. And despite the sheer opulence of the Grand Raj Palace, Ganesha is not only allowed in the exclusive establishment, he is positively spoiled at every turn by an army of hotel staff, with platters of mangos and chocolate.
For those who are not familiar with the young elephant and the Baby Ganesh Detective Agency that feature in the previous books, he was gifted to Chopra and plays his own small part in his guardian's investigations by being a great judge of character and bringing some levity to dark tales of human greed and corruption.
The dead man, Hollis Burbank, is found in his suite with a big knife stuck in his chest. However the room is locked and hasn't been opened since he entered it and the police dismiss the death as suicide. This suits the glitzy hotel, which is desperate to avoid any scandal reaching the ears of its exclusive guests. However, one of Chopra's former colleagues is suspicious and calls the retired inspector to take a quick look. Chopra is all too keen to investigate – he hasn't taken well to being forced into retirement through ill health. The only snag is that his wife Poppy is furious because she and Chopra are about to celebrate their silver wedding and nothing must stand in the way of her plans.
At the hotel Chopra learns that Burbank had just won an expensive artwork at auction and his actions do not match those of someone about to take his own life. When the police insist that Chopra drop the case, the stunningly gorgeous auction director, Lisa Taylor, asks him to continue his investigation on behalf of the auction house. He is unable to resist despite the increasingly sharp tone of his wife when he calls her.
Exasperated, she arrives at the hotel with her young foster son and Ganesha and checks into Chopra's suite. She's disconcerted to find her husband can spare no time for her and that he is a little dazzled by Lisa Taylor. The hotel is heaving with people making a movie starring a celebrity monkey, while two dynastic families are preparing for a huge wedding. There are a few scenes around the movie set that slow down the action and storyline while the animals display unbelievable human traits. It's a bit of whimsey that is fun, like an interlude.
At a loose end with her two young charges, Poppy comes across the young bride having serious pre-wedding jitters. Before long Poppy is enlisting the help of baby Ganesha to solve an investigation of her own, surrounding the wedding. There is an amusing moment when Ganesha uses his exceptional powers of smell and charges around the hotel like a hound following a scent with half the hotel joining the chase.
Meanwhile, Chopra meets some stars of the art world with secrets to keep and discovers that Hollis Burbank's history with India is not all that it seems.
Most of the book's characters are living the high life at the Grand Raj Palace but there is also an insight into the desperate poverty of people in villages outside, and in the slums and a cover-up of a disaster, which reaches the highest level. There are soon many suspects with a reason to want to see Burbank dead.
What makes Chopra stand out from all around him is that he is a honourable and incorruptible man of true integrity, while so many of his former police colleagues and officials have given in to vice. His determination to root out the truth does have consequences for his wife and young wards and causes conflict, but at the heart of the series there is a strong and loyal family and marriage. It's easy to see why Poppy sometimes finds her husband so aggravating. The amount of food that the baby elephant puts away may cause alarm, but Khan has assured his readers that Ganesha won't be growing up for a few books yet.
The books are charming with a slightly formal Indian-style of language to admire and are certainly an easy read. They are not quite as cosy as Alexander McCall Smith's Number 1 Ladies' Detective Agency series – they explore darker themes and should please those who enjoy that with a touch of lightness and caustic humour thrown in the mix. There are several nods to Agatha Christie through the locked-room mystery and when the inspector assembles the suspects for the denouement. We also get a sense of the sights and exotic scents of Mumbai in all its glorious and colourful absurdity.
Khan won a four-book deal for the Baby Ganesh Detective Agency series and this is the fourth to be published… Fortunately, the news has come through that the agency is not closing and Vaseem Khan is working on the next two installments.
We interviewed Vaseem Khan here.
Mulholland Books
Print/Kindle/iBook
£12.72
CFL Rating: 4 Stars