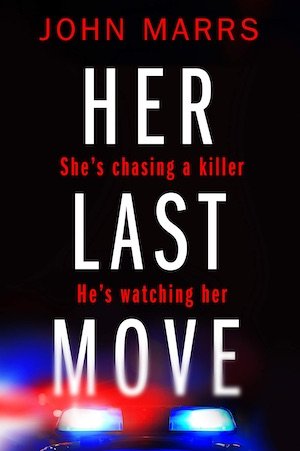 Written by John Marrs — It's great to hitch up with an unfamiliar name, isn't it? Especially when the book you read is so good! Her Last Move may be John Marrs' fifth standalone thriller but it's the first to have made a blip on the CFL radar.
This is an author who thrives on the dark and twisted, so prepare for something a little out of the ordinary. The opening few paragraphs all seem so run of the mill though – a man is standing on a London underground platform, waiting for the next train. He's passing the time by reading the posters on the wall opposite, trying to bring his feelings under control as we keeps an eye on a fellow commuter – a tall, overweight plasterer called Stefan Dumitru. Sadly it's the end of the line for Dumitru, who is destined to die under the wheels of the next train. It also signals the start of a blood-soaked, demented journey for the man who has just completed his first kill…
Also on the platform is DS Becca Vincent, on her way to work when work lands right in her lap. She's first at the scene and keen to stay with the investigation, but she's going to have to prove herself to the bosses before they will agree. We soon learn Becca has a tragic past, a young daughter with Downs syndrome and a mother who is getting tired with taking on all of the childcare responsibilities. She needs to spend more time with little Maisie, but the draw of a big case is just too tempting for Becca.
So far, DS Vincent sounds like oh so many other female police officers to feature in crime fiction, but Marrs is quite a spin doctor and little by little he manages to create a character who stands out from the rest. Talking of outstanding protagonists – meet DS Joe Russell, a member of another Met Police unit who is about to join Becca in the hunt for a killer whose strike rate is alarmingly fast. Joe is a super recogniser, someone whose brain has built-in facial recognition that's better than any computer. And yes, CFL fans, this is a thing and actually exists within the Metropolitan Police Force.
At first Joe is called in to trawl though hour upon hour of CCTV and spot faces, but his role grows exponentially as the murder investigation team realises how useful his skills can be to them. He's teamed with Becca and the pair have a rocky start to their partnership but gradually a mutual respect for each other's skills melds them into a top class twosome.
Meanwhile, we're given glimpses into the twisted mind of our killer, someone who is living an ordinary life when he isn't committing extraordinary acts of cruelty. Be prepared for some gruesome crime scenes as this story unfolds. We don't know who he is or what is driving him to such evil deeds, but there's something strangely compelling about him.
Marrs has an easy style that grips right from the off. His depictions of London are so lifelike you can almost scent the exhaust fumes and his characters leap off the pages. You'll enjoy following the minutiae of their lives, discovering the private worries, joy and sorrows behind their professional personas – and believe me, this bunch have them in spades! Get ready for scenes that'll turn your stomach, alongside those that may require a tissue or two on this roller coaster ride of a read. I'm off to search out Marrs' previous books and I suggest you do too.
For more quirky, cop-driven crime we suggest Holy Ceremony by Harri Nykänen or why not give Roxanne Bouchard's We Were the Salt of the Sea a whirl?
Thomas & Mercer
Print/Kindle/iBook
£3.98
CFL Rating: 5 Stars