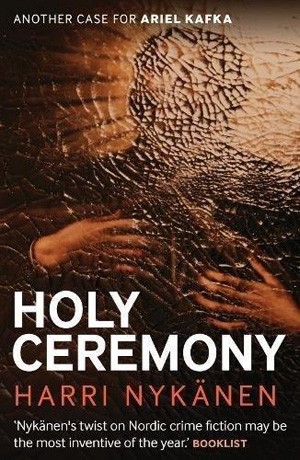 Written by Harri Nykänen, translated by Kristian London — Finnish crime fiction has always been on the quirky side when compared to the more earnest crime novels of Norway, Sweden and Denmark. Less often translated or adapted for film or television than the other Scandinavian countries, Finnish crime authors are no less inventive. Recent successes include Antti Tuomainen and Kati Hiekkapelto. Every Finnish crime novel we've reviewed to date has shown a degree of originality and capacity for reflection, self-deprecation and black humour, which are substantially different from the more serious Scandinavian novels, but equally as engaged socially.
So perhaps now is a good time to rediscover the prolific Harri Nykänen, a respected crime journalist in his home country before he turned his hand to fiction in the 1990s. He has produced several successful crime series, and this is the third book in the Ariel Kafka series. Both of the preceding books in the series have also been translated into English and we reviewed the first one, Nights of Awe, back in 2012.
The wonderfully named Ariel Kafka is one of only two Jewish policemen in Helsinki and the author does a great job of showing some of the microagressions he suffers in the course of his job for being Jewish, without allowing them to overwhelm the police investigation. Kafka is called in to deal with the case of a woman found dead in a flat, which is not hers. Her naked body has a dense web of biblical text scribbled all over it. Not that this shakes the ice-cool Finnish police too much. As one of Kafka's colleagues phlegmatically puts it: "Someone's been watching too many American serial killer movies." However, they do get rattled when they discover that the body was not in fact killed there, but is a corpse stolen from the morgue.
Other than the theft of a body no crime has been committed, but this is clearly more than a nasty prank. When Kafka starts receiving warning letters from someone who signs their name as The Adorner of the Sacred Vault, with enclosed newspaper clippings about unsolved or accidental deaths, he decides to take a closer look at the missing owner of the apartment where the body was found, the rather flaky Lauren. They manage to get hold of him find that Lauren is either a religious zealot or mentally disturbed. He refers to Kafka as the Flame of God, who will burn evil to ashes. But is someone already doing his job for him, with some kind of vigilante revenge scheme in mind?
Kafka gradually uncovers what appears to be a conspiracy, with possible roots in a secret society called the Sacred Vault, organised by a group of schoolboys at the Daybreak Academy many years back. Is religious ritual merely a convenient smokescreen to exact some terrible revenge for traumatic events which took place once upon a time at that school? Or is the truth even more banal than that?
As Kafka patiently unravels the threads in this very knotty plot, his melancholy style, self-deprecating wit and quick retorts reminded me of another outsider detective written in the first person, Jakob Arjouni's Kemal Kayankaya. Like Kemal, Kafka has a knack for uncovering the hidden monsters that the society he lives in would prefer to pretend didn't exist. He exposes the dirty underbelly of Helsinki's moneyed, church-going elite, and is saddened but not afraid to investigate his own colleague, whom he suspects of accepting bribes to finance his expensive motor racing hobby.
Holy Ceremony is a stylish contemporary police procedural, which makes us wonder what yet to be translated series by this author might be like. Let's hope some of them are translated soon.
Bitter Lemon Press
Print/Kindle
£8.54
CFL Rating: 4 Stars