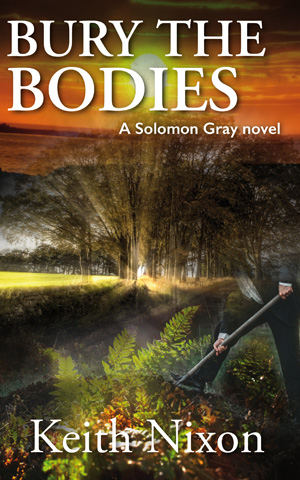 Written by Keith Nixon — Television soap operas have made an art form of the cliff hanger ending – EastEnders even invented the 'doof doof' drums to create even greater dramatic effect. You'll find plenty of unfinished business in crime fiction too, so it's great when someone finally ties up all the loose ends.
Readers first met DS Solomon Gray in October 2017 in Dig Two Graves, a story that begins in heart-in-the-mouth style, as Gray takes his young son Tom to the fairground and allows the boy to ride alone on the ghost train. Tom disappears, and the three books following that opener have seen Gray inching ever closer to the truth of the boy's vanishing act.
Author Keith Nixon seems to enjoy a dramatic opening, because Bury the Bodies kicks off with a corker too. It's set 11 years ago, deep in the woods, where a man is digging a grave… prepare for a stomach churning moment when you discover who it's for.
Jump to the present and Gray is at the scene of what at first appears to be a street robbery gone badly wrong. A young man lies dead on the pavement, the carrier bag containing his ready meal and beer discarded close by. The local officers don't recognise the victim and CCTV shows a hooded assailant stabbing the victim to death before running off with his phone and cash.
The seaside town of Margate, in Kent, is at the centre of a current covert operation focusing on the area's drug dealers and their supply chain from London – The Capital Lines as they are known. The investigation is about to come to a head with a bunch of early morning arrests, and when the post mortem shows the dead man was a drugs mule it becomes clear he was part of the trafficking ring.
So, plenty to keep Gray and his colleagues busy and he soon has more on his mind when his daughter Hope turns up unannounced from Edinburgh where she is at university, pregnant and determined to get rid of the baby. Gray has health worries of his own, and his obsession with finding out what happened to Tom all those years ago is never far from his mind. Throw in a love interest, and this is a man with far too much on his plate. The further you get into this book, the more a growing sense of unease permeates its pages.
If you've not met Gray before, then Bury the Bodies is no place to begin the acquaintance. Treat it as a standalone and you'll be feeling very confused, very quickly. There's scant back story and even readers who've followed the tale from the start may have to rack their brains to remember the minutiae of what's gone on before. Bit by bit, the details of Tom's fate are revealed, with Gray's old friends and colleagues taking centre stage. Gray's Met buddy, the enigmatic Pennace, also has his part to play before this journey is over.
Solomon Gray has sailed close to the wind throughout this series and he's back bending the rules as it comes to a close. He's always been hard to like and that trend continues in Bury the Bodies where, just when you're beginning to soften to the old reprobate he does something that's beyond the pale and you dislike him all over again.
Nixon's quirky style and spot on sense of place shine through here and I was looking forward to reaching closure at the end of this book, but somehow it left me feeling a little flat when the pieces finally fell into place. There is plenty of drama as the narrative progressed but that final denouement seems a little too neat.
For more of that claustrophobic seaside vibe, try The Wicked Girls by Alex Marwood or Cathi Unsworth's Weirdo.
Bastei Lubbe
Kindle
£0.99
CFL Rating: 3 Stars