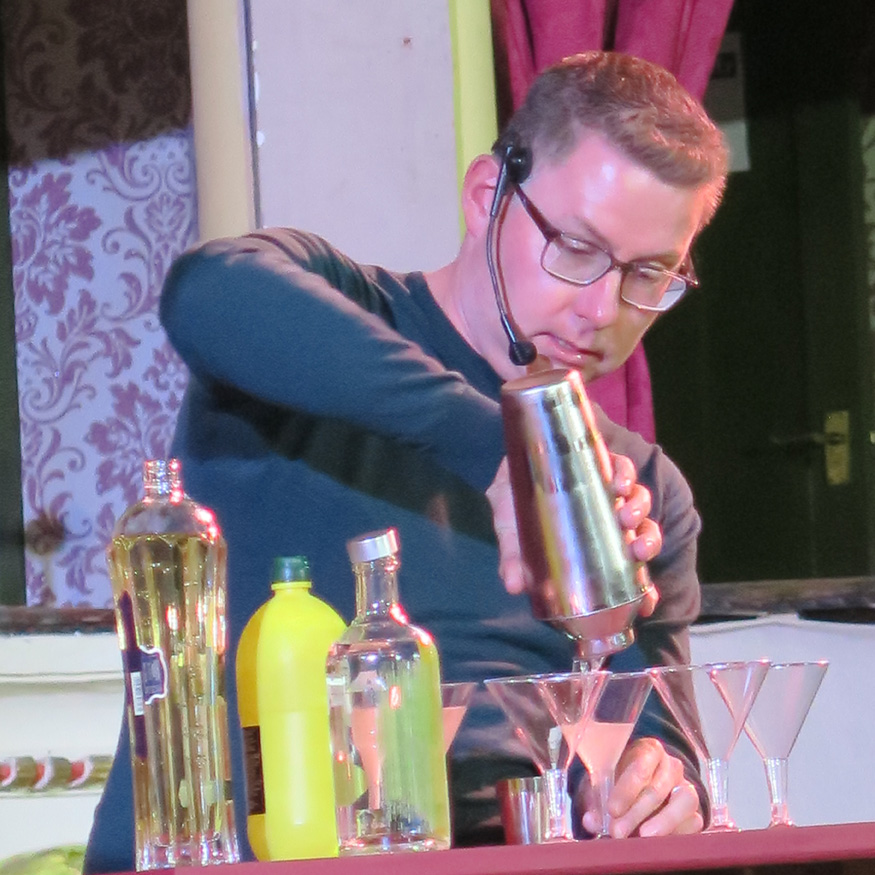 In a chilly and cavernous, tatty-around-the-edges but still beautiful old theatre on Morecambe's seafront, MJ Arlidge is holding forth. He has a bottle in one hand, a cocktail shaker in the other, and he's preparing a killer pear martini for his fellow panellists who are about to discuss writing crime in different mediums. Welcome to Morecambe and Vice, a festival like no other I've attended!
There were numerous fascinating panels throughout the two-day event held in Morecambe, Lancashire, but some of the highlights were the hidden talents, revealed by a member of the panel at the end of each session. So we were treated to saucy performance poetry from Kate Bendelow, Sue Welfare's dazzling artwork, fire eating from theatrical producer Julius Green, a music hall ditty by actor-turned-author Robert Daws and the aforementioned cocktails extravaganza by MJ Arlidge. We wish he'd shared the recipe!
It is the second year of this festival, organised by the indefatigable Tom Fisher and Ben Cooper-Muir and it boasted an eclectic mix of authors old and new. Topics for the numerous panels were also wide ranging and covered everything from graphic novels to the issues and themes in LGBT crime fiction.
Northern crime fiction
With the festival located on the Northwest coast, The Northern Invasion panel was a must. Nick Oldham, MW Craven, Robert Parker, Ruth Sutton and Roz Watkins discussed how their roots influenced their work. They agreed that the publishing world is too Londoncentric, which cued an anecdote about confusion over the whereabouts of Cumbria. "Is it in Italy?" Ruth Sutton commented: "Barrow in Furness? We might as well be in Outer Mongolia for all they know down there."
Another lively debate ensued in the Crossing Sides panel, chaired by Elly Griffiths, with former YA author CJ Skuse delighting in her new role as a writer for adults. "I enjoy the freedom of using the C-word without complaints," she explained.
Elly Griffiths was also involved in the headliner at the end of day one, an in-depth interview with Peter Robinson. He revealed that he never plans his books and was unhappy with how TV treated some of his DCI Banks plots in a wide ranging talk which was a fascinating end to a great day of crime.
Crime drama
On day two the crime shows Marcela and Broadchurch 2 came under fire in The Masterclass, in which Graham Bartlett, David Mark, Kate Bendelow and Neil White revealed their pet peeves about TV depictions of their particular fields of expertise. Their gripes included regional reporters (a dying breed, like wheelwrights, according to Mark), DIs wandering into crime scenes without forensic suits and boots (Bendelow), judges with gavels (White) and high ranking police officers sticking their oar into investigations (Bartlett).
Music to Die For, Agatha Christie's plays, the worlds of publishing and promotion and writing crime in different mediums were some of the other topics explored on the second day of this  lively and engaging festival which ended with a look at The Bay, a new crime series set in Morecambe which is being produced by ITV. Seaside towns make a great setting for crime fiction and, on this showing, for crime fiction festivals too!
If you want to join in the fun of attending a crime fiction festival, see our Events page.